Nashville eyes pipeline to Wall Street after securing Amazon, AllianceBernstein deals
Over the course of the past 12 months, city officials Opens a New Window. secured deals with some of the biggest companies in the U.S., including Amazon, AllianceBernstein, EY, SmileDirectClub, Mitsubishi and Pilot.com, culminating, in total, close to 10,000 new jobs Opens a New Window. . .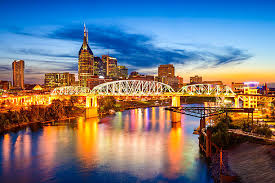 This story on Fox Business high lights that America is doing good despite how the Democratic party tries to make is seem otherwise. Its also enlightening that all these companies are leaving high tax states namely New York and California. When are the people in these states going to wake up and see that they are paying higher and higher taxes because their politicians are driving the companies out of their state. When all the big companies leave who will they turn to, to make up the difference. That's seems obvious to most people but let me enlighten the people in California and New York. IT'S YOU THE MIDDLE CLASS AND THE POOR! They will run out of corporate money and guess whos next. Well you have brought it on yourselves and if you don't start to reverse your voting preferences it will be dire consequences for you and your state.
The show said a jobs report showed that there were 7.3 million jobs available as of last week. Also there were only 6.5 million people that were employable. So if more businesses relocate to the middle America the states on both coasts are going to be in more of a financial bind than they already are. I don't have much hope that the leaders of those states will have a epiphany and change course in their policies.
Please follow and like us: