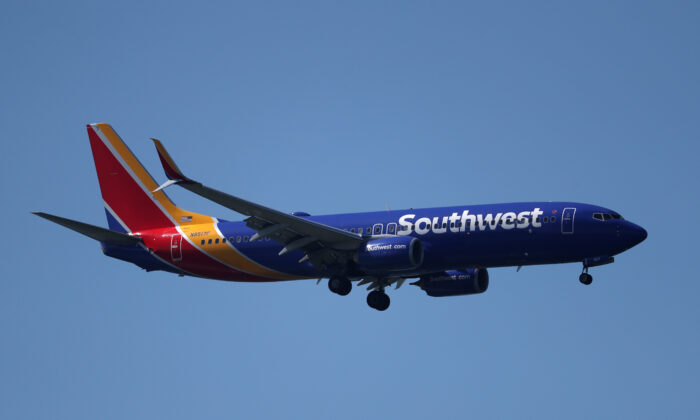 Southwest Airlines Pilots Union Sues to Block COVID-19 Vaccination Mandate
By Jack Phillips
A union representing thousands of Southwest Airlines pilots filed a lawsuit against the carrier after the company announced mandatory COVID-19 vaccination requirements.
In a recent court filing, the Southwest Airlines Pilots Association (SWAPA) asked a judge to grant a temporary injunction against the vaccination mandate while also asking for an immediate hearing on its request before a federal court in Dallas. The union asserts that the Texas-based airline violated terms under the Railway Labor Act with its vaccine mandate.
"The new vaccine mandate unlawfully imposes new conditions of employment and the new policy threatens termination of any pilot not fully vaccinated by December 8, 2021," the Southwest Airlines Pilots Association's lawyers wrote in their legal filing. "Southwest Airlines' additional new and unilateral modification of the parties' collective bargaining agreement is in clear violation of the [Railway Labor Act]."
The union, as well as other pilots' unions, have argued that COVID-19 vaccines pose a unique risk to pilots because any adverse reaction to the shot could affect an individual's ability to clear the medical requirements needed to fly.
Under the Railway Labor Act, federal courts "have the power to enforce the duty to maintain the status quo," the union further argued in the suit.
In a statement on the union's website, its leadership stipulates: "We want to be perfectly clear: SWAPA is not anti-vaccination, but we do believe that, under all circumstances, it is our role to represent the health and safety of our Pilots and bring their concerns to the company."
A Southwest spokesperson told The Epoch Times that the firm "disagrees with SWAPA's claims that any COVID-related changes over the past several months require negotiation" and "remains committed to [it's] employees' health and welfare and to working with SWAPA, and our other union partners, as we continue navigating the challenges presented by the ongoing pandemic."
Earlier this month, Southwest said that its 56,000 workers, including pilots, must be vaccinated against COVID-19 by Dec. 8 under federal rules. After President Joe Biden on Sept. 9 announced that federal workers and federal contracts have to receive the vaccine unless they're granted a religious or medical exemption, Southwest said that it would require vaccines, as the company is a federal contractor because it flies government employees, cargo, and provides other services.
"Southwest Airlines is a federal contractor and we have no viable choice but to comply with the U.S. government mandate for Employees to be vaccinated, and—like other airlines—we're taking steps to comply," Gary Kelly, chief executive of the Dallas-based airline, told its workers last week.
Please follow and like us: