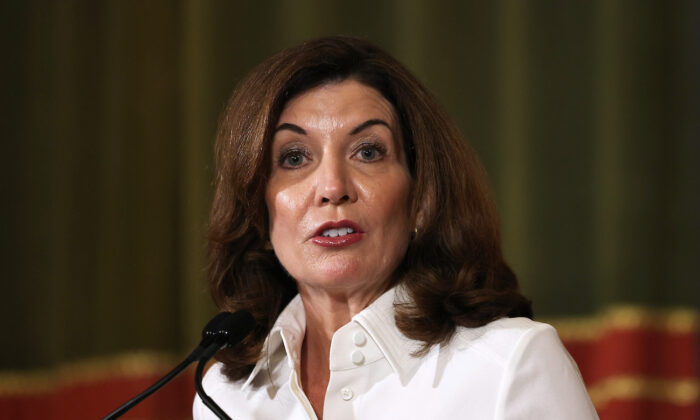 New York Governor Declares State of Emergency, Warns Omicron Variant Is 'Coming'
By Mimi Nguyen Ly
New York Gov. Kathy Hochul declared a state of emergency on Friday ahead of potential COVID-19 case spikes this winter, and warned that the new Omicron variant is coming.
The new COVID-19 variant—identified as B.1.1.529 and named Omicron on Friday by the World Health Organization (WHO) in an emergency meeting—was first observed in Botswana in southern Africa and carries dozens of mutations on the spike protein that could make the virus capable of evading immunity from prior infections or vaccination.
"We've taken extraordinary action to prevent the spread of COVID-19 and combat this pandemic. However, we continue to see warning signs of spikes this upcoming winter, and while the new Omicron variant has yet to be detected in New York state, it's coming," Hochul said.
"In preparation, I am announcing urgent steps today to expand hospital capacity and help ensure our hospital systems can tackle any challenges posed by the pandemic as we head into the winter months."
New York's new state of emergency is effective Dec. 3 and will be reassessed on Jan. 15 based on the situation.
Specifically, the state's Department of Health, under the new executive order Hochul signed, is allowed to limit non-essential, non-urgent procedures to protect access to critical health care services, for hospitals or systems with limited capacity. Limited capacity refers to below 10 percent staffed bed capacity, unless stated otherwise by the department.
The executive order also lets the state acquire critical supplies to tackle the pandemic more quickly.
The WHO labeled the Omicron strain a "variant of concern" on Friday. The White House announced the United States will restrict travel from South Africa, Botswana, Zimbabwe, Namibia, Lesotho, Eswatini, Mozambique, and Malawi, in efforts to curb the spread of the new variant.
The European Union, Israel, the UK, Japan, and other countries also announced similar travel restrictions on southern African nations.
India, Turkey, Switzerland, and the United Arab Emirates also tightened travel requirements on Friday, reported Reuters.
Please follow and like us: