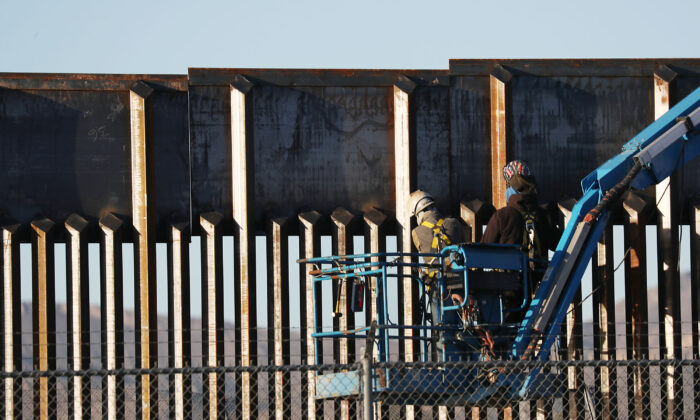 Texas Governor Confirms Border Wall Construction Has Officially Started
By Jack Phillips
Texas has officially started building its own state-funded border wall, confirmed Gov. Greg Abbott on Friday.
"Texas has officially started building its own border wall," he wrote Friday, while asserting that President Joe Biden's immigration policies allow for an "open border" since he took office in January.
Biden, the Republican governor added, also "refuses to enforce laws passed by Congress to secure the border and enforce immigration laws" and that "Texas is stepping up to do the federal government's job."
A reporter with Fox News captured images of the first Texas-commissioned border wall panels going up in Starr County, Texas, located in the Rio Grande Valley.
Earlier this year, amid near-record numbers of illegal immigrants crossing the U.S.-Mexico border, Abbott announced that he would try to secure funding for the state to construct its own border barrier after Biden signed an executive order that scrapped federal construction of the wall.
Texas's wall construction, which would not obtain federal funding, has been favored by Abbott as a means of cracking down on illegal immigration and drug trafficking. In June, the governor started a private donation campaign that has raised about $54 million.
According to records, Wyoming-based billionaire Timothy Mellon, the grandson of banking tycoon and former Treasury Secretary Andrew Mellon, donated $53.1 million of those dollars to the private wall fund.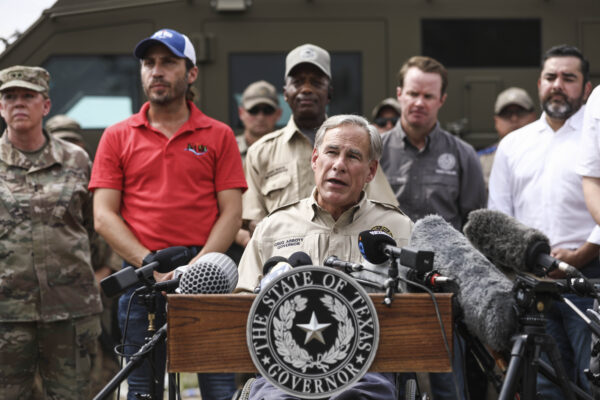 About 450 miles of the larger border barrier was constructed under President Donald Trump, who had championed the construction of the wall during his 2016 presidential campaign.
"Three billion dollars of Texas taxpayer money has been devoted to this cause of Texas securing the border, and so we have a lot of money available to us to continue to build the wall," Abbott told Fox News in an interview on Friday.
Abbott then asserted that the Texas wall will "cost less than it did for the Trump administration" because the "state of Texas owns [land] on the border itself" and will not have to acquire the land—as the federal government had to do under the Trump administration.
"There are property owners of massive acreage on the border who are fed up with Biden's open border policies," he continued, "and they are donating their land to Texas for us to be able to use that land for free to build a wall on their property."
One of the first orders Biden signed was to pause wall construction and called for a review of projects and funds. In a statement released on Jan. 20 just after Biden's inauguration, the president claimed the wall construction "is a waste of money that diverts attention from genuine threats to our homeland security."
Since then, Biden's order—as well as other immigration-related orders—has fueled Republican criticism of the president's immigration policies, denouncing it as part of an "open borders" agenda.
Abbott's office announced the governor will hold a news conference on Saturday, Dec. 18, in Rio Grande City to discuss the border wall construction.
Please follow and like us: