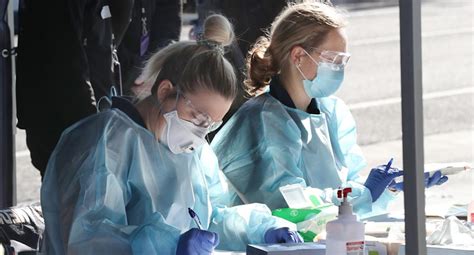 CDC Cuts COVID-19 Quarantine, Isolation Time for Health Care Workers to Ease Staffing Shortages
By Katabella Roberts
The Centers for Disease Control and Prevention (CDC) on Thursday released updated guidance for isolation and quarantine, cutting the length of time health care workers need to do so amid an increase in cases of the Omicron coronavirus variant.
As of Monday, Omicron makes up at least 73 percent of new cases in the United States, according to the CDC.
The new guidance reduces isolation time for health care workers with COVID-19 from 10 to 7 days, provided they are asymptomatic and can present a negative test.
That isolation time can be cut further if there are staffing shortages, the CDC said.
Health care workers who are fully vaccinated and have received a booster shot do not need to quarantine at home following high-risk exposure.
The updated guidance only applies to health care workers and may still be revised as officials receive more information on the Omicron variant. The CDC said the new guidelines are meant to limit the effects of staffing shortages at medical and health care facilities dealing with an influx of COVID-19 patients.
No other isolation and quarantine guidelines were changed or updated on Thursday.
"As the healthcare community prepares for an anticipated surge in patients due to Omicron, CDC is updating our recommendations to reflect what we know about infection and exposure in the context of vaccination and booster doses," CDC Director Dr. Rochelle Walensky said in a statement. "Our goal is to keep healthcare personnel and patients safe, and to address and prevent undue burden on our healthcare facilities. Our priority remains prevention—and I strongly encourage all healthcare personnel to get vaccinated and boosted."
The public health agency also updated its guidance for contingency and crisis management to mitigate significant health care worker shortages.
The new guidance comes shortly after the UK Health Security Agency (UKHSA) said the new Omicron variant of the virus is up to 70 percent less likely to result in hospitalization.
Preliminary findings on the new variant showed that the risk of hospital admission for an identified case with Omicron is reduced compared with a case of the Delta variant, according to the government agency.
An individual with Omicron is estimated to be as much as 45 percent less likely to attend the emergency department compared with Delta, and as much as 70 percent less likely to be admitted to hospital.
Meanwhile, researchers from Imperial College London estimated that Omicron patients were 20 to 25 percent less likely to need hospital care and 40 to 45 percent less likely to be hospitalized for one night or more when compared to those with the Delta variant.
However, health experts are still researching the newest variant, first discovered in South Africa. Omicron is believed to be infecting more people who have previously had COVID-19, with 9.5 percent of people being reinfected with Omicron in the UK, according to UKHSA, which based its findings on the results from lateral flow or PCR tests (pdf).
On Monday, World Health Organization (WHO) chief Tedros Adhanom Ghebreyesus said there was now "consistent evidence" that Omicron is spreading faster than the Delta variant, and warned against Christmas holiday gatherings.
Ghebreyesus also noted that in his view 70 percent of the population of every country needs to be vaccinated by the middle of next year if the pandemic is to be beaten in the coming year.
On Dec. 21, what is widely believed to be the first death in the United States related to the new Omicron variant was reported in Texas.
An unvaccinated Houston man between the ages of 50–60 who had been infected with COVID-19 previously is believed to be the victim of the Omicron-related death, Harris Country Public Health (HCPH) confirmed.
"The individual was at higher risk of severe complications from COVID-19 due to his unvaccinated status and had underlying health conditions," health officials said.
Please follow and like us: