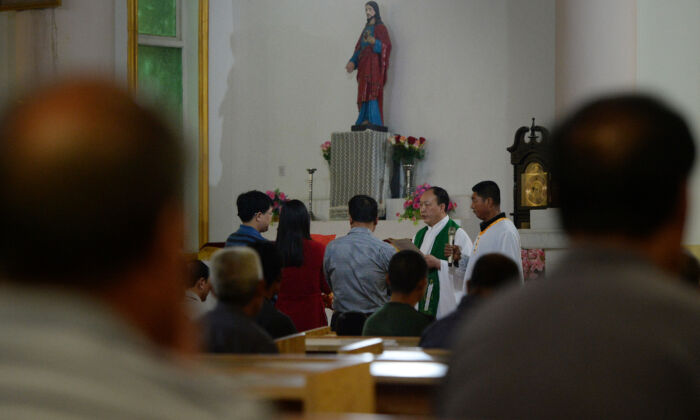 Chinese Regime Issues More Restrictions to Prohibit Religious Activities During Christmas
By Alex Wu
The five departments of the Chinese Communist Party (CCP) issued a notice prohibiting online religious gatherings prior to this year's Christmas. Many local governments and public security departments have joined forces to restrict religious activities, and the authorities have banned Christmas celebrations in the name of "epidemic prevention."
Before Christmas, the governments and public security departments of Guangdong, Shandong, Anhui, Guangxi, Zhejiang Provinces, and other regions once again joined forces to restrict non-government sanctioned religious activities.
The pastor of a Guangdong house church, surnamed Chen, told Radio Free Asia (RFA) on Dec. 22 that the local police had notified the church in the morning in the name of epidemic prevention that gatherings were not allowed during Christmas.
The pastor of a church in Shandong, named John, also said that the local situation is the same as in other parts of the country—Christmas celebration is not allowed. "It has been ordered that there should be no religious activities, and some churches in other places are like this. They can only do underground celebration activities."
Church activities in Pingyang county of Wenzhou city in Zhejiang Province were also suspended by the communist authorities in the name of "epidemic prevention."
The CCP's suppression of Christmas celebrations started three years ago, and each year before Christmas, the regime prohibits state-owned enterprises and schools from celebrating Christmas. A Chinese Christian said that recently, shopping malls everywhere no longer sell Christmas lights and Christmas trees.
While the Chinese regime has been restricting and prohibiting in-person religious gatherings in the name of epidemic control, online gatherings have become more and more popular. Mainland China scholar David Li told the Chinese language edition of The Epoch Times that people's enthusiasm for faith has increased. This has alarmed Beijing, which wants to control people's thoughts, and the regime will inevitably suppress the spread of Christianity.
On Dec. 20, the five departments of the regime, including the State Administration of Religious Affairs, the State Internet Information Office, the Ministry of Industry and Information Technology, the Ministry of Public Security, and the Ministry of National Security, issued the "Administrative Measures for Internet Religious Information Services," prohibiting any organization or individual from teaching, uploading, posting, and distributing online any religious lectures and sermons. It also bans religious information services through websites, apps, online forums, etc.
Please follow and like us: