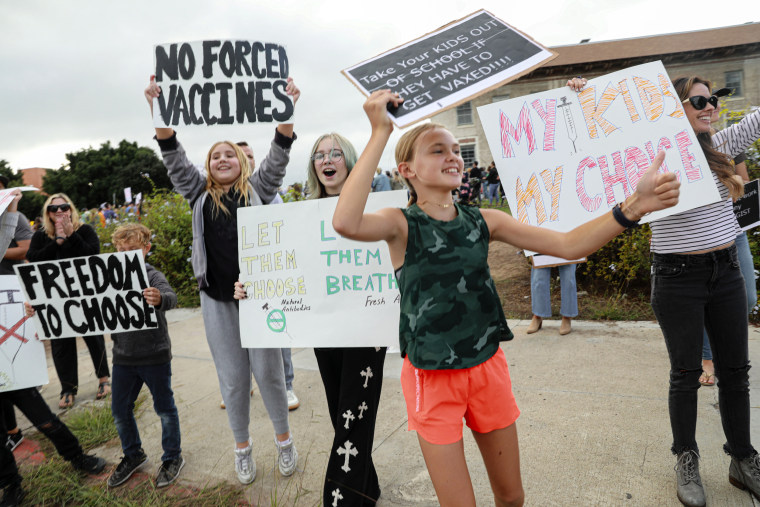 Judge Blocks Vaccine Mandate in San Diego Schools
By Vanessa Serna
SAN DIEGO—A judge ruled in favor of a lawsuit against the San Diego Unified School District (SDUSD) for implementing a vaccine mandate for students 16 and older.
The legal challenge was filed by the group Let Them Choose on Oct. 12 after the SDUSD school board unanimously approved the vaccine mandate for students by Dec. 20.
Let Them Choose is a group formed by Let Them Breathe, an organization against mask mandates for K-12 students. Let Them Choose was launched to advocate for choice in education, including the right to refuse the COVID-19 vaccine.
Superior court judge John Meyer ruled in favor of Let Them Choose, which argues the mandate contradicts state law, according to the Let Them Choose website.
The ruling concluded that school districts do not have the power to implement mandates that do not allow exemptions and go against state law, especially if the mandates are not established by the state.
"We are thrilled that the law was upheld in our lawsuit against San Deigo Unified School District's vaccine mandate," Sharon McKeeman, founder of Let Them Choose, said in a statement. "The decision that school districts do not have authority to require the COVID-19 vaccine echoes statewide, and it shows that parents coming together in a grassroots movement to uphold our children's rights is powerful and effective."
Under the vaccine mandate implemented by the school district, students 16 and older who were not fully vaccinated by Dec. 20 would be required to transition from in-person learning to an online independent study program effective Jan. 24.
Judge Meyer further claimed in the ruling that only vaccines required by the state are necessary for students to attend school, and the COVID-19 vaccine is not on the list.
"We've been very confident this entire time that the legal issues were very clear cut," McKeeman told The Epoch Times. "We're thankful that the judge was fair."
Despite the Judge's ruling, SDUSD does not plan on throwing in the towel anytime soon.
Shortly after the ruling, the San Diego Board of Education met on Dec. 21 and unanimously agreed to file an appeal to keep the vaccine mandate in place for students 16 years and older.
SDUSD sent a notice to staff and families informing them of their decision.
"Vaccines remain the best way to protect the health and safety of our students, and we are 100-percent determined to maintain the vaccination mandate," SDUSD said.
The school district further informed recipients that the mandate for all school staff remains in place as it has not been challenged in court.
As SDUSD proceeds to appeal the decision, the Let Them Choose group advised the district to use its sources elsewhere within the community.
"We are confident that if they do go forward with that, it will not reinstate the mandate," McKeeman said.
Please follow and like us: