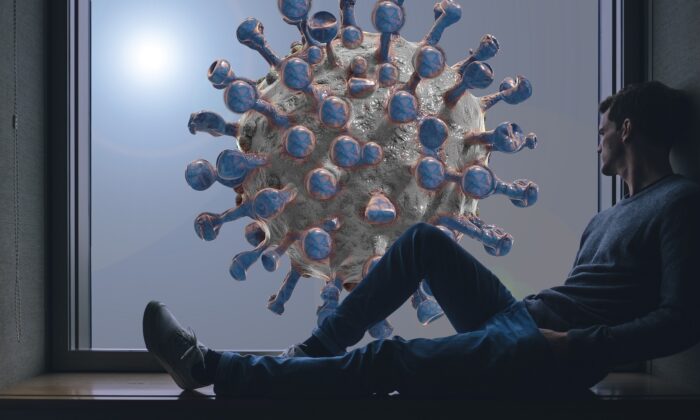 COVID-19 Variant 'IHU' With 46 Mutations Found in France
By Katabella Roberts
Another variant of COVID-19 with a large number of mutations was discovered in France last month, but scientists have urged people not to panic.
The variant is known as B.1.640.2, or colloquially as "IHU," after the researchers at Méditerranée Infection University Hospital Institute discovered it.
In a study published Dec. 29, researchers said that the B.1.640.2 variant had been found in 12 people living in the same area of southeastern France last year who tested positive for COVID-19.
The first identified case in the group was a male adult who had returned from travel to Cameroon three days before in mid-November.
The male was vaccinated against COVID-19 and developed mild respiratory symptoms the day before diagnosis. Genome sequencing was carried out and revealed an atypical combination of mutations.
"Subsequent detection by qPCR of three mutations in the spike gene to screen for variants, as systematically performed in France in case of SARS-CoV-2 positivity, revealed an atypical combination with L452R-negativity, E484K-positivity, and E484Q-negativity (Pentaplex assay, ID Solution, France) that did not correspond to the pattern of the Delta variant involved in almost all SARS-CoV-2 infections at that time, " researchers wrote.
An analysis of the variant revealed it has 46 mutations along with 37 deletions to its genome.
"Overall, these observations show once again the unpredictability of the emergence of new SARS-CoV-2 variants and their introduction from abroad, and they exemplify the difficulty to control such introduction and subsequent spread," researchers wrote in the study, which has not yet been peer-reviewed.
As of Dec. 27, 2021, a total of 1,020,007 vaccine doses have been administered in Cameroon, which has a population of roughly 26.55 million, according to data from the World Health Organization (WHO).
The WHO has yet to name the new strain a variant of interest or concern.
Currently, the Centers for Disease Control and Prevention (CDC) advises unvaccinated travelers who are at increased risk of severe illness from COVID-19 to avoid nonessential travel to Cameroon. However, the Central African country is currently at a "level 2," meaning it had a moderate number of COVID-19 cases.
However, Tom Peacock, a virologist at Imperial College London, noted on Tuesday that the variant is not that new and also not something that people should be overly concerned about.
"Lots of chat about B.1.640.2 in the last few days—just a few points to keep in mind: – B.1.640.2 actually predates Omicron – in all that time there are exactly … 20 sequences (compared to the >120k Omis in less time) Def not one worth worrying about too much at the mo," Peacock, wrote on Twitter.
Peacock added that "there haven't been any new sequences uploaded since before Christmas … this virus has had a decent chance to cause trouble but never really materialized (as far as we can tell at least…)."
Meanwhile, Francois Balloux, director of the genetics institute at University College London, also urged people to "please relax for now" following the discovery of the newest variant.
"There have been only ~20 B.1.640.2 sampled so far (I used B.1.640 + S:E484K / S:P681H as a proxy) – It was collected for the last time on Dec, 6th 2021 – It does not explain a spike of cases in Southern France – It has not sent hundreds of people in ICU in France," Balloux said.
Please follow and like us: