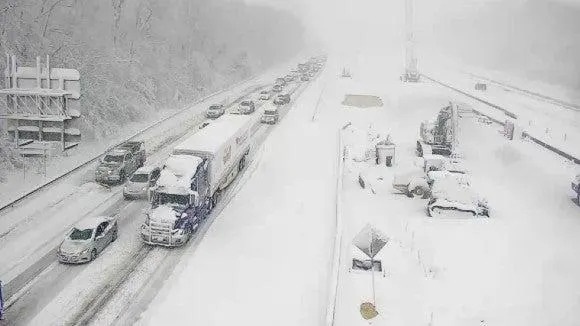 Meteorologist says transportation officials ignored forecasts, leading to I-95 disaster
I-95 Disaster 'Completely Preventable,'
BY BRAD DRESS
The chief meteorologist for Accuweather criticized transportation officials for effectively ignoring forecasts of a winter storm that hit the mid-Atlantic on Monday morning, saying engineers had adequate warning and could have prevented the I-95 gridlock.
Accuweather's Jonathan Porter provided screenshots showing that his team predicted six to 10 inches of snowfall in the Washington, D.C., area. Up to 10 inches of snow ultimately fell across the D.C. metropolitan area, according to The Washington Post's Capital Weather Gang, marking the highest total the region has seen since Jan. 2019 and one of the biggest snowfalls on record in the city.
Porter said the Virginia Department of Transportation (DOT) could have done more to prevent hundreds of motorists from being stranded overnight on a roughly 50-mile stretch of I-95 running from Richmond to D.C. Accuweather had issued its first snowstorm forecast on Sunday night and another one warning of "rapidly worsening travel conditions" on Monday morning.
"This is an opportunity for us to say we can't let that happen again – this disaster was completely preventable, totally preventable," Porter said. "We make accurate forecasts so people can make better decisions. Quite honestly, the fear so many people felt could have been avoided based on more proactive responses. This is an opportunity for creative solutions to be generated."
Porter called for more examination of "extreme weather impacts on transportation infrastructure," suggesting that if cities are "not able to deal with extreme weather events today, never mind what is going to be coming in future years."
The congested portion of I-95 was finally cleared on Tuesday night after some motorists, including Sen. Tim Kaine (D-Va.), spent more than 24 hours stuck on the icy road with little food or water.
Virginian officials defended their response at a news conference, with Gov. Ralph Northam (D) calling the congestion an "unusual event" because the storm started with heavy rainfall, which prevented them from pre-treating the roads, according to NBC Washington.
Virginia DOT engineer Marcie Parker said snow fell at a rate of up to two inches per hour, making it difficult to clear the road.
"That was entirely too much for us to keep up with," she told reporters at the conference, according to NBC Washington. "Consequently, with the amount of traffic that we had on the interstate, the trucks and the cars couldn't make it up and down the hills because we had too much snow and ice out there."
Other problems compounded, including a large truck that jackknifed on the road and multiple other accidents and disabled vehicles, NBC reported.
But Porter questioned why the road was not closed beforehand if the DOT could not pre-treat the roads. He also wondered why so many vehicles were on the road given the risk and rate of snowfall, although he acknowledged it was a major interstate running to the nation's capital.
"Red alarm bells were going off," the meteorologist said, saying there were "travel bans in New York and other communities proactively based on the forecast. This is a situation where we take stock of it and say we just can't have that happen again."
Please follow and like us: