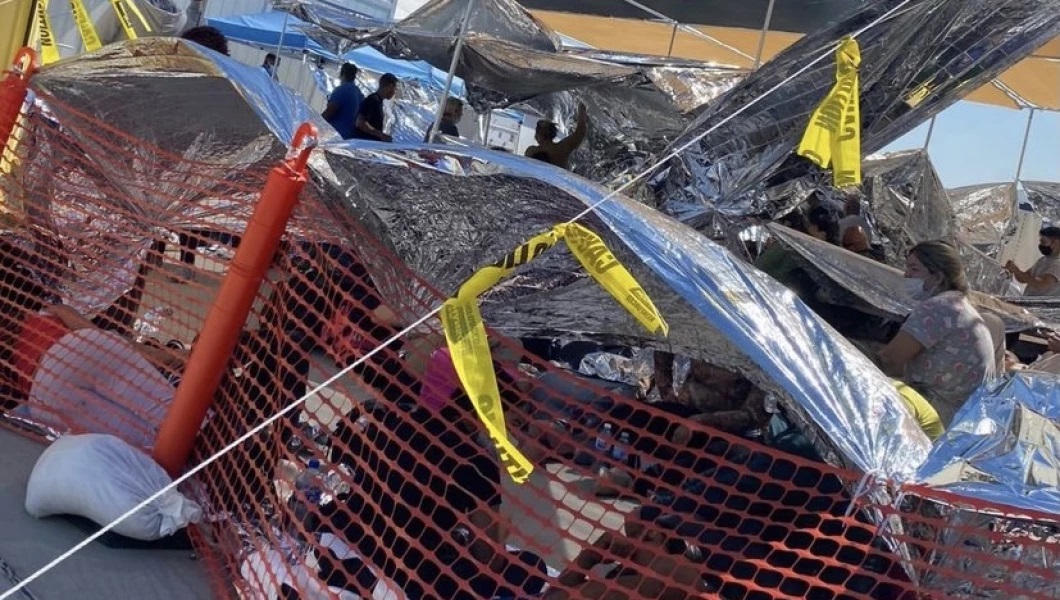 Leaked photos reveal Biden's disastrous detention of migrants in Arizona
by Anna Giaritelli, Homeland Security Reporter
Disturbing photos obtained by the Washington Examiner show the misery wrought by a massive surge in illegal migration in western Arizona: thousands of people stranded in overcrowded makeshift facilities amid soaring COVID-19 infection rates and no sign things will get better anytime soon.
Four people familiar with the dire situation, and the Biden administration's botched response, said the photos underscore the danger the migrants, border officials, and the remote community of Yuma are living under amid the crisis. Between September and November, more than 65,000 noncitizens were caught illegally crossing into Yuma from Mexico, a number higher than encounters in a typical year. More than 1,500 people were in custody at one point this week, according to Rafa Rivera, regional president of the National Border Patrol Council.
"Usually around this time through the holidays, it slows down, but here in Yuma, it was constant," said Rivera.
Those in custody are discharged (released into the United States, returned to their home country, or pushed south of the border) within a day or two of being taken into custody at the border due to the lack of space and need for quick turnover of holding space for new arrivals.
The surge has only grown in December, but the extent of it is unknown because U.S. Customs and Border Protection has yet to release apprehension numbers for the month.
On Dec. 9, Yuma Mayor Douglas Nicholls declared a state of emergency after 6,000 people were taken into custody by Border Patrol in five days, which is as many as were intercepted in an average month over the past 20 years.
The Border Patrol's three holding stations throughout the Yuma region are filled with people, as well as its outdoor tent, which has been brimming with occupants for months. Noncitizens arriving at the border are increasingly coming from countries further away than Central America, including Russia, Afghanistan, Georgia, Cuba, Brazil, and Haiti. Those detained in the tent sleep on the ground with no space between them.
Other people in custody are held outside, where temperatures usually surpass 60 degrees during the day but have plummeted down to near-freezing temperatures several nights this week. Migrants have used supplies on hand, including space blankets, to make shades above where they must sit outside.
Yellow police tape is used to hold up the Mylar blankets. Nearby, hundreds of suitcases that people dragged across the border are stacked in a pile.
Hallways inside another part of the tent are lined with adults, parents, children, and babies. Some people wear masks, while others do not. Rivera said the situation inside and outside has compromised federal public health protocols at a time when coronavirus infections are at peak levels nationwide.
Men sleep side by side in a tent.
"[Centers for Disease Control and Prevention] guidelines go out the window because we're so overcrowded," said Rivera, local president for the National Border Patrol Council.
Rivera said infections among agents are constant, but the Border Patrol does not know how widespread the virus is among detainees because those in custody are not tested. Migrants who report having any symptoms or other health problems upon arriving are given a coronavirus test prior to being discharged. It means those in custody are not separated from others who may be sick or asymptomatic, potentially leading to the virus spreading easily.
Two people familiar with the situation in Yuma said two planes depart the city daily for Laredo, Texas, approximately 1,200 miles away. The planes take Haitians in custody to Laredo then on to Haiti. Border Patrol has detailed agents from its Special Operations Group to accompany U.S. Immigration and Customs Enforcement officers in transit due to safety concerns following violence on some of the flights.
"The Haitians have been getting aggressive because they found out they're getting returned to Haiti," said a second person familiar with management's decisions and operations.
Three people said more Haitians are being apprehended at night than during the day because they are trying to avoid getting caught crossing the border rather than surrendering to agents during the day, believing they will be flown back to Haiti if caught.
A third person, a Border Patrol agent who asked to speak anonymously, said his peers have begun to see Haitian migrants resist arrest on a daily basis, including bouts of punching, kicking, and fighting law enforcement.
None of the four who spoke with the Washington Examiner about how Border Patrol is handling Haitian migrants in Yuma could explain any protocol for which types of demographics, traveling as a family or a single adult, were slated for removal or could be returned to Mexico under the newly re-implemented Migration Protection Protocols, which require asylum-seekers from certain countries to wait out court proceedings in Mexico. Yuma Border Patrol is only allowed to return five people to Mexico per day under MPP.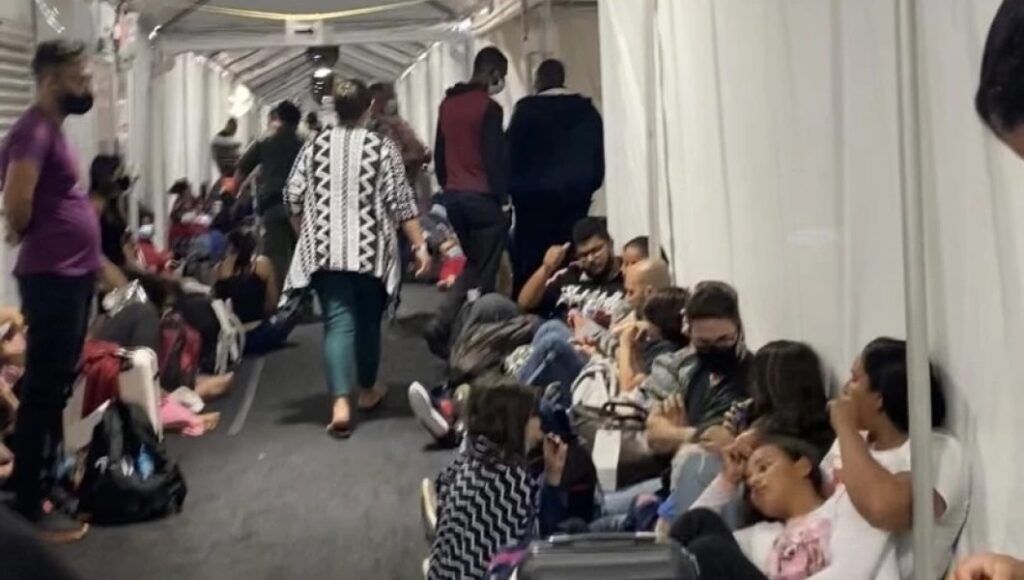 "It's not even a drop in the bucket," the second person said.
Adding to the complications of managing the situation, Rivera said agents who are transferred to Yuma from the northern border and separated from their families and partners are frustrated, but there is no end in sight for the lengthy details.
CBP did not address the questions about conditions in its facilities.
"CBP is currently managing the effects on Yuma Sector of the exploitation on those vulnerable populations and is working with our partners in a whole of government approach to expeditiously transport, screen and process those encountered," the agency wrote in an email Friday afternoon.
Please follow and like us: