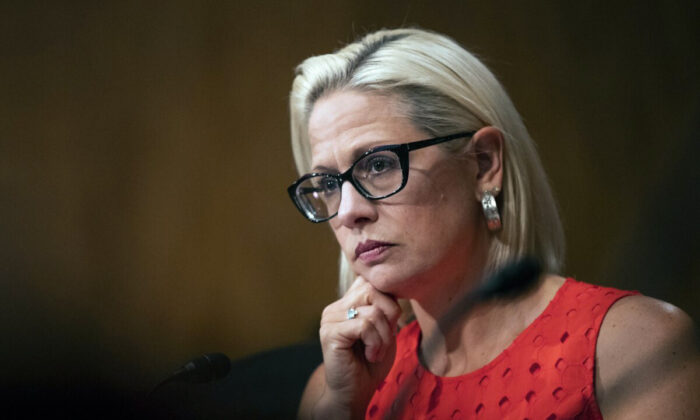 Arizona Republicans Sound Off On Sinema Censure by Democrats
By Allan Stein
Republican lawmakers in Arizona voiced support for Congresswoman Kyrsten Sinema (D-Ariz.), who was censured by her own party last week for voting to preserve a Senate filibuster on voting rights legislation.
"Sen. Sinema has chosen to protect the Constitution over party loyalty," Arizona Rep. Mark Finchem (R) told The Epoch Times. "I am impressed that she took that path, as for the Democrats they care more about grabbing absolute power than anything else."
"It's great to see a Democrat legislator back away from their party on what to do," said Arizona Rep. Joseph Chaplik (R).
"This is an important issue to vote with Republicans and she did," he told The Epoch Times.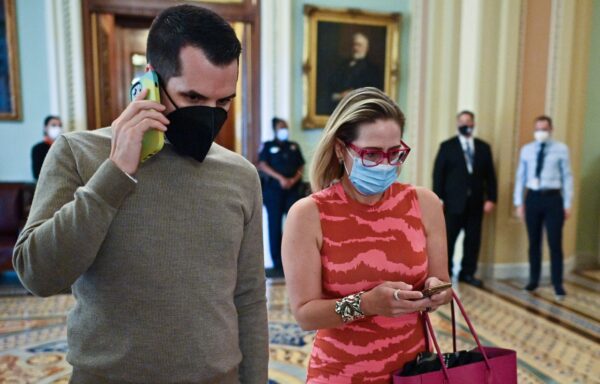 Arizona House Majority Whip Leo Biasiucci (R) echoed Chaplik's remarks, saying the filibuster has been used for years by both parties.
"Now that the Democrats can't get what they want, they are throwing a tantrum like a 2-year-old who was denied chocolate cake for breakfast.
"It's refreshing to see that some people in D.C., actually have the intelligence to understand why ending the filibuster would be a disaster for both parties," Biasiucci told The Epoch Times.
"At some point, Republicans will take back the House and Senate and the Democrats will be praising Senator Sinema for what she did. I would suggest that those Democrats who are realizing that their party is run like a dictatorship come join the party of freedom and liberty before it's too late," he added.
Since 1789 the U.S. Senate has censured nine of its members, according to the Senate website, noting that "censure is less severe than expulsion and does not remove a senator from office."
It is, however, a formal statement of disapproval that can impact a member's relationships in the Senate.
Sinema, 45, has served as a U.S. Senator from Arizona since 2019. Prior to that she served as an Arizona state representative and senator from 2005 to 2019.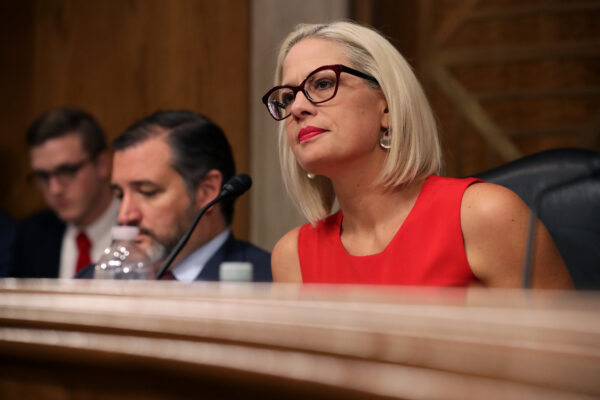 Arizona Rep. Judy Burges (R) said she served with Sinema in the state house for a number of years and praised her dedication to her constituency.
"I think Kyrsten is a little more concerned about the state and taking care of her constituents rather than politics," Burges told The Epoch Times.
She added that any political fallout for Sinema will be "short-lived."
"Kyrsten has been true. She really says what she means. She was going to do this [filibuster] right," Burges said.
"The thing about Kyrsten is she knows who she is and what she stands for. People may be mad at her right now, but she's been in Washington to know who she is. You just have to do what you think is right."
On Jan. 22, 2022, the Arizona Democratic executive board voted to censure Sinema three days after she voted with Republicans in favor of a Senate filibuster blocking passage of a Democratic voting rights bill.
"While we take no pleasure in this announcement, the ADP executive board has decided to formally censure Senator Sinema as a result of her failure to do whatever it takes to ensure the health of our democracy," Arizona Democratic Party Chairwoman Raquel Teran said in a statement.
Arizona Rep. Shawnna Bolick (R) said both Democrats and Republicans through the party apparatus have the ability to censure their members.
"It is not a surprise to see the Arizona Democrat Party censure Senator Sinema over her support to keep the filibuster. It was the right thing to do as to not blow up the process of the U.S. Senate," Bolick told The Epoch Times.
"I have seen in my involvement with the GOP move to censure [late former Arizona Sen John] McCain for voting a certain way or opposing [Arizona Governor Doug] Ducey for his positions on policy.
"The current Democratic socialists are moving [the] party so far to the left I believe in Arizona we will see a seismic shift from Independents to the ranks of the GOP," she said.
Sinema could not be reached for comment.
Please follow and like us: