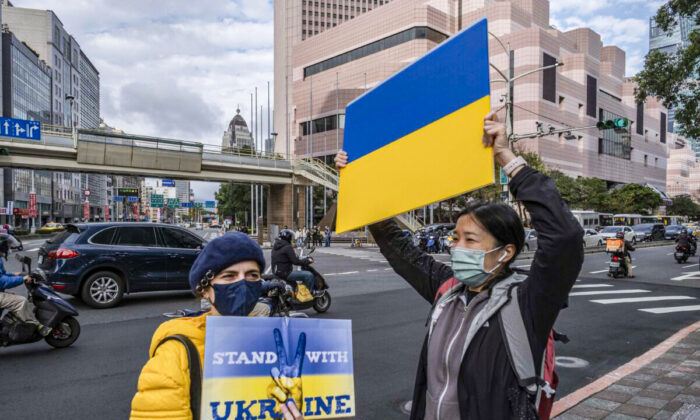 Taiwan Joins SWIFT Sanctions on Russian Banks, Ships Medical Supplies to Ukraine
By Frank Fang
TAIPEI, Taiwan—Taiwanese Premier Su Tseng-chang said on March 1 that Taiwan will work with Western countries in their ban of selected Russian banks from the SWIFT international payment system.
The SWIFT ban was announced on Feb. 26 by the United States, the European Union, Canada, France, Germany, Italy, and the UK, in response to Russia's military attack on Ukraine.
Su told reporters that Taiwan has condemned Russia for its aggression against Ukraine and said the self-governing island was "in lockstep" with its democratic partners on its sanctions plans. As for the SWIFT ban, Su said the Taiwan government will "cooperate" with any decisions related to the ban.
Currently, there is not much trade between Taiwan and Russia. According to data from Taiwan's Ministry of Economic Affairs, Taiwan exported $1.3 billion worth of goods to Russia in 2021, while importing $5 billion of Russian products. Meanwhile, Taiwan's trade with Russia accounts for only 0.76 percent of the island's total trade.
The Taiwan government announced on Feb. 25 that it will impose sanctions on Russia over its invasion of Ukraine.
Wang Mei-hua, Taiwan's minister of economic affairs, said on Tuesday that the island will "strictly review" products exported to Russia in accordance with the Wassenaar Arrangement, a multilateral agreement aimed at regulating the export of weapons and sensitive dual-use goods and technologies.
She added that her ministry has communicated with local companies, including those in the semiconductor sector, and had confirmation that they will comply with export control to Russia.
Taiwan is a major exporter of semiconductors, which are tiny chips that power everything from computers, electric vehicles, to fighter jets and missile systems. The island is home to the world's largest contract chipmaker TSMC.
TSMC told Taiwan's government-run Central News Agency on Feb. 25 that it was exporting almost nothing to Russia at the moment. In 2021, 65 percent of TSMC chips went to North America, followed by the Asia–Pacific region at 14 percent, China at 10 percent, and Japan at 5 percent.
Separately, Taiwan's Ministry of Foreign Affairs announced on March 1 that it had sent a shipment of 27 tons of medicine and medical supplies to Ukraine on humanitarian grounds.
On Feb. 27, Janez Lenarcic, the European commissioner for crisis management, told a news conference that about 18 million Ukrainians "will be affected in humanitarian terms" in Ukraine and neighboring countries.
The United Nations Refugee Agency said on Monday that at least 520,000 refugees from Ukraine have fled to neighboring countries amid Russia's ongoing attack.
Taiwan's foreign minister Joseph Wu, in a Twitter post showing pictures of the shipment, stated that Taiwan stands with Ukraine.
"While #China sides with #Russia in an 'unlimited alliance,' #Taiwan is with freedom & democracy fighting the expansion of authoritarianism. I have faith: Democracy will prevail," Wu wrote.
Read More From ForAFreeAmerica
Russia's invasion of Ukraine has sparked concerns that China may be emboldened and decide to invade Taiwan, a de facto independent country that the communist regime sees as a part of its territory.
In October last year, Chinese leader Xi Jinping vowed that "reunification" of Taiwan with China would "definitely be realized."
Please follow and like us: