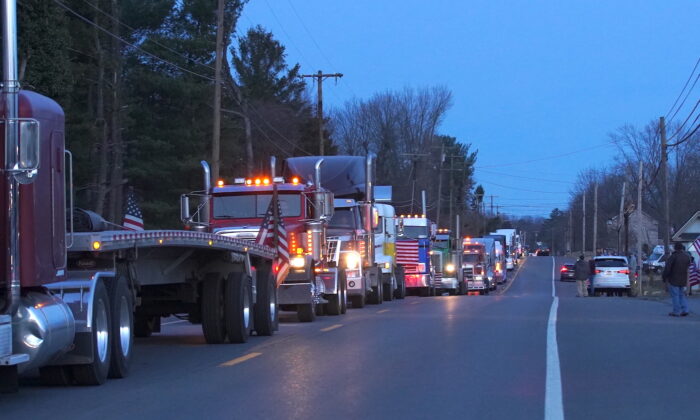 Thousands of Vehicles in Truck-Led Convoy Gather in Maryland, Last Stop Before DC Region
By Enrico Trigoso and Mimi Nguyen Ly
HAGERSTOWN, Maryland—Thousands of vehicles in a truck-led convoy gathered in western Maryland on March 4, marking their last stop before heading to the Washington, D.C., region.
The People's Convoy is calling for an end to the federal government's COVID-19 emergency powers, which have enabled various COVID-19 restrictions and mandates to be imposed over the past two years.
Organizers of the convoy told The Epoch Times that the group has adjusted its plans and are no longer aiming to arrive in Washington on Saturday as previously reported. Rather, they will be staying in Hagerstown, Maryland—about 70 miles northwest of Washington—for Saturday, and will be headed to an unspecified location two miles from the D.C. Beltway area either on Sunday or Monday.
Numbers in the convoy have fluctuated as vehicles and trucks join and drop off along the way. It's unclear how many vehicles will be headed to the nation's capital.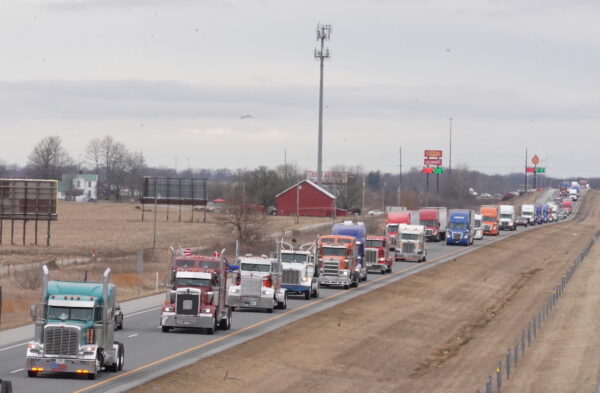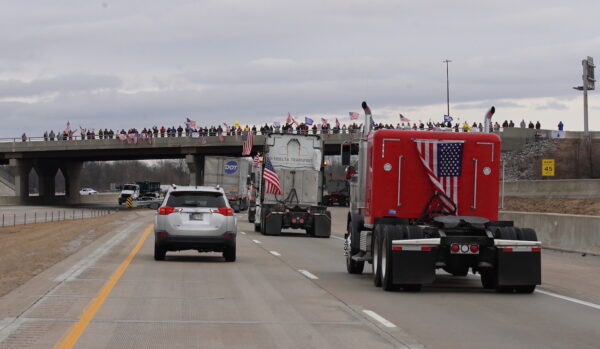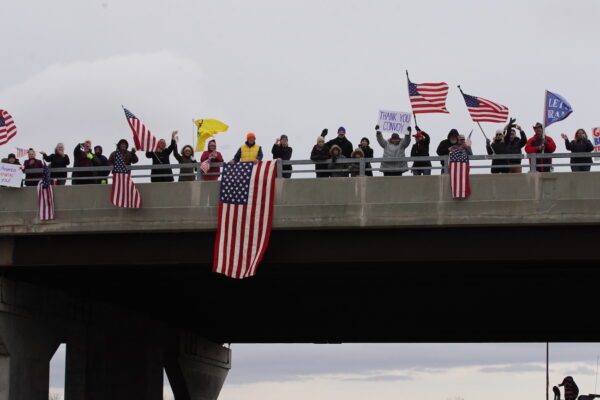 The cross-country journey began on Feb. 23 when the group set off from California. They've since traversed Arizona, Texas, Oklahoma, Missouri, Indiana, and Ohio, and arrived in Maryland on Friday.
The convoy numbered around 110 trucks and hundreds more vehicles upon arriving in Lore City, Ohio, on March 3:Play Video
By the time the group reached Hagerstown Speedway the next day, Friday, vehicles numbered in the thousands.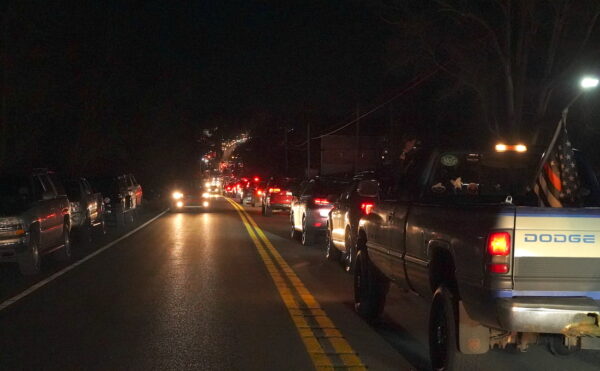 One of the organizers, Mike Landis, said he will be driving to Washington. He pointed to a symbolic U.S. flag that had been gifted to him by the grandson of a fallen soldier killed during WWII.
"In Oklahoma, his grandson drove from Texas to give it to me because his mother said that this is the first thing that reminds her of freedom since WWII and they wanted it to fly behind the lead truck," he told a rally in Hagerstown on Friday.
"I can tell you one thing right now. The government can claim that they have all this opposition for us waiting in D.C. but that flag on the back of my truck will go down Constitution Avenue between the White House and the Washington Monument before this is over."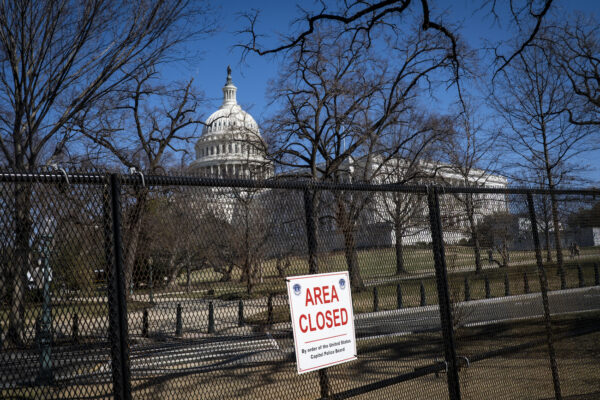 Authorities recently reinstalled fencing around the U.S. Capitol and have called for "extra security" among law enforcement agencies in Washington, ahead of the president's State of the Union address and in anticipation of potential vehicle convoys arriving in the area. The barriers, which had been in place since shortly after the Jan. 6, 2021, breach of the U.S. Capitol, were removed in July 2021.
Another separate, major convoy, called the American Truckers Freedom Convoy, supported by The Great American Patriot Project, is seeking to gather in at Dominion Raceway in Thornburg, Virginia, on March 6–7 for a rally against COVID-19 mandates. Leaders of this convoy "will meet a Congressional Welcoming Committee in Washington D.C. on March 7 to peacefully discuss policy change and American freedoms," according to a release.
The Virginia State Police and Maryland State Police issued traffic notices saying they will be increasing patrol in the region to mitigate potential traffic disruptions.
COVID-19 Emergency Powers
Participants in The People's Convoy seek to end the federal government's COVID-19 emergency powers, first enabled when the Trump administration declared the COVID-19 national emergency in March 2020.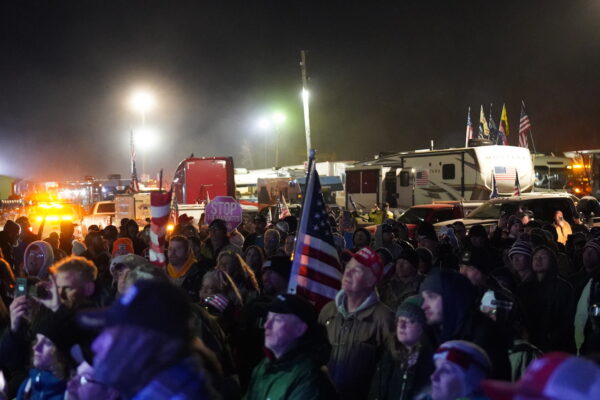 President Joe Biden on Feb. 18 announced the extension of the emergency declaration beyond March 1, when it was set to expire.
"We want the emergency act removed so that our Constitution can be put back in place," said Joyce Rice, a retired army and national guard soldier who joined the convoy from Indiana. "I did not serve to have my rights taken away," she told The Epoch Times.
The U.S. Senate on March 3 approved a measure to end the national emergency over the pandemic, but the White House earlier that day indicated that if Congress approves the measure, Biden would veto it.
"Apparently Mr. Brandon—he doesn't understand who he works for. Because he works for us," Brian Brase, a co-organizer of the convoy, told a rally on Friday in Hagerstown while commenting on news of the White House's intention to veto, using a nickname Americans coined to refer to Biden.
Dr. Paul Alexander, an expert in evidence-based medicine and clinical epidemiology who is affiliated with The Unity Project, which seeks to eliminate mandates for healthy school students K–12, told the rally that the COVID-19 pandemic "is over."
"Omicron tells us that [the pandemic] is done, and now I saw President Biden say that after—if the House passes the bill, he's going to veto it. We need to send a message—never!" he said, to cheers and applause.
"We want the emergency declaration lifted, there is no science anywhere in the world to support any vaccine mandate, any mandate, and any emergency declaration. It must be lifted now," he said, adding, "We cannot stop until the government understands that there's no science for these mandates. The trucker, the American citizen, everyone must be allowed to earn a living. This is about freedom!"
Dr. Pierre Kory, president of the Front Line COVID-19 Critical Care Alliance, a group of physicians who advocate for prevention and early treatment protocols for COVID-19 that include the use of ivermectin and hydroxychloroquine, told the crowd that COVID-19 "is a treatable disease."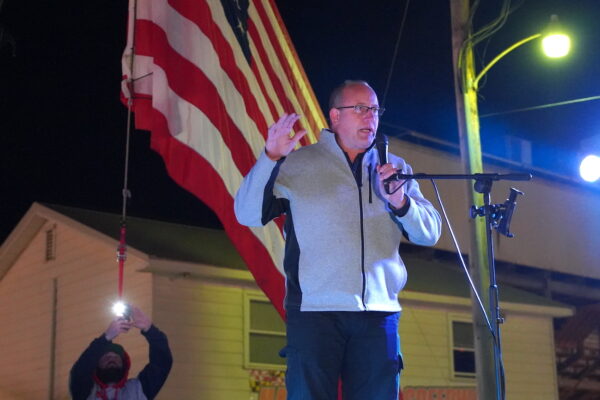 "Let us be clear, they have not only violated and taken our freedoms, they've done so based on 'science'—but that science has also been violated and corrupted," he said. "These are illegitimate policies, the mandates are not based on science and this emergency order that they have, have essentially given a free pass to the pharmaceutical and vaccination industry."
Solidarity With Canada
The People's Convoy was inspired by trucker convoys in Canada that protested against COVID-19 restrictions and vaccine mandates since late January for about three weeks. News of the Canadian truckers' protest rippled across the world.
"It's amazing that Canada did this first," Brase said. "I struggled with that a little bit, like it should have been the United States, right? We're the freest country in the world, but we didn't stand up until after Canada did. God bless Canada."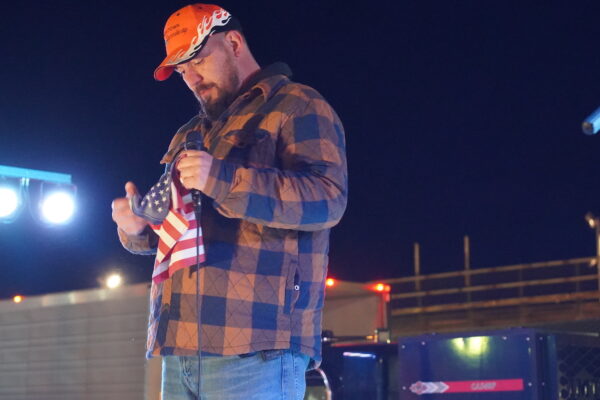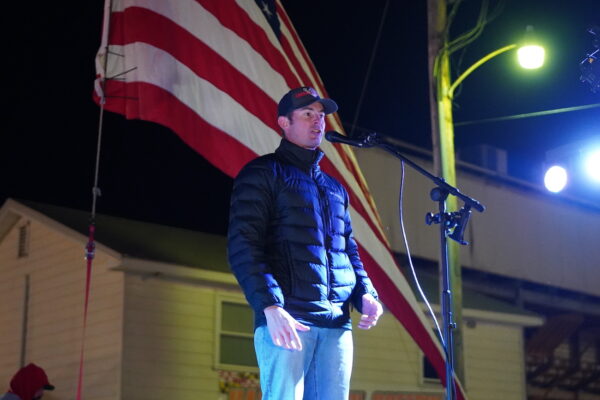 Joshua Yoder, co-founder of the U.S. Freedom Flyers, a grassroots organization comprised of airline workers opposed to vaccine mandates, called on Americans to support Pastor Artur Pawlowski, a prisoner of conscience in Canada whose message and actions went against the government's narrative and mandates amid the COVID-19 pandemic. Yoder said protests are being held at multiple Canadian consulates across the United States on March 9 and urged people to get involved.
"[Pastor Artur] is a street preacher, he's been down here in the United States on tour, he's spoken all over this country, he's inspired people all over the world," Yoder said. "We need the American public to get engaged. This is a guy who fought for us, and it's time we fight for him."
Freedom and Patriotism
Maureen Steele, a co-organizer of the convoy who has been with the group since it departed from California, said on Friday, "Patriotism is alive and well in the United States of America.
"More inspiring still is the generosity of the American heart—the generosity that we have all enjoyed has just been overwhelming," she told the rally, noting the "tremendous amounts of food rolled out for free" at the various stops along the way.
Dave Wakefield was providing free hotdogs, as well as free bibles, in Ohio.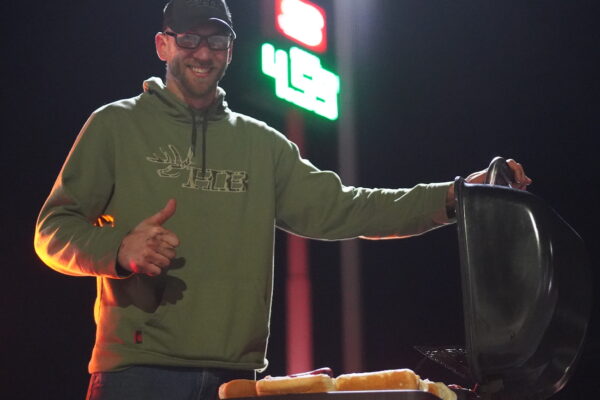 "I can't go to Washington but we can do some things to help out along the way. It's what we do as patriots … We love everybody that's here and we're here just for the freedoms of our rights," he told The Epoch Times on March 3. "If you want to take a vaccine and wear a mask, I have no problem with that. But I don't want someone to tell me I have to. And that's exactly why I'm here today."
Kristina Lear, who attended the rally in Hagerstown on Friday, told The Epoch Times she is "thankful to be an American." Her great-great-grandfather was a civil war soldier.
"I'm born in the 70s. My grandfather took me to the Gettysburg battlefield every year. He was a historian there because of his history there," she said. "When I was a young girl, he said to me, 'freedom's never free and they will come back to take it.'"
She hopes the convoy will draw a "peaceful line" that "will bring some sovereignty back to this nation and awaken people of what's truly happening and how important it is to stand."
Joshua Yoder told rallygoers Friday night, "What they're doing to us is unconscionable, and if we don't all stand together right now and stand up we're going to lose this country.
"This is our 1776, and this time there will be no bloodshed, we are peaceful, we are law-abiding, but we are strong. We are going to stand up, we're going to stand together, and we're going to put this government in their place, and we're going to remind them that it's the people of this country that are the government."
Please follow and like us: