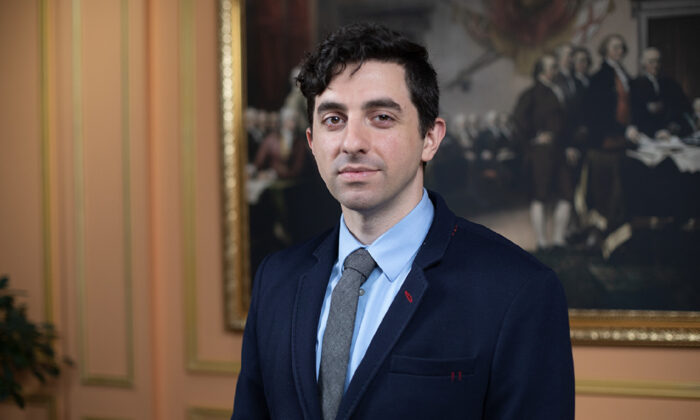 Parents' Rights Movement Spurs New Age of Advocacy in Local School Board Races
By John Haughey
Two years ago, Ryan Girdusky was a New York-based reporter for conservative news sites, Tiffany Justice was a former Florida school board member and mother of four school-aged children, and Steve Maxwell was focused on growing his agricultural software business across the Southeast.
None had experience in orchestrating political advocacy, recruiting candidates to run for public office, or financing elections on a coordinated, national scale.
But when anger over closed schools and pandemic restrictions galvanized a parents' rights movement in spring 2020, Girdusky, Justice, and Maxwell were among chief influencers in spurring the grassroots formation of more than 200 parents groups in school districts across the country, according to a Washington Post canvass.
They have since grown that seminal groundswell into sustained campaigns to eliminate vestiges of Critical Race Theory from K-12 curriculum and ensure materials are "age-appropriate," demanding books deemed "inappropriate" be pulled from school shelves; and removing targeted board members—there were 92 recall attempts lodged against 237 school board members nationwide in 2021, a huge spike from the average of about 30 recall attempts every year since 2009, according to Ballotpedia.
Grassroots Uprising of Parents
When the 2022 election cycle kicks into high gear this spring, the three will be spearheading campaigns for hand-picked candidates in hundreds of school board races this summer and fall.
In May 2021, Girdusky established the 1776 Project Political Action Committee with the Federal Elections Commission. The first federal super PAC for school board elections, its stated mission is to elect conservatives for school boards nationwide.
By late last summer, 15,000 people had contributed about $135,000 in "small-dollar donations," allowing the "Little PAC" to back 58 November 2021 school board candidates in 29 elections in seven states with digital ads, direct-mail circulars, and campaign materials.
Forty-two prevailed, including in Democrat-controlled counties, which Girdusky said confirms there is a coalescing nonpartisan—or pan-partisan—grassroots uprising of parents angry with "the apparatus of the school system," perceived Leftist domination and anti-Christian indoctrination.
The 1776 Project will contribute to and coordinate "hundreds" of 2022 school board campaigns nationwide and, he predicts, "We will flip 300 school board seats. That is our goal."
Girdusky, author of "They're Not Listening: How the Elites Created the National Populist Revolution," said parents must understand "the language that is embedded in CRT"—Social Emotional Learning (SEL) and Diversity, Equity and Inclusion (DEI)—may not be explicit in the academic curriculum but can be found in district polices and teaching guides.
"Critical race theory is being practiced—not necessarily taught, but practiced—in the way they do the teaching in all 50 states," he said.
Girdusky said to secure 1776 Project's endorsement, school board candidates must "make it more than about CRT. They must make it about standards, learning levels. Talk about education as an all-encompassing thing, which it is."
'Growing Like Wildfire'
Developing "a bigger and broader message" is among "lessons that I learned" from his first experience coordinating campaigns last fall.
"Make the conversation about what is happening at the local level," Girdusky said. "Make it as direct as possible" to the local board and local students.
Justice and two other former South Florida school board members founded Moms For Liberty in January 2021.
"We're growing like wildfire," Justice said Thursday, noting the latest membership tally was 176 chapters in 34 states with more than 80,000 members.
The goal, she said, is to have chapters in all 3,143 counties in the United States and members sitting on thousands of public school boards.
Despite being novices in political campaigns and a newly created group, Moms For Liberty write-in candidates won two school board seats in Virginia in November.
The group has since gained name recognition following well-publicized parents' rights clashes with school boards in Florida, New York, and Tennessee, over mask mandates, CRT and LGTBQ rights, race, and discrimination curriculums.
Moms For Liberty is actively recruiting candidates for 2022 school board races across the country, Justice said.
"We are looking for great leaders," she said. "We have a vetting process, a couple of interviews" that begins by "going to the website to look to see if you have a chapter (nearby). If not, start a chapter. There is a tab for that."
To garner Moms For Liberty's endorsement, Justice said candidates must recognize "everyone has a role to play in fighting for the survival of America and it is important to make space for everyone. The best thing you can do as a leader is find and nurture the strength of people."
Liberty and Freedom
The message should be local, she said, but also state, "We are founded on the principles of liberty and freedom. These are not partisan issues. Freedom is not a political issue. When you stand for what is just, right and true, people will stand with you."
Maxwell founded County Citizens Defending Freedom in March 2021 to "make more permanent" a coalition that surfaced in April 2020 demonstrations against mask mandates imposed by the Polk County School Board in Central Florida.
CCDF-USA's website state it responds to "a breach of freedom or liberty" by following verses from Matthew 18: "If a brother or sister sins, go and point out the fault just between the two of you. If they listen to you, you have won them over."
The group has four Florida chapters and one in Texas, Nueces County, which includes Corpus Christi. Its Facebook page had 2,370 followers as of March 12.
Maxwell said as many as 30 chapters are in the process of forming in Florida, Texas, and Georgia.
"That's what I'm doing right now—getting the leadership team in place for expansion into Georgia," he said on March 10. "It's a full-time job."
What is happening in Florida, Georgia, and Texas is "a great snapshot" of what is happening with grassroots parents' rights groups across the country challenging school boards, he said.
Through associations with Moms For Liberty, Defend Florida, Alliance Defending Freedom, Turning Point USA, and Recover America, among other conservative groups, CCDF-USA's local chapters plan to field 2022 school board candidates in races across Florida, Georgia, and Texas.
CCDF-backed candidates have filed in four Florida school-boated races, including five for four open seats in Polk County where the local chapter has forced the district to pull and review 16 books for their suitability as curriculum for elementary and middle-school students.
"From the beginning, we structured our organization to be more permanent" and to focus on three issues—schools, election integrity, and "what we call, 'follow-the-money training,'" Maxwell said.
"We started from a standpoint where we needed a fresh approach" in creating a group of business-owning parents who would have "a very methodical" and litigious approach in addressing "breaches in liberty, he said.
Effective Advocacy
"There was a lot of planning in putting this model together. We hired some very skilled people that can help us with what is really going on," Maxwell said. "The biggest part was the legal team."
CCDF is "not associated with a political party" and mostly comprised of business owners and former local government elected officials but, he said, "We're not shying from our heritage as a country, from our spiritual heritage, our Biblical principles" in advocating on issues that "are deeper" than temporal politics.
The goal is "to start local groups to push back," Maxwell said, noting he has learned the most effective advocacy is soft, steady, person-to-person contact.
"We have gone to elected officials and introduced ourselves," he said. "We are trying to be professional about this. Just play out the truth to create transparency. We are not screaming at a board meeting. We train. We shine the light if we find breaches of our liberties."
But, he said, CCDF will apply pressure on local boards by national amplification through his 'Liberty USA' podcasts, which are marketed by "national media brokers" and heard on many conservative sites.
"I'm a business guy, an entrepreneur, a greenie" when it comes to political organizing and campaign management, Maxwell said.
"The biggest surprise I've learned is being able to see all the dark money" in elections generally and school board campaigns specifically with large progressive national donors.
"You can see how local [school boards are] infiltrated by those that oppose the nation's founding principles and how they have infiltrated a lot of areas locally. That has been the biggest surprise. It's real," he said.
Parents Getting Engaged
Unlike Girdusky, Justice, and Maxwell, Dr. Rick Scarborough is a 30-year veteran of conservative advocacy in training fellow evangelical pastors on how to mobilize the voting efficacy of their constituencies.
As president of Houston-based Recover America, he is finding new traction for concerns raised about the nation's education system for decades.
In 2016, Scarborough took "a hiatus" to "teach the Bible" in Washington, D.C., including for several Congressional organizations. But after liberal Democrat Beto O'Rourke nearly unseated Texas U.S. Sen. Ted Cruz in their 2018 race, Scarborough returned to Texas to establish Recover America to "focus on Texas initially with the intention to take our model on the road, to the major battles" across the country.
School boards have always been a Scarborough focus, but the pandemic exposed a nuance he didn't fully understand until the parents' rights movement made it evident.
"The only good thing about the pandemic is parents got engaged in their children's education again and, quite accidentally, and they found out what was going on," he said.
"We all ask the question," he continued, "'How could our best young people be in college one or two semesters and throw everything they knew from home and church overboard?' We were focused on colleges but not on the seed that was sewn as early as preschool. They have been sowing seeds with what they consider social reform."
A Recover America-backed candidate was recently elected in a special election to the Houston Independent School District board. "We saw that as a great opportunity to get prepared for 2022," he said.
The group will join other groups is sponsoring the Family Research Council's School Boot Bootcamp and is "lobbying parents to do two things" which, Scarborough said, could appear counter-intuitive.
"Get these kids out of public schools where their faith is being destroyed and bring Christian parents back into the schools as teachers and as board members," he said. "I do not fully embrace a 'public school exit.' We cannot abandon our public schools."
While CRT and other curriculum issues are powerful issues to address, Scarborough said there is a larger matter to contend with: "We are graduating a dumbed-down population that will then embrace the Left. That's how we are losing our kids."
Please follow and like us: