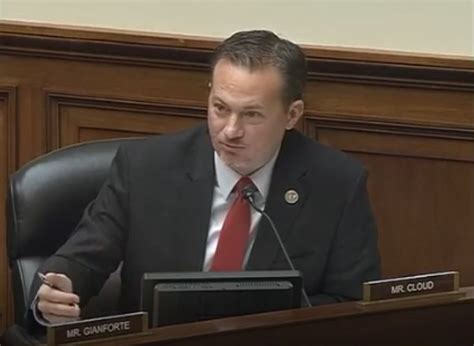 Main Job of Federal Government Is to Ensure Constitutional Freedoms: US Rep. Michael Cloud
By Masooma Haq and Steve Lance
Congressman Michael Cloud (R-Texas) said an essential role of the federal government is to keep its citizenry free and protect civil liberties, which are God-given. Because the Second Amendment is an essential component of that freedom, he is pushing back on the Biden administration's effort to track every gun purchase.
"You'll hear a lot of people say that the primary job of the federal government is to keep us safe. Well, the primary job of the federal government is actually to keep us free," Cloud told the host of NTD's Capitol Report during a recent interview.
Cloud said the Biden administration is getting too close to creating a federal gun registry—encroaching on our constitutional liberties—which is currently prohibited by federal law.
At the end of 2021, Cloud said he became aware that the ATF (Bureau of Alcohol, Tobacco, Firearms, and Explosives) had collected over 54 million gun records in one year and that the Biden administration was trying to extend how long gun vendors to keep their records.
"We began an investigation and come to find out that the ATF had over time collected almost 1 billion gun records. They had put them into a database in digital format in a way that's searchable," said Cloud. "So, you look at a database with almost a billion gun records in it—that's an astronomical figure—in a searchable database. It comes really close to that line of a gun registry, if not crossing it."
To stop the federal gun registry database, Cloud introduced a bill called "No Retaining Every Gun In a System That Restricts Your Rights Act." "We're pushing back on it. We've introduced this legislation that would call for that database to be dismantled," he said.
Cloud and the 50 representatives who have co-sponsored the bill say this measure will protect Americans' basic freedoms and ensure the government can be kept in check.
"It's really about our protection. It's about ensuring tyranny doesn't enter into our government. It's about ensuring that each individual has the right to protect themselves and their families."
The firearm industry trade association, the National Shooting Sports Foundation (NSSF), said out of the total firearm purchasers in 2021, nearly 30 percent (5.4 million) were first-timers. This is a decrease of 10 percent from 2020 when nearly 8.4 million people bought a gun for the first time out of 21 million background checks.
Crimes have spiked all across the country and people want to protect themselves and their families, "but we see politicians stepping in the way of that," said Cloud, adding that in the last year, many of the federal agencies have encroached or attempted to encroach on our constitutional rights.
Cloud gave the examples of the Department of Justice attempting to label angry parents as domestic terrorists, Democrats trying to pass a bill that would expand the IRS and their ability to track many more of people's purchases, and the Department of Homeland Security designating "domestic terrorism" and misinformation as greater threats than foreign terrorists.
"This is a time for us as Americans to realize we have to stand up and uphold the Constitution, that Constitution that was put in place to put government in a box, specifically so they do not overstep what we understood to be our God-given liberties."
ATF's Office of Public and Governmental Affairs told The Epoch Times via email that it "does not maintain a federal gun registry for firearms that fall under the Gun Control Act, and none of the records ATF maintains relating to those firearms may be used to create such a registry."
In response to ATF, Cloud's Communications Director Jeremy Crane said, "ATF can say all they want but they have admitted to accumulating, maintaining, and digitizing nearly a billion firearm purchase records of American gun owners. That certainly looks like the start of a federal gun registry."
Please follow and like us: