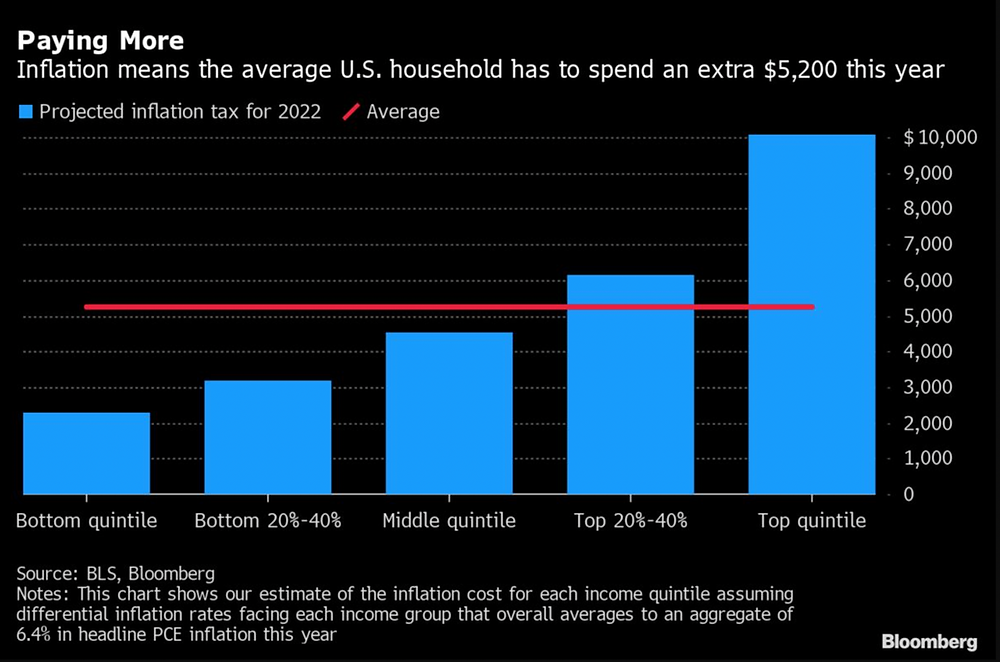 Inflation will cost the average US household $5,200 more in 2022: Report
Economists have now given rising inflation a suggested dollar amount for 2022 budgets.
When comparing the cost of goods and services in 2021 to expected costs this year, Bloomberg economists said the average U.S. household will spend $5,200 more, or $433 more per month.
"Accelerated depletion of savings will increase the urgency for those staying on the sidelines to join the labor force, and the resulting increase in labor supply will likely dampen wage growth," Bloomberg economists Andrew Husby and Anna Wong said.
The economists also said increases in wages and built-up savings will cushion the rising costs.
The estimate is another reminder of the bleak disheartening economic outlook that is not amiss on the public. A Gallup poll released Tuesday showed inflation as the most important economic problem seen facing the United States.
"Inflation began rising as a public concern last fall after being a nonissue for Americans throughout 2020," Gallup's Lydia Saad said. "It's more top of mind than it's been in over three decades and appears to be taking a toll on Americans' broader economic confidence."
Inflation is the leading public concern, with 59% of people saying they worry about it "a great deal" and 58% saying they also worried a great deal about the economy.
Gallup noted that mentions of inflation as the nation's top problem hover around 10% — a figure much lower than the 52% in the early 1980s, when inflation was elevated after a period of "stagflation" in the 1970s.
The poll results were based on telephone interviews conducted from March 1 to March 18, with a random sample of 1,017 adults living in all 50 states and the District of Columbia. The margin of sampling error was plus or minus 4 percentage points with a confidence level of 95%.
Please follow and like us: