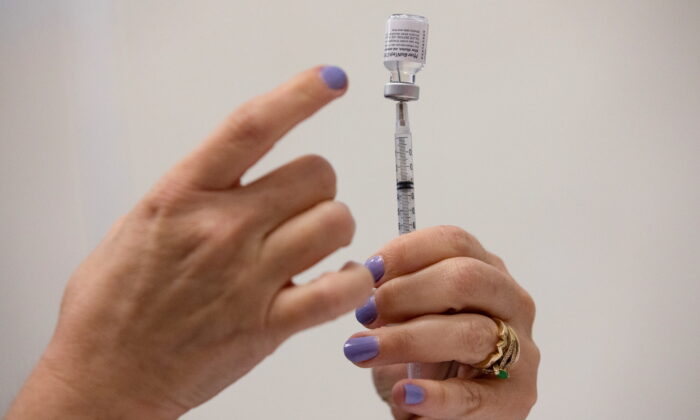 Study Links Increase in Emergency Heart Events With COVID-19 Vaccine Rollout
By Jack Phillips
A new study found a correlation between an increase in emergency cardiovascular events among people under 40 years of age during the launch of Israel's COVID-19 vaccine program.
Published in the Nature journal, researchers utilized data from the Israel National Emergency Medical Services between 2019 and 2021 that evaluated emergency, or EMS, calls among 16- to 39-year-olds across Israel "with potential factors including COVID-19 infection and vaccination rates."
They found that there was a 25 percent increase in EMS calls between January 2021 to May 2021, as compared with the years 2019 and 2020. Israel, which primarily uses Pfizer's mRNA vaccine, launched its COVID-19 vaccine program in late December 2020.
"The weekly emergency call counts were significantly associated with the rates of 1st and 2nd vaccine doses administered to this age group but were not with COVID-19 infection rates," they found. "While not establishing causal relationships, the findings raise concerns regarding vaccine-induced undetected severe cardiovascular side-effects and underscore the already established causal relationship between vaccines and myocarditis, a frequent cause of unexpected cardiac arrest in young individuals."
They recommend that when evaluating possible vaccine side-effects and COVID-19 outcomes, officials should incorporate EMS data and relevant data to identify potential new health trends such as an increase in EMS calls, and "promptly investigate potential underlying causes."
A recent study carried out by Swedish researchers across populations in Finland, Denmark, Sweden, and Norway suggested that heart inflammation requiring hospital care was more common among people who received COVID-19 vaccines than individuals who did not.
"These extra cases among men aged 16 to 24 correspond to a 5 times increased risk after Comirnaty and 15 times increased risk after Spikevax compared to unvaccinated," Dr. Rickard Ljung, a professor and physician at the Swedish Medical Products Agency who was involved in the study, told The Epoch Times last week. Spikevax is the name for Moderna's COVID-19 vaccine, while Comirnaty is Pfizer's vaccine.
His team found that myocarditis or pericarditis rates are higher than the levels in an unvaccinated cohort, or 38 per 100,000 after second doses of the mRNA vaccines were administered.
The Israeli research team said in their study, published on April 28, that they believe the "benefits of COVID-19 vaccination are clear, especially for populations at great risk of developing serious and potentially life-threatening illness" such as older adults or immunocompromised individuals. However, they noted, "it is important to better understand the potential risks to minimize potential harm."
When conducting the research, the Israeli scientists made note of several potential flaws, including a "self-reporting bias" when individuals report symptoms via report systems including the U.S. federal government-run Vaccine Adverse Event Reporting System (VAERS), including "under and over-reporting" of vaccine-related symptoms.
"Even the study from Israel that is based on more proactive data collection mentions that some of the potentially relevant cases were not fully investigated," they said.
A second issue the researchers ran into is how the symptoms of myocarditis, a type of heart inflammation, present themselves.
"Myocarditis is a particularly insidious disease with multiple reported manifestations," they noted. "There is vast literature that highlights asymptomatic cases of myocarditis, which are often underdiagnosed."
Meanwhile, "myocardial injury and myocarditis [are] prevalent among patients with COVID-19 infection," not just among those who received the vaccine, it said.
"As COVID-19 vaccine rollouts often take place with background community COVID-19 infections, it could be challenging to identify whether increased incidence of myocarditis and related cardiovascular conditions … is driven by COVID-19 infections or induced by COVID-19 vaccines," it added.
The U.S. Centers for Disease Control and Prevention and most health agencies worldwide have said that the benefits of COVID-19 vaccines outweigh the potential risks. The CDC on its website says that most patients who develop myocarditis or pericarditis and got medical care have responded well to treatment.
Symptoms include chest pain, shortness of breath, and feelings of a fast-beating or fluttering heart.
Please follow and like us: