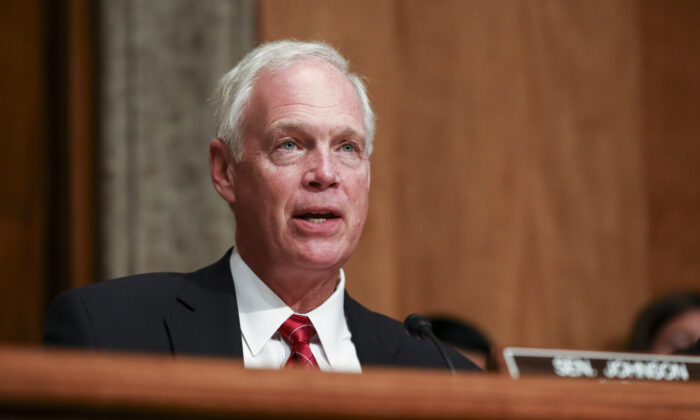 Sen. Ron Johnson to AG Garland: Why is Wisconsin Pro-Life Center Attack Not Domestic Terrorism?
By Jack Phillips
Sen. Ron Johnson (R-Wis.) sent a letter to Attorney General Merrick Garland asking why an attack on a Madison, Wisconsin, pro-life center is not being investigated as an act of domestic terrorism.
Last weekend, the Wisconsin Family Action clinic in Madison was attacked with Molotov cocktails after the leaked release of a draft Supreme Court opinion suggesting the court would overturn the Roe v. Wade case that made abortion constitutionally protected.
"Attacking a pro-life organization in a manner that could have injured or killed the office's occupants due to differing political ideologies fits these definitions," Johnson wrote, adding, "I am unfortunately compelled to write to you about this matter because DOJ has a track record of not prosecuting left-wing violence as we have seen with the summer of 2020 riots that occurred nationwide."
The FBI says domestic terrorism, he added, is an "ideologically-driven criminal act, including threats or acts of violence made to specific victims, made in furtherance of a domestic ideological goal that has occurred and can be confirmed."
The senator also made note of protests, including some that were held this weekend, outside the homes of Republican-appointed Supreme Court justices, describing such incidents as intimidation and a violation of federal law.
"The intimidation of sitting Supreme Court justices is a clear violation of federal law, and, once again, DOJ, FBI, and [the Department of Homeland Security] have yet to condemn these activities," Johnson wrote. "Compare your silence on these events to your robust actions against parents attending public school board meetings to voice their concerns about far-left ideologies being integrated" in public schools, he added.
Officials in Wisconsin told The Epoch Times last week that they are aware of a left-wing group that carried out the attack on the Madison pro-life group's office. The group claiming responsibility, Jane's Revenge, sent a statement to Bellingcat that the arson was a "warning."
"Next time the infrastructure of the enslavers will not survive," the group said, adding that if pro-life groups and clinics are not disbanded within the next month, it will carry out more further attacks.
"Wisconsin is the first flashpoint, but we are all over the U.S., and we will issue no further warnings," the statement said, adding they will "adopt increasingly extreme tactics to maintain freedom over our own bodies."
Read More From ForAFreeAmerica
In the letter, Johnson made reference to the group's apparent threat.
The Department of Justice has not responded to a request for comment.
Please follow and like us: