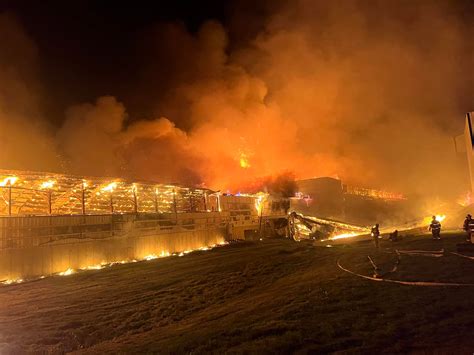 Huge Fire at Minnesota Commercial Egg Farm Kills Thousands of Chickens
By Jack Phillips
A fire at a large commercial egg farm in Minnesota left thousands of chickens dead, officials confirmed over the Memorial Day Weekend.
The fire started late Saturday night at a Forsman Farms facility in Stockholm Township, Minnesota, officials told local media. Reports said the blaze occurred at a barn that houses manure and chickens.
Deputies with the Wright County Sheriff's Office told Fox9 in Minneapolis that the primary building involved in the fire was seriously damaged, while surrounding structures were only lightly damaged. The office also estimated that there were likely 200,000 chickens in the barn when the fire occurred.
Officials told the station they don't believe the fire was caused by criminal activity. They added that a state fire marshal is investigating the cause.
Meanwhile, Forsman Farms issued a statement in response to the blaze. A spokesperson described the incident as a "tragic accident."
"Overnight, a fire destroyed one of our barns at our Howard Lake farm," Forsman Farms said in a statement to local media. "No one was injured and we are grateful that first responders were quickly on scene to put out the fire. Unfortunately, chickens were lost because of the fire. We are evaluating the extent of the damage—which appears to be confined to a single structure—as well as investigating the cause of the fire."
Another spokesman, Jon Austin, told KARE11 that they're estimating that tens of thousands of chickens perished in the blaze.
Neighbors of the farm recalled that the fire spread quickly.
"It was unbelievable how quick it grew, it was insane," neighbor Andy Trebesch told CBS Minnesota. "It was the whole sky, it was quite large."
Meanwhile, the price of eggs is expected to rise as much as 21 percent by the end of this year, up from previous estimates of 6 percent to 7 percent, according to data released by the U.S. Department of Agriculture last week. An outbreak of avian influenza impacting chicken and other poultry farms has also caused a spike in prices.
Recent fires at food processing plants across the United States have raised concerns about shortages, layoffs, and price increases. The National Fire Protection Association has said that U.S. fire departments respond to an estimated average of 1,210 fires on warehouse properties every year.
As of 2019, the U.S. Department of Agriculture said the United States had 38,821 food and beverage manufacturing establishments, meaning that only around 0.0004 percent of the U.S. food and beverage manufacturing facilities have been affected by significant fires in recent months.
"Unfortunately, accidents happen in any industry," Sam Gazdziak, a spokesman for the American Association of Meat Processors told The Epoch Times earlier this month. "You can take a lot of steps to prevent them, but they are just tragic accidents."
"While nobody is targeting meat plants or any other kind of plants, this is an opportunity for you to review your fire safety plans and also review your insurance policies," Gazdziak said. "From what we've seen in the past, companies can recover from a fire. The fire itself is not the danger to the existence of the company; it's having an insufficient amount of insurance or an insurance company that just won't work with you … that could be the deal-breaker."
Please follow and like us: