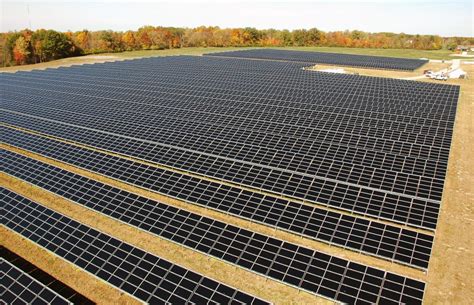 Energy Transition to Wind and Solar Is More Expensive and Environmentally Nonviable: Study
By Harry Lee
Environmentalists, the Biden administration, and some states have been pushing for a drastic energy transition to renewable energies such as wind and solar, saying it's cheaper and could help address climate change. However, a recent study found that, if all costs are considered, wind and solar are actually more expensive to produce electricity and such a transition would be environmentally nonviable.
The peer-reviewed study (pdf) is published in the June issue of the Journal of Management and Sustainability, by the Canadian Center of Science and Education.
"We introduce and describe the methodology for determining the full cost of electricity (FCOE) or the full cost to society. FCOE explains why wind and solar are not cheaper than conventional fuels and in fact become more expensive the higher their penetration in the energy system," said the study, which focuses on electricity because energy electrification has been at the center of current energy policy.
The authors categorized ten cost factors, including the cost of building, fuel, operating, transportation, storage, backup, emissions, recycling, room or space, and three other metrics: material input per unit of service, equipment lifetime, and energy return on investment.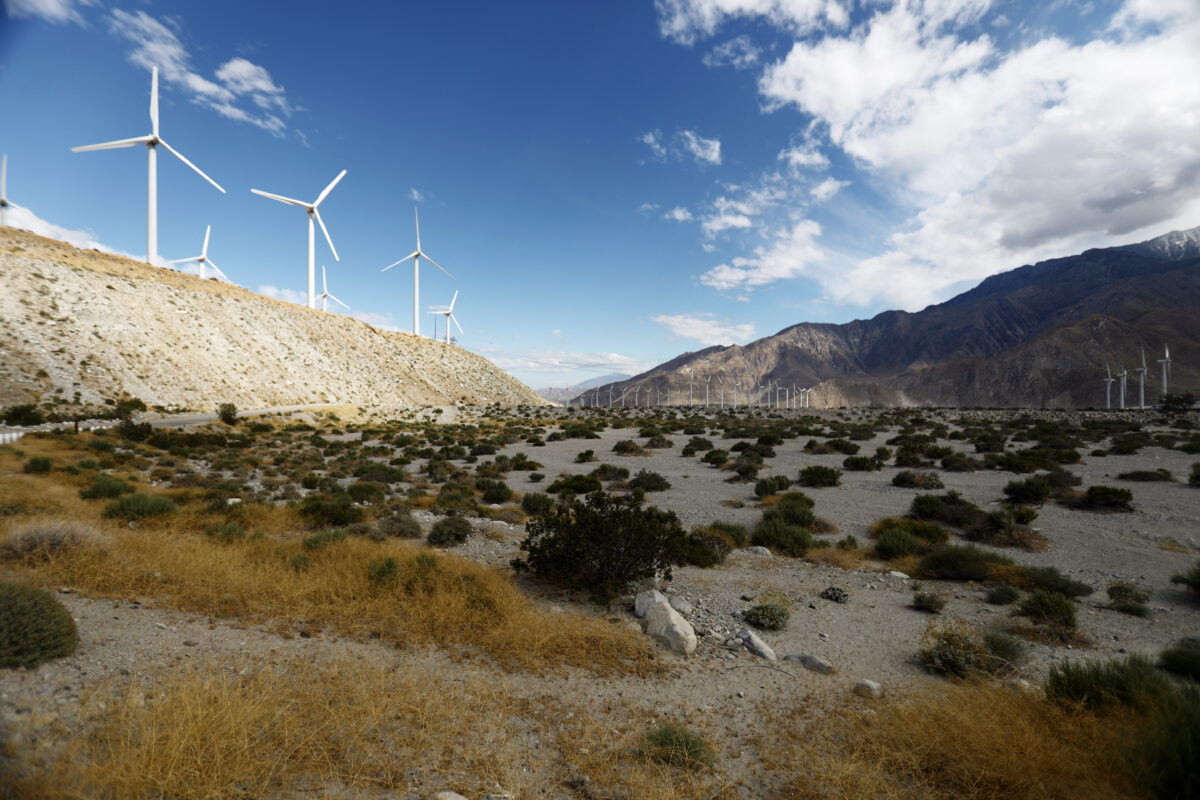 The authors of the study had conducted over 70 interviews worldwide during the past 3 years with various ministries, government organizations, universities, and industrial conglomerates. But no entities, including any media, have considered the 10 categories in full.
"When we look at the environmental impact of our energy systems, we have to look at the entire value chain," the first author of the study Dr. Lars Schernikau said in SAGE talks in May. Schernikau is an energy economist and commodity trader.
"There is a production of raw materials that we have to consider. There's processing of raw materials that we have to consider. There's transportation of raw materials and products that we have to consider. Of course, there's the actual operation, the combustion of materials, whatever we do with the production. And then there's the recycling. So these are the main steps where we have to consider our environmental impact."
Schernikau said there're non-emission issues to consider as well, such as the energy efficiency, the material efficiency, the space requirement, the waste requirement, the effect on animal and plant life, and the effect on health and safety.
"Wind and Solar have zero CO2? Why? Because during combustion, they don't produce CO2. But when you look at the entire value chain they produce a lot of CO2," said Schernikau.
In a chart made by the authors, to produce one terawatt (TW, 1,000 gigawatts or one trillion watts) of electricity, variable renewable energy sources such as solar, hydro, and wind need much more material input than conventional coal and natural gas.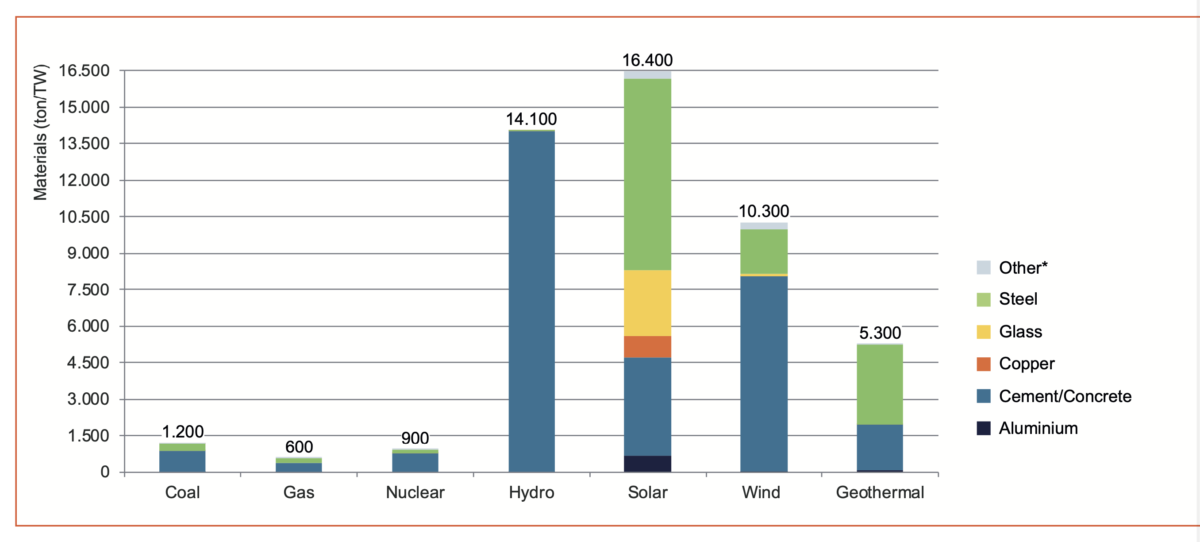 The authors of the study also brought about another important concept, energy return on investment (eROI), which essentially measures the energy efficiency of an energy gathering system.
Citing Dr. Euan Mearns's work, the authors said that modern life requires a minimum eROI of 5–7. However, they pointed out that most solar and many wind installations have a lower eROI and are not efficient enough to support society at large.
The inherent challenge for wind and solar is their intermittency and low energy density, the study pointed out. That's why practically every windmill or solar panel requires either a backup or storage which increases the system costs.
"But if the world were, today, go 100 percent wind, solar, and biomass, we would not be sitting here. There would not be enough energy. We would go into energy starvation. And that's what you start to see now in the market," said Schernikau.
Schernikau doubted the current pathway to more wind and solar electricity is environmentally viable, considering they are "the least energy-efficient" and all the material input and other measures needed.
He pointed out that in 2019, the world had 1.5 terawatts of wind and solar alone. "8.7 Terrawatts are supposed to be built in the next eight years of wind and solar, that means they're going to double our existing infrastructure," Schernikau said, referring to a forecast by the Boston Consulting Group.
"By 2040, we're going to have [to] double it again. By 2050, we're going to put another seven, eight terawatts," said Schernikau. "That is the current pathway we are going and I am asking, how is this environmentally friendly?"
The Energy Department hasn't responded to a request for comment.
President Joe Biden has been saying tackling climate change is one of his top priorities. Before he took office, he campaigned on a transition to 100 percent clean energy by 2050. Last December, Biden signed an executive order to make the federal government net-zero emissions by 2050.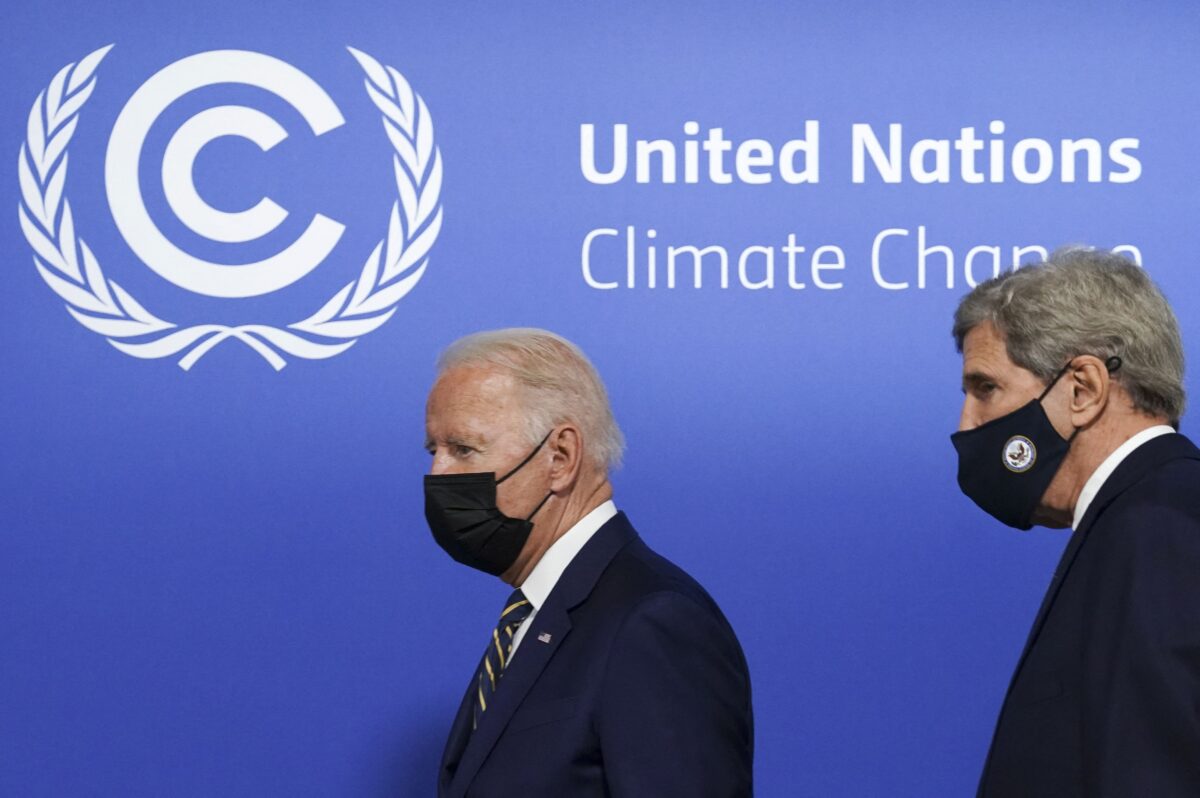 On June 6, Biden invoked the Defense Production Act (DPA) to accelerate domestic production of key clean energy technologies including solar panels, heat pumps, fuel cells, and electrolyzers.
By invoking the DPA, manufacturers of solar panels and other green technologies will receive grants and loans.
According to the Clean Energy States Alliance, 21 states, the District of Columbia, and Puerto Rico now have 100 percent renewable energy or net-zero greenhouse gas emissions goals, mostly by 2050. Rhode Island's goal might be the most ambitious: 100 percent renewable energy electricity by 2030.
The European Union aims to reach a climate-neutral economy by 2050—with net-zero greenhouse gas emissions. Some Big Techs also announced their own clean energy goals, most notably Google, Microsoft, and Apple.
The study concluded with suggestions for a revised energy policy, saying energy policy should not favor any of the energy sources but should support all energy systems to avoid energy shortage or energy poverty. It also called for investment in base research of energy transition and investment in conventional energy systems.
Last month, the head of the International Energy Agency cautioned that the current energy crisis is "much bigger" and could persist longer than the oil shocks of the 1970s.
"If investments in fossil fuels will not increase substantially and very soon, a prolonged global energy crisis will be difficult to avoid this decade," the study stated.
Please follow and like us: