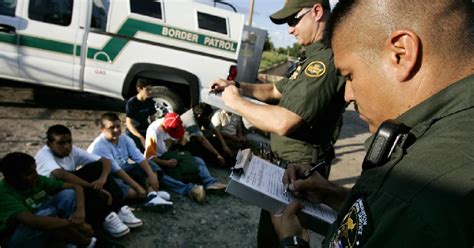 Texas Judge Blocks Federal Policy Letting 'Criminal Aliens' 'Roam Free'
By Caden Pearson
Texas and Louisiana have successfully sued the Biden administration over an immigration policy that saw "criminal aliens" released from custody into the community instead of being deported.
U.S. District Judge Drew Tipton on Friday ruled in favor of Texas and Louisiana, finding that the Department of Homeland Security (DHS) issued rules via "self-styled" memorandum meant to govern "civil immigration enforcement."
These "unlawful agency memoranda" allowed illegal aliens convicted of felonies to "roam free" in America, Texas and Louisiana argued in their lawsuit (pdf).
Tipton said the legal issues in the case were "varied and complicated" but at its core, the case was about whether the Biden administration "may require its officials to act in a manner that conflicts with a statutory mandate imposed by Congress."
"It may not," Tipton wrote.
Texas and Louisiana argued that the DHS policy to allow U.S. Immigration and Customs Enforcement (ICE) officials to exercise discretion in deportation cases conflicted with detention mandates under federal law.
In defending against this claim, Tipton found that the Biden administration's "explanations fall short."
"The Executive Branch may prioritize its resources. But it must do so within the bounds set by Congress," Tipton said. "Using the words 'discretion' and 'prioritization,' the Executive Branch claims the authority to suspend statutory mandates. The law does not sanction this approach."
DHS Secretary Alejandro Mayorkas said in September 2021 that the policy was just and the agency was stretched, The Hill reported.
"The fact that an individual is a removable noncitizen should not alone be the basis of an enforcement action against them. We focus our resources because they are limited, and because of our dedication to doing justice," he said.
The Epoch Times reached out to the DHS for further comment.
The attorney generals of Louisiana and Texas celebrated the win on Twitter.
"A federal judge has just ruled with us that the Biden Administration can no longer refuse to detain criminal illegal immigrants. This is a major win for our [National Security] and the [rule of law]!" Louisiana Attorney General Jeff Landry wrote.
Texas Attorney General Ken Paxton declared he had "dealt Biden another massive defeat" in federal court.
"[Biden] tried to throw out immigration law, saying DHS didn't have to detain criminal illegals. The court now says he must. I will always hold the line with the Dems and the rule of law," Paxton wrote.
According to court documents, when the Texas Department of Criminal Justice (TDCJ) incarcerates a criminal alien it informs the ICE agency. The agency would normally then issue a detainer request if the alien is due to be deported when their sentence expires. TDCJ would then hold the alien instead of releasing them into the community.
Louisiana has a similar procedure except there are more federal detention facilities available where federal detainees are held until they can be deported.
However, since the inauguration of President Joe Biden in January 2021, federal agencies have "rescinded dozens of detainer requests previously issued to TDCJ, and ICE has declined to take custody of dangerous criminal aliens that it had previously sought."
Louisiana and Texas argued that the Biden administration's actions are in violation of the Immigration and Nationality Act, the Administrative Procedure Act, binding agreements that DHS negotiated with Texas and Louisiana, and the U.S. Constitution.
These policy changes, the two states argued, have "resulted in a 'crisis on the border.'"
Please follow and like us: