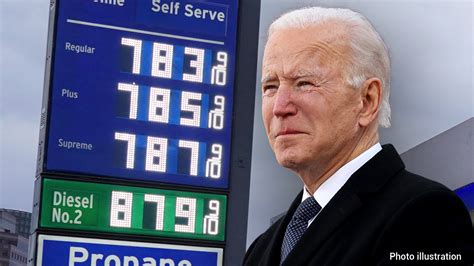 Biden signals growing desperation in fight against inflation
By Naomi Lim
President Joe Biden imploring Congress to pass a gasoline tax holiday is being ripped as a political gimmick that only underscores his powerlessness regarding 41-year record-high inflation and his increasing desperation as the midterm elections approach.
Biden's three-month gas and diesel tax holiday, proposed through September, is his latest overture to counter inflation, which reached 8.6% in the year ending May,
Biden's latest move comes with increasingly heated rhetoric about the criticisms he has faced over his handling of the issue.
The president leaned into his "Putin price hike" rhetoric while announcing his gas tax holiday proposal this week, asking Republicans whether they considered "we were wrong to support Ukraine."
"Are you saying we were wrong to stand up to Putin?" he said. "Are you saying that we would rather have lower gas prices in America and Putin's iron fist in Europe?"
White House press secretary Karine Jean-Pierre and Energy Secretary Jennifer Granholm justified Biden's Big Oil and Russia stances before Thursday's meeting between Granholm and CEOs from the country's seven major refineries.
"The fact is that no president alone can control the price of gasoline, and we need more players at the table," Granholm said during a briefing room appearance. "So the president is asking Congress to act. He's asking states to act. He's asking the oil and gas industry to do their part as well."
Republican strategist Ron Nehring disagreed with Biden's underlying energy policy, quipping that higher fuel prices are "an essential element to coerce Americans into being dependent on even more expensive forms of energy such as solar and wind."
"He is proposing a small, temporary gas tax holiday not because he believes in it but because his approval ratings have plunged into the basement and he needs to change the narrative," Nehring said of Biden.
John Pitney, a former Republican operative-turned-Claremont McKenna College politics professor, concurred that "a gas tax holiday will do little to fight the broad problem." The White House projects savings of up to $1 per gallon of gas if the federal taxes of 18 cents per gallon of gas and 24 cents per gallon of diesel are suspended in conjunction with their state equivalents and retailer cooperation.
"People would barely notice the difference," Pitney said. "But as a political matter, he has little choice because his critics would attack him for not trying it."
For Christian Grose, a fellow political scientist and academic director of the University of Southern California's Schwarzenegger Institute, the long-term impact of Biden's gas tax holiday is amorphous, though many contend it could exacerbate inflation by increasing demand.
"An attempt to relieve some financial pain at the pump could give him a temporary boost or at least stop the bleeding in his approval ratings," Grose said.
Nehring urged Biden to instead prioritize domestic production to render energy more affordable, including restarting the Keystone XL pipeline and encouraging oil and gas exploration "everywhere possible."
"Biden demonizes energy producers, yet their profit margin on fuel is a fraction of what the government makes on fuel sales," Nehring said.
Biden has been unafraid to condemn the likes of ExxonMobil, alleging this month during a Los Angeles Port speech that Exxon had "made more money than God this year." Then, this week, he accused Chevron CEO Michael Wirth of being "mildly sensitive" after Wirth complained about the president's posture.
"I didn't know they'd get their feelings hurt that quickly," Biden said of the executives. "We need more refining capacity. This idea that they don't have oil to drill and bring up is simply not true."
Jean-Pierre described the oil CEOs' meeting as "productive" and "a first step," defending Biden dropping into an offshore wind meeting at the White House but not attending the Energy Department oil meeting.
"The president wanted to find a straightforward way to give consumers relief at the gas pump," she said Thursday. "We know the policy works."
The Republican National Committee, in addition to its Senate and House campaign counterparts, has scrutinized Biden's gas tax holiday proposal after the president's Strategic Petroleum Reserve releases, biofuel regulation reforms, and Defense Production Act clean energy invocation failed to avoid gas averaging $5 per gallon nationwide.
The RNC has amplified past dismissive comments from former President Barack Obama to House Speaker Nancy Pelosi (D-CA), as well as recent remarks from such economists as Moody Analytics's Mark Zandi. There has also been a slew of negative statements from members of Congress who can stymie the measure, including Sens. Tom Carper (D-DE), who served alongside Biden in the Senate, and Joe Manchin (D-WV), along with Reps. Richard Neal (D-MA), House Ways and Means Committee chairman, and Peter DeFazio (D-OR), House Transportation Committee chairman.
"As Obama said, 'this isn't an idea designed to get you through the summer. It's an idea designed to get them through an election,'" RNC spokesman Kyle Martinsen wrote. "The only solution is to end the war on American energy, but Biden won't do that. Why? Because he wants you to feel pain."
Please follow and like us: