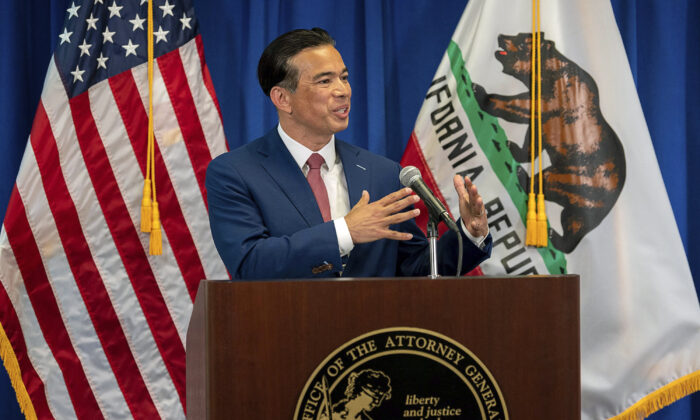 California Joins Blue State Attorneys General Denouncing Florida's Parental Rights Law
By Brad Jones
California Attorney General Rob Bonta has joined a coalition of 16 attorneys general from blue states to oppose Florida's so-called "Don't say gay" law that bans classroom instruction on sexual orientation and gender identity in kindergarten through third grade.
The group filed an amicus—or friend-of-the-court—brief on Aug. 3 in a lawsuit against the Florida State Board of Education, claiming the law "seeks to erase the existence of LGBTQ+ communities from classrooms in the state by censoring or outright prohibiting discussion of sexual orientation and gender identity."
The coalition asked the U.S. District Court for the Northern District of Florida to allow the plaintiffs' challenge to the law to move forward in the case.
Bonta criticized Florida Gov. Ron DeSantis for the parental rights law in an Aug. 4 statement: "Make no mistake: DeSantis' 'Don't Say Gay' law is an unlawful attempt to stigmatize, silence, and erase LGBTQ+ students from Florida's public schools."
"In California, we're not going to ignore discrimination and attacks on the LGBTQ+ community. We urge the court to affirm the rights and dignities of all of our children and allow this lawsuit to move forward," he said.
Mixed Messages
Carl DeMaio, chairman of a government watchdog group called Reform California and an openly gay Republican told The Epoch Times that the term "Don't say gay" law is "misleading."
"It's designed to serve a political agenda, not inform the public," he said.
The law itself doesn't say the word "gay" at all. Signed into law on March 28, the Parental Rights in Education bill states: "Classroom instruction by school personnel or third parties on sexual orientation or gender identity may not occur in kindergarten through grade 3 or in a manner that is not age-appropriate or developmentally appropriate for students in accordance with state standards."
Bonta's agenda, DeMaio claimed, is to distract California voters and deflect criticism from failing policies in their own state.
"It is a political stunt financed by taxpayers, and it needs to stop," he said.
In the statement, Bonta contends the Florida law "serves to stigmatize and harm LGBTQ+ youth in Florida and across the country." He said California has numerous protections in place to promote inclusivity in schools, including the Fair Education Act, the California Healthy Youth Act, and the School Success and Opportunity Act.
He argues studies show that failing to provide LGBT-inclusive classroom instruction adversely affects students' mental health and learning outcomes, and results in more anti-LGBT bias.
Eric Early, a Republican and former candidate for California attorney general, told The Epoch Times on Aug. 4 he fully supports Florida's parental rights bill.
"There is no doubt that LGBTQ kids should be protected. Nobody disputes that. The problem here is that the vast majority of the kids who are not LGBTQ are being indoctrinated," said Early, an attorney and managing partner at a law firm.
Telling children "it doesn't matter if you're born a boy or a girl, you can be anything you want to be," is indoctrination, Early said. "This includes teaching kids that there are far more than just the two sexes of male and female."
The push by Democratic lawmakers to make California a trans sanctuary state and implement so-called gender-affirming and trans-inclusive health care policies that would allow minors to receive puberty blockers, cross-sex hormones, and surgeries "is flat out child abuse," Early said.
The amicus brief was filed by the attorneys general of the District of Columbia, New Jersey, Colorado, Connecticut, Delaware, Hawaii, Illinois, Maine, Maryland, Massachusetts, Michigan, Minnesota, Nevada, New York, and Oregon.
Please follow and like us: