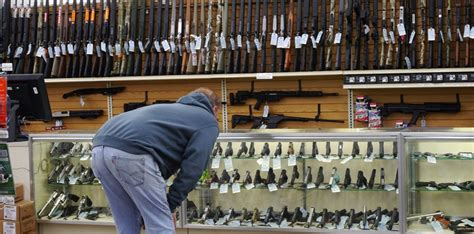 FBI Pressured People to Give up Their Gun Rights, Documents Show
By Emily Miller
The Federal Bureau of Investigation (FBI) has pressured Americans to "voluntarily" give up their Second Amendment rights, which is potentially illegal, according to newly disclosed documents.
FBI officials had Americans fill out a form that said they want the FBI to make it illegal for them to purchase or own guns forever because of a mental health condition.
A national gun rights group, Gun Owners of America (GOA), is demanding the FBI remove the records from the background check database by Oct. 8 and that Congress enforce the removals.
"We've learned the FBI had no business disarming these individuals. They did not pose a threat to society. The FBI actions were wholly unlawful," Aidan Johnston, GOA's director of federal affairs, told The Epoch Times.
FBI Tactics
Fifteen people filled out the forms, according to documents GOA acquired through a Freedom of Information (FOIA) lawsuit.
The National Instant Criminal Background Check System (NISC) is how licensed gun dealers can check if a purchaser can legally own a gun.
The completed "self-submission" forms show people gave their mental health records to the FBI and signed to accept that "completion and submission of this form will result in denial of my right to purchase, to possess and to use any firearm."
There is no time frame or process given for getting back their rights, which is what the GOA is trying to do for them.
"We have the records of 15 cases so far but, for all we know, it could be 1,500 or 15,000," said Robert J. Olson, an attorney for GOA, told The Epoch Times in an interview. "The FBI tells us these persons were put in the NICS system as mentally prohibited, and there's no way to track who was entered on the basis of this form. But the burden is on the FBI to fix this because they had no power to put these people into the system in the first place."
The names and personal details are redacted and the forms are dated from 2017 to 2019. An FBI spokesperson told The Daily Caller, which first reported about these forms, that the form was "discontinued" in December 2019.
Give Up Your Second Amendment Rights
None of the 15 people who signed the form were legally prohibited from buying guns for mental health reasons because if they were legally prohibited, there would have been no need for the form, according to GOA. Johnston told The Epoch Times that the group also received other documents from its FOIA request, including notes and interviews from FBI field agents present during the signing of the forms. Some of the people threatened violence online, but they were determined not to be a danger after further investigation.
"The FBI disarmed a high school student—who wasn't even of legal age to own a firearm—for looking online for hacking advice on a school computer," said Johnston. "The student told the agents that he didn't even want to buy a gun, but he then signed away his right to ever buy one."
One of the 15 people was investigated by an assistant U.S. attorney who then declined to prosecute, according to GOA. The U.S. prosecutor wrote that the FBI believed the person "does not appear to pose a threat to himself, others, or the President at this time."
Sen. Marsha Blackburn (R-Tenn.) wrote on Twitter about the FBI documents, "You cannot sign away your constitutional rights—despite what the FBI wishes."
Mental Health and Guns
Under federal law (pdf), a person is prohibited from buying or owning firearms only if he or she has been adjudicated as a mental defective or committed to a mental institution. The "self submission" form doesn't require either of those things to be true.
"A person can have mental health problems and not be a 'mental defective'—which was intended to be a narrow term by Congress. This law is not to prevent someone who has PTSD, or depression from the loss of a loved one, from owning a gun," Olson explained. "The FBI is preying on people at weak times in their lives who, for example, post something on the internet without considering the consequences"
The form has the person check off one or two boxes that say they felt they were "a danger to myself or others" or "lack mental capacity adequately to contract or manage the details of my life." It has a section that is filled out by a physician or licensed mental health professional that says the person has been examined and has "adequate mental health capacity voluntarily to execute this document."
Sen. Rand Paul (R-Ky.) said on Fox News, "There is a certain irony to saying to someone you have to be mentally competent to sign this statement that says you're not mentally competent to have a gun." Paul pointed out that it "might be a quandary if you get into a court of law—how someone that's mentally incompetent to own a gun could be competent to sign away their gun rights."
FBI Held Accountable
GOA wrote a letter on Sept. 8 to Attorney General Merrick Garland and FBI Director Christopher Wray explaining that the law on background checks says if a person is wrongly in NICS, the agency has 30 days to remove the record.
"The FBI is now on a 30-day countdown clock to remove these names from the database," said Johnston. "The FBI also has to confirm to us that they are no longer using this form. Gun owners deserve to know what steps the FBI is taking to ensure it is not arbitrarily disarming anyone else in the future."
The FBI did not respond to a request for comment on whether it will abide by the 30-day deadline.
The letter says "the FBI has no statutory authority to create or to use such a form" and that the Gun Control Act of 1968 "does not contain a prohibitor for a person who merely self-reports as mentally incapacitated." The gun control act established the nine categories of people who are prohibited from owning or buying guns, which includes felons, drug addicts, illegal aliens, and domestic abusers.
"Past, present, or future use of this form conflicts with the statute that Congress enacted and represents a clear infringement of Second Amendment rights that 'shall not be infringed,'" GOA wrote.
Capitol Hill's Role
It is clear that it is illegal for the FBI to put people into NICS indices who aren't prohibited because there is a bill in the U.S. House that would change current law to allow for it. The legislation, sponsored by Rep. Pramila Jayapal (D-Wash.), would have the attorney general "establish and maintain" a "Voluntary Purchase Delay Database." The bill would amend federal law to allow for people with mental health issues to put themselves into an online database that would be included in federal background checks before a gun was sold. It was referred to the House Judiciary Committee in July.
Meanwhile, the GAO said it's looking to Capitol Hill for support.
"We are working the halls of Congress so it holds the FBI accountable," said Johnston. He said they want Congress members and senators to enforce the 30-day rule on the FBI taking out the NICS records and a more complete investigation into the self submission forms.
Paul told Fox that what happened is part of a pattern of FBI actions that appear to be biased against conservatives.
"There is a burden on the FBI … to prove to us that they are not acting in a political way," he said.
Please follow and like us: