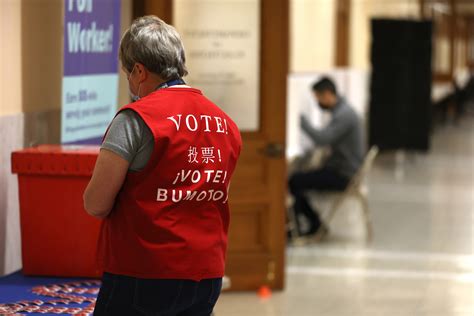 Election Software CEO Arrested Over Data Theft, Storing Data on Servers in China
By Aldgra Fredly
The head of Konnech Corporation, a Michigan-based software company, was arrested Tuesday for allegedly stealing and storing personal data of Los Angeles County election workers on servers in China.
Konnech's CEO Eugene Yu, 51, was arrested on charges of stealing "the personal identifying information" of LA County election workers, according to the LA County District Attorney's Office.
Investigators also seized computer hard drives and other digital data relevant to the case. The office said that it would seek Yu's extradition to Los Angeles.
According to the office, Konnech won a five-year, $2.9 million contract with LA County in 2020 for an election worker management system—named PollChief software—that was used by the county in the last California election.
The software was designed to assist with poll worker assignments, communications, and payroll, LA County District Attorney George Gascon said in a statement.
Under the contract, Konnech was supposed to securely maintain the data and only provide access to U.S. citizens and permanent residents. But investigators found that it stored the data on servers in China.
"In this case, the alleged conduct had no impact on the tabulation of votes and did not alter election results," Gascon said. "But security in all aspects of any election is essential so that we all have full faith in the integrity of the election process."
Alleged Ties to CCP
The New York Times reported Monday that Konnech had become the target of "election deniers" who claimed the company has ties to the Chinese Communist Party (CCP) and given China access to the personal data of 2 million poll workers in the United States.
The software company denied having any ties to the CCP and said that all of its data was stored on servers in the United States, according to the report.
Yu's arrest came weeks after Konnech filed a lawsuit against True the Vote, a non-profit vote-monitoring organization in Texas, on Sept. 12 for making "false and racist accusations" against the company.
True the Vote lauded LA County's "rapid action" in the case and said that Konnech had obtained an emergency temporary restraining order (TRO) to limit the organization's ability to speak on the litigation.
"True the Vote was sued last month by Konnech to try to silence our organization, including obtaining an ex-parte TRO, conducted in secret so that True the Vote had no opportunity to contest it," it said in a statement.
"Today Konnech CEO Eugene Yu was arrested based on alleged evidence of the very activities he and his organization attempted to suppress," the organization added.
Please follow and like us: