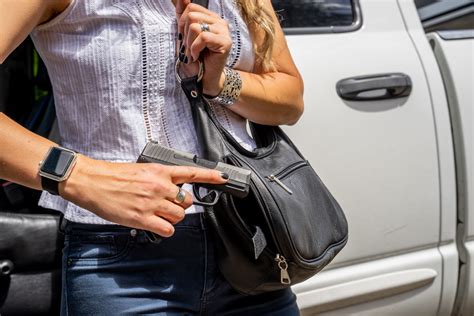 3 Supreme Court Justices Now Live in Maryland County Gun Free Zone
By Emily Miller
The Maryland county that is home to three U.S. Supreme Court justices who voted in June that the Second Amendment right to carry a gun outside the home cannot be easily restricted just passed a new law to contradict their ruling. The Montgomery County Council voted unanimously this week to restrict legal concealed carry permit holders from possessing a gun within 100 yards of places of "public assembly."
Justices John Roberts, Brett Kavanaugh, and Neil Gorsuch are all Montgomery County residents and voted in the majority of the landmark decision in New York State Rifle and Pistol Association v. Bruen that forced states with restrictive carry laws to rewrite them or face new court challenges.
The new bill (pdf) will go into effect immediately after it is signed, which is expected, by Montgomery County Executive Marc Elrich, a Democrat. It will make it virtually impossible for a person with a Maryland Wear and Carry permit to go outside and avoid the 100-yard zones around all the places restricted.
"Permit holders are the most law-abiding people on the face of the planet. They are not the problem," Mark Pennak, a constitutional attorney and the president of the pro-Second Amendment group Maryland Shall Issue, said in an interview after the bill passed.
Gun Free Zones
The liberal county council fast-tracked Bill 21-22 to remove the exemption for the increasing number of lawful concealed carry permit holders to carry a gun in public.
"I continue to believe that guns create immeasurably more problems, often with tragic outcomes, than they attempt to solve," Montgomery County Council President Gabe Albornoz, a Democrat, said in a statement after the vote. "This legislation will help to ensure that we do everything possible to minimize the number of guns in our public space."
Pennak said, "They disagree with the Supreme Court ruling, and they're perfectly entitled to do so. But what they're not allowed to do is write their disagreement into law and thereby criminalize people who have a constitutional right."
Sensitive Places Expanded
The Supreme Court ruling, written by Justice Clarence Thomas, says that states and local jurisdictions cannot arbitrarily cite places as "sensitive" to prohibit the Second Amendment right to bear arms. He wrote, "There is no historical basis for New York to effectively declare the island of Manhattan a 'sensitive place' simply because it is crowded and protected generally by the New York City Police Department."
The justices wrote that there are five places considered "sensitive" where carrying guns could be prohibited because there is a historical precedent: schools, legislative assemblies, government buildings, polling places, and courthouses.
Montgomery County made those five places prohibited and then made it illegal to possess or even transport a gun in all kinds of other places of "public assembly." The bill defines those places in a long list that includes public and private parks, libraries, hospitals, places of worship, recreational facilities, community health centers, long-term facilities, fairgrounds, nursing homes, childcare centers, and parking lots around those places.
"There is certainly nothing in Bruen that allows them to include a buffer zone around those places. And there's certainly nothing in Bruen to designate—beyond those five—that the county has now deemed to be gun-free zones completely," said Pennak. "They went way overboard."
Increase Gun Carry Permits
Until the Bruen decision, there were few Wear and Carry permit holders in Maryland because the state required citizens to prove a "good and substantial reason" for having one. But after the Supreme Court ruling that New York's proper cause requirement for a concealed carry permit was unconstitutional, Maryland shifted from what was called "may issue" to "shall issue."
Maryland Republican Gov. Larry Hogan directed the Maryland State Police that permits would be approved after applicants did 16 hours of training, passed a background check, were fingerprinted, and paid a fee. There have been thousands of new applications for permits since the summer.
Montgomery County politicians believe that these legal permit holders are a threat to society and thus need to be restricted. Albornoz stated, "I have confidence that the Maryland General Assembly will take action but given the urgency of gun violence in our community, I felt strongly that we could not wait at the local level." He cited a total of 11 homicides by firearm in the county in 2022, none of which were by legal permit holders.
"When we are talking about permit holders, especially in Maryland, we are talking about some of the most vetted people that exist in our society. These are people who pass substantial and expensive background checks," Daniel Carlin-Weber, a board member of Maryland Shall Issue, told the council when he testified against the bill. "The idea the county council wants to criminalize all these people that may simply go to a place where the public may assemble—or within 100 yards of it—is beyond absurd."
Justices in Danger
It is not publicly known if the Supreme Court justices have carry permits, but this new local law banning people from carrying in public would apply to them too.
Since the Supreme Court leak last spring that Roe v. Wade was going to be overturned, pro-abortion activists have continually protested outside the homes of the justices in Maryland and Virginia. They are breaking federal law (Title 18, Section 1507) that makes it illegal to picket or parade outside a jurist's home "with the intent of influencing any judge." In addition, there is a Montgomery County law against doing this. But the laws are not being enforced, even after the arrest of a man charged with attempting to assassinate Kavanaugh.
Over the summer, Supreme Court Marshal Gail Curley sent a public letter to Gov. Hogan and County Executive Elrich and asked them to enforce the laws against picketing in front of the justices' homes. Elrich responded with a video statement calling the letter "irresponsible," "not a smart thing to do," and "theatrics."
Court Gun Battles
Maryland Shall Issue already has a lawsuit in federal district court against Montgomery County's 2021 gun law prohibiting the possession of firearms outside the home. Pennak said he will amend the suit to include these new prohibitions against lawful carry permit holders. He said he asked the county counsel for consent to amend the complaint, which was granted.
Albornoz said during the bill's vote that he believes it is in line with the Supreme Court ruling: "We went as far as we could. I wish we could have gone further."
Pennak said the council could believe it is constitutional, but most likely the council is "so ideologically driven by their sincerely held hatred for firearms that they believe that resistance to the Supreme Court's decision is justified."
Please follow and like us: