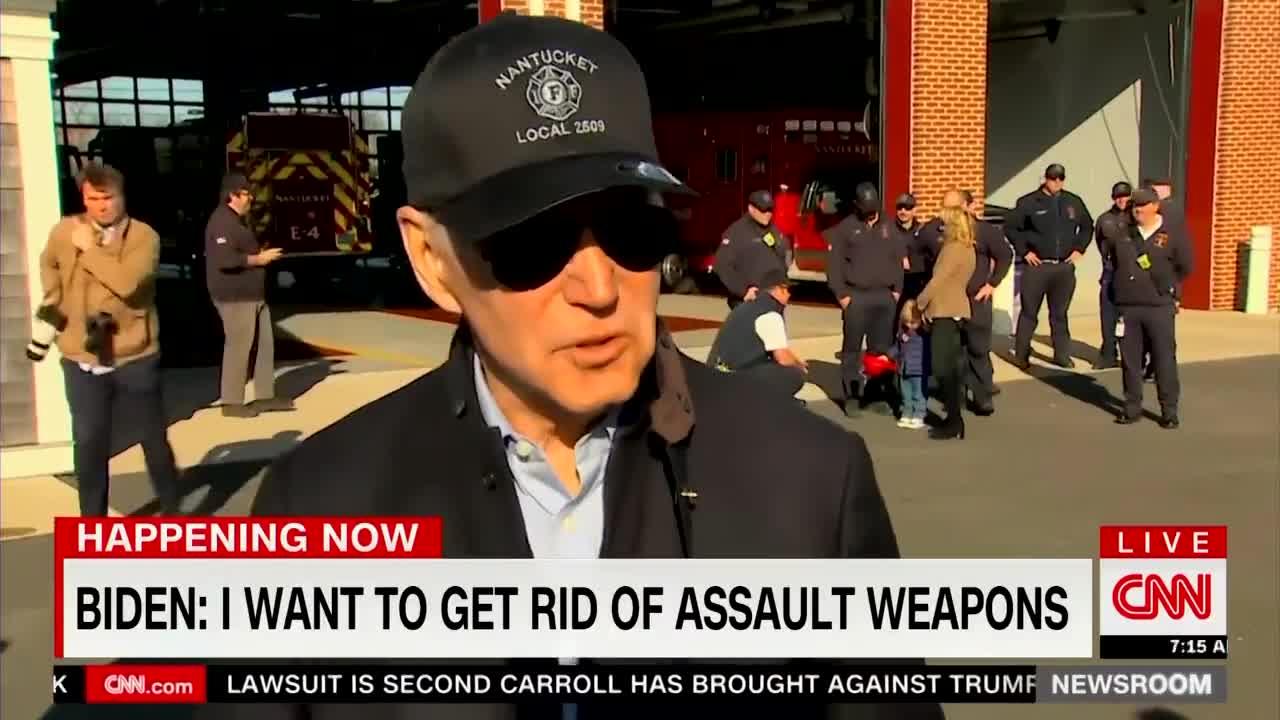 Senate Lacks Votes To Pass Assault Weapons Ban, Sen. Murphy Says—As Other Gun Bills Remain Stalled
Story by Sara Dorn, Forbes Staff
Democrats have called on Congress to approve an assault weapons ban after fatal mass shootings in Virginia and Colorado in recent days, but Sen. Chris Murphy (D-Conn.) said Sunday he does not expect the ban to pass the Senate before the end of the year—one of several gun control measures that faces an uncertain future.
Murphy questioned whether there is enough support in the Senate to pass legislation banning assault weapons before the end of the year: "Does it have 60 votes in the Senate right now? Probably not," he said Sunday on CNN's State of the Union.
The bill, which passed the House in July and would outlaw certain semi-automatic weapons and large-capacity magazines, could stand a stronger chance of passing the Senate next year if Sen. Raphael Warnock (D-Ga.) wins reelection in a runoff against Republican Herschel Walker next week, which would give Democrats a 51st Senate seat, Murphy said.
Murphy also said he will call on Congress to curb federal funding for law enforcement agencies that refuse to enforce gun laws, something he said "60% of counties in this country" currently do, an apparent reference to localities that have declared themselves "Second Amendment sanctuaries" and passed legislation claiming to exempt themselves from enforcing certain federal gun control measures.
In addition to the assault weapons ban, Congress is mulling a number of other gun control measures that currently face long odds in a narrowly Democratic-controlled Senate and a House that will be controlled by Republicans starting next year.
The Federal Extreme Risk Protection Order Act, which passed the House in June, would allow federal courts to issue orders preventing at-risk individuals from purchasing firearms and would grant additional funding for states and localities to implement so-called red flag laws.
The Bipartisan Background Checks Act, passed by the House in March 2021, would require background checks whenever private parties (or anyone who is not a licensed dealer) transfer firearms between individuals, and another bill passed by the House in March of last year would extend the wait period between the background check and the actual firearm transfer from 3 to 10 days.
Senate Democrats renewed calls to pass both background check bills following the mass shooting at an elementary school in Uvalde, Texas, in May that left 19 students and two teachers dead.
Tangent
In June, a month after the shooting in Uvalde, Biden signed into law the first major piece of gun legislation to pass Congress in nearly 30 years. The Bipartisan Safer Communities Act expands the kinds of records included in background checks for gun purchasers ages 18 to 21, and provides funding for communities to implement violence-intervention and mental health services, including $750 million over the next five years for states to install red-flag laws. The bill also prevents those convicted of domestically abusing their dating partners from buying a gun; previously, only those convicted of spousal abuse were banned from purchasing firearms. However, the bill left out some reforms backed by Democrats in order to gain enough GOP support to pass in the Senate, including a ban on assault weapons.
If Warnock wins the runoff election on December 6, Democrats could have one additional vote to reach the 60-vote threshold needed to avoid a filibuster, but nine Republicans would still need to join Democrats in order to pass legislation, and new bills would need support from a GOP-controlled House. Currently, the Senate is split 50-50, with Vice President Kamala Harris serving as the tie-breaking vote. Democrats have already won the 50 seats needed to retain the majority following this year's midterm election, and Republicans have won 49.
Key Background
President Joe Biden renewed calls for a renewed ban on assault weapons—which were banned nationally from 1994 to 2004—following the shooting at an LGBTQ nightclub in Colorado Springs, where the gunman allegedly used an AR-15-style weapon to kill five people in a matter of minutes just before midnight on November 19. Less than a week later, police say a supervisor at a Walmart in Chesapeake, Virginia, shot and killed six co-workers with a 9mm handgun he reportedly purchased hours before the shooting. In addition to the assault weapons ban, the shootings have sparked renewed calls for strengthened red-flag laws, which would allow family members, police and others to file court petitions to prevent potentially violent people from purchasing firearms.
Please follow and like us: