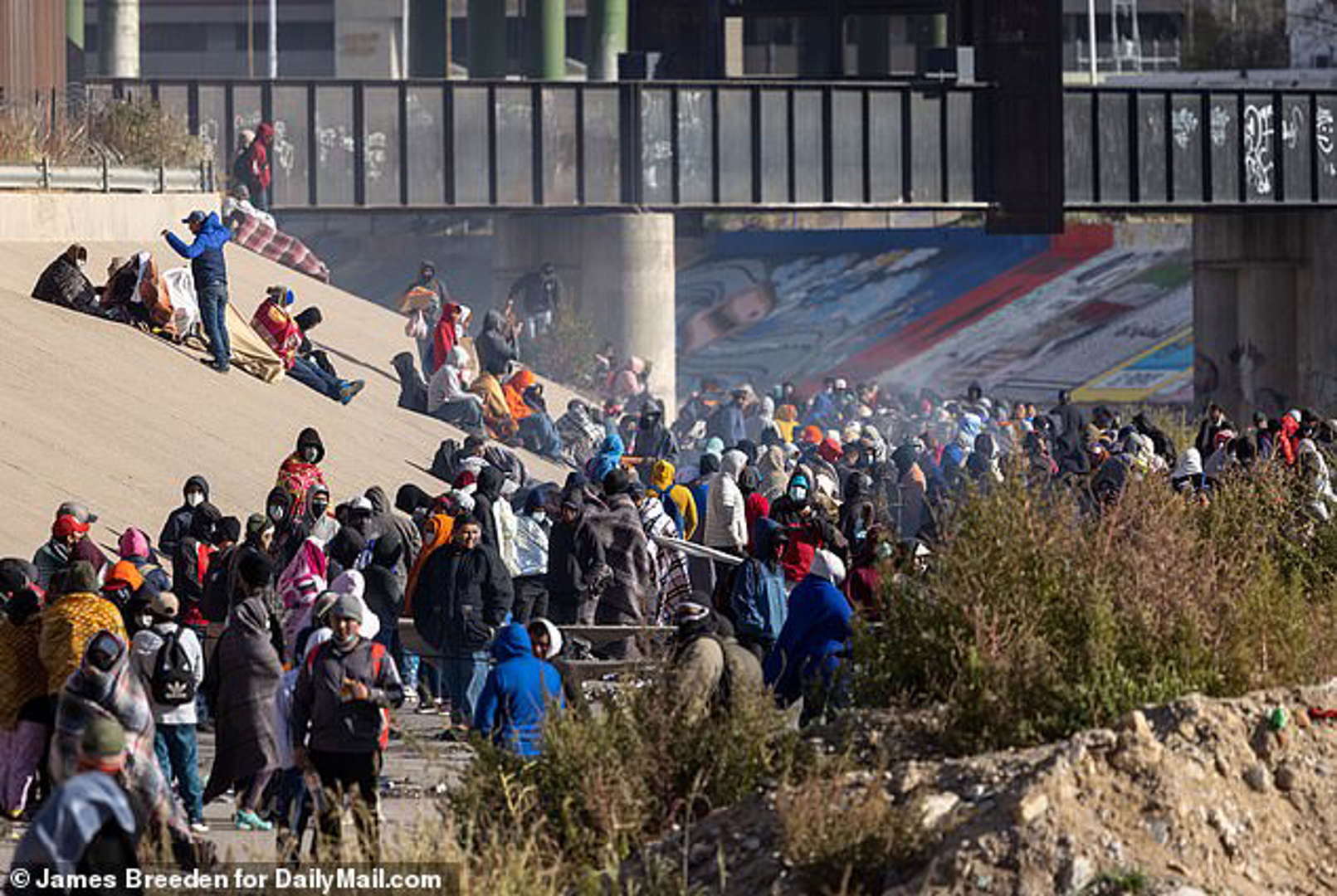 El Paso clears migrant camps ahead of Biden's first visit to border and crossings drop to a trickle
Story by Rob Crilly, Senior U.S. Political Reporter
When President Joe Biden makes his first visit to the border with Mexico on Sunday, he will hear from aid workers helping manage the immigration crisis and from local officials desperate for more support.
What he won't see are the miserable makeshift camps dotted around El Paso that triggered headlines last month about migrants taking over the streets.
On Tuesday and Wednesday law enforcement teams moved through the downtown area, picking up migrants who had entered the country illegally.
As a result, he may get a view of the border but not of the crisis, say infuriated border agents who wanted him to see the scale of the chaos last month.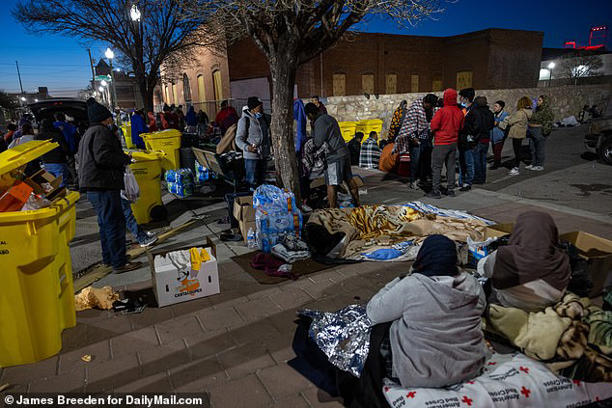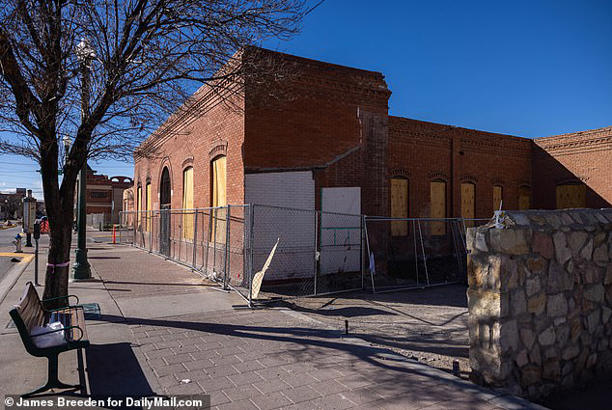 WHAT IS TITLE 42?
Title 42 border restrictions are a public health order that enabled U.S. authorities to turn back most migrants, including people seeking asylum from persecution.
They were introduced during the pandemic and were set to expire on December 21, after several extensions.
It was eventually left in place under Supreme Court orders.
But hopes that it would be lifted triggered a surge in the number of migrants attempting to cross the U.S.-Mexico border at the end of the year – with even larger numbers expected to arrive once the pandemic-era order is eventually lifted.
Many of those were repeat crossers because Title 42 carries no legal or criminal consequences.
Title 42 authority has been applied unevenly across nationalities.
Mexico has agreed to take back migrants from Guatemala, Honduras, El Salvador and Mexico – and limited numbers from Cuba and Nicaragua.
Title 42 is one of two major surviving Trump-era policies to deter asylum at the border.
'It's a dog and pony show,' said a volunteer helping dozens of migrants seeking shelter at the Sacred Heart Church. 'They've cleaned it all up for him.'
Officials say they are just enforcing the rules and that any timing is coincidence.
But a day before the president's arrival and the scene could not be more different to the chaos of late December. Migrant numbers surged then as arrivals timed their journeys to coincide with the expected end of Title 42 — a Trump-era restriction that eventually won a stay of execution at the Supreme Court.
Then hundreds of mainly Venezuelan refugees camped out on the sidewalks around the Greyhound Bus station in downtown.
Now their bundles of clothes and belongings are gone after border agents moved through the area during the week.
Only a few dozen migrants remained on the sidewalk around the Sacred Heart Church downtown on Saturday. Illegal arrivals say they are protected by the church's sanctuary status so long as they do not step off the kerb.
Brandon Judd, president of the National Border Patrol Council, said his 18,000 members had been waiting two years for Biden to come and see what they had to deal with every day.
He said the White House knew what it was doing with a January visit.
The number of daily encounters had dropped from about 7500 a couple of weeks ago, he said, to about 3300 now — a seasonal pattern that happens every year.
'Biden has all those figures. He knows all the trends. He knows when the best time to come to the border. And he knows that the beginning of January is absolutely the best time,' he said.
His union issued an acerbic tweet when the visit was announced.
'El Paso being cleaned up as if nothing unusual ever happened there. Just in time for Biden's "visit to the border,"' it said.
'We suggest just landing in Des Moines, Iowa and telling him it's El Paso. He'll never know the difference.'
Biden is expected to be on the ground for just three hours, according to the official White House itinerary.
That was not nearly enough time to get a grip on the issue, added Judd.
'You've got to spend a little bit of time you've got to be able to speak with people,' he said.
'You've got to be able to get their ideas and three hours is not going to give him that.'
At the same time, a security officer told DailyMail.com that the number of encounters along the El Paso sector of the border had fallen to a trickle after 400 troops were deployed at the end of last month.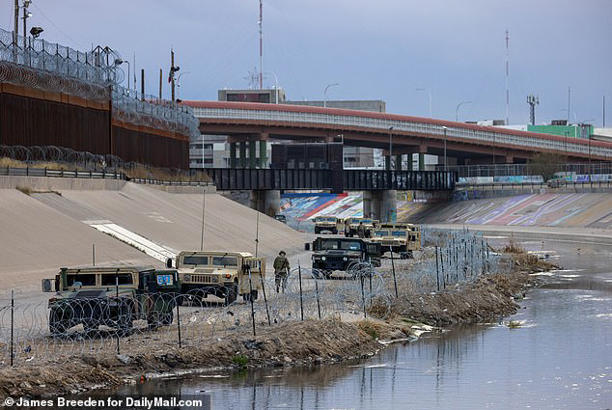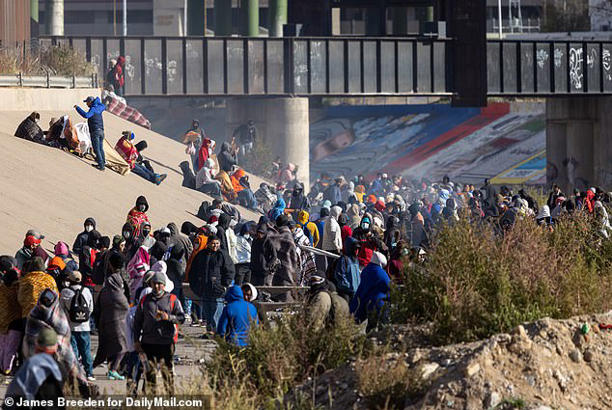 Official figures have yet to be released, but he said: 'We have Texas National Guard deployed, setting up about two miles of additional concertina wire and soldiers on the border right now.
'And we've seen our number of encounters and illegal crossings in urban El Paso go down dramatically.'
That makes for a remarkable turnaround. In the last week of December, when migrants were hoping that Title 42 would be lifted, officials said about 2,500 migrants were arriving in El Paso daily.
Among them was Jose Vargas, who said he was fleeing the oppressive regime of Nicolas Maduro in Venezuela.
He said he managed to avoid border guards and had yet to claim asylum.
Now the 32-year-old said he was working out what to do next.
'I'm hoping that the government of the U.S. will let us stay until Maduro has gone,' he said. 'And then I will go back.'
Biden will be hoping his visit silences opponents who say he has failed to take the crisis seriously. And he arrives days after unveiling his latest plan to tackle the problem.
On Thursday he announced he was expanding Trump-era restrictions to rapidly expel Cuban, Haitian, and Nicaraguan migrants caught illegally crossing the southern border.
Instead, the U.S. will accept 30,000 people per month from those three countries, as well as Venezuela, so long as they arrive legally.
BIDEN'S PLAN TO ADDRESS HISTORIC MIGRANT CRISIS
It represents an attempt both to head off Republican criticism that it has allowed record numbers to cross the U.S.-Mexico border, and to address concerns from within the Democratic Party that Biden has been too slow to shake off Trump-era restrictions that prevent those in need from seeking asylum.
The administration is preparing for the end of Title 42, a public health regulation that allows the expulsion of migrants before they can claim asylum in order to prevent the spread of COVID-19.
Yet the proposals immediately triggered anger on both sides, with Republicans saying it was too little, too late and some Democrats saying it expanded restrictions imposed by President Donald Trump.
Even in announcing the plan, Biden acknowledged that it was far from perfect.
'The actions we're announcing today will make things better … will make things better but will not fix the border problem completely,' he said.
Local politicians are not holding their breath. They see Biden's as nothing but a carefully-managed photo opportunity.
Robert Pena, executive director of the El Paso Republican Party, said he expected it to go down like Vice President Kamala Harris's trip in 2021.
'He'll get to have his picture taken at the border. But he'll only see what they want him to see, and he won't see the thousands of people coming across,' he said.
Local officials, as they confirmed the clearances, said they were part of regular programs to enforce the law.
'Border Patrol agents conduct enforcement actions in accordance with DHS policy without denying access to needed medical care, access to schools by children, access to places of worship, access to disaster or emergency relief sites and other protected areas,' El Paso sector Border Patrol officials said in a statement.
Please follow and like us: