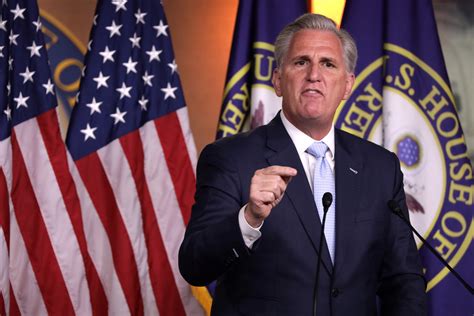 Debt ceiling standoff: McCarthy rejects Democrats in major break with tradition
Story by Virginia Aabram
House Speaker Kevin McCarthy (R-CA) is standing firm in his commitment against raising the debt ceiling without budget cuts as the Treasury Department prepares to start extraordinary measures this week to keep the country from defaulting on its debt.
Pairing a raise of the federal borrowing limit with a decrease in spending is one of the deals McCarthy cut with the conservative wing of his conference in exchange for its backing in his speakership bid. The Democrats are demanding a clean increase in order to keep paying expenses, and the two sides have until about June to work out a deal before the government starts to default on payments.
"We are six months away, approximately, and what I would like to do is I would like to sit down with all the leaders and especially the president had start having discussions," McCarthy told reporters Tuesday, continuing, "I don't see why you would continue the past behavior. […] Who wants to put the nation through some type of threat at the last minute with the debt ceiling? Nobody wants to do that."
He said his plan is to negotiate a balanced budget with the Democrats to start paying down the $31 trillion debt. Lawmakers on both sides of the aisle are against cutting anything from the defense budget, meaning domestic spending is on the chopping block.
"Let's sit down and find a place where we can protect Medicare and Social Security for the future generations, let's put our house in order in how we are going to spend — and let's make the investments we need to make America stronger," McCarthy said.
His plan to negotiate is the opposite of that of the Democrat-controlled Senate and White House, where the preferred path forward is to increase the borrowing limit without fuss.
"There's going to be no negotiation over it. This is something that must be done," White House press secretary Karine Jean-Pierre told reporters Friday. "We believe, when it comes to the debt limit, it has been done in a bipartisan way over the years and decades. And it should be done in a bipartisan way. And it should be done without conditions. That is important here."
Treasury Secretary Janet Yellen warned that should the limit not be raised, it would result in harm to the economy. Programs that could be affected include Social Security, Medicare, and military salaries.
Please follow and like us: