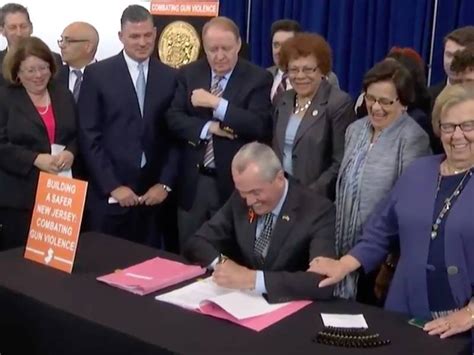 A judge Biden placed delivers gun industry huge win in NJ
Story by Paul Bedard
Afederal judge in New Jersey today iced a new law celebrated by liberals that would allow the state to shutdown, and likely bankrupt, the firearms industry if a single gun was misused in a crime.

U.S. District Court Judge Zahid Quraishi, a Biden appointee, said that he agreed with the gun industry that the New Jersey law was likely unconstitutional, and granted the National Shooting Sports Foundation a preliminary injunction.
The judge, in a 20-page opinion, said that the New Jersey law signed last summer by Gov. Phil Murphy ignored a larger federal law that protects the makers of guns — and other items — from being dragged into court when somebody misuses their product.
Quraishi said that the federal 2005 Protection of Lawful Commerce in Arms Act provides immunity to gun and ammo makers and sellers against the types of public nuisance laws Murphy championed.
"The court is mindful that firearms are inherently dangerous and even more so in the wrong hands, but it is also mindful that the PLCAA embodies Congress's earnest effort to balance those dangers against the national interest in protecting access to firearms," wrote the judge.
Other states are considering similar laws and NSSF is fighting one recently OK'd in New York. It is likely that Quraishi's order will stall or end some of those efforts because he so thoroughly shot down New Jersey's A1765 law.
Mark Oliva, the spokesman for the National Shooting Sports Foundation, the industry trade group, told Secrets, "it's a basic understanding of tort law, it's the foundation of the Protection of Lawful Commerce in Arms Act, that anyone that criminally misuses a firearm or a product is responsible for the damages caused by their crime, not the person that lawfully made, lawfully sold that product."
In an initial filing last November, NSSF said the New Jersey law "is squarely preempted by federal law. In the late 1990s and early 2000s, several state and local governments sought to use novel applications of common law theories like negligence and nuisance to impose civil liability on manufacturers and sellers of firearms and ammunition when third parties misused their products. Congress saw these lawsuits for what they were: unconstitutional efforts to stamp out lawful and constitutionally protected activity."
In less legalistic language, Oliva added, "You don't sue Ford and Budweiser when someone gets into a drunk driving accident and causes the death of another individual. That's the responsibility of who broke the law."
Oliva added that guns and, in some states, ammo and parts, first require buyers to pass an FBI background check, and that the guns many of the public nuisance laws are going after are owned or trafficked illegally by criminals.
In its case filed against New Jersey Attorney General Matthew Platkin, NSSF charged that the state was readying an assault on the gun industry with the goal of bankrupting it.
That, and the indications that the attorney general was setting up an office to take down the gun industry, signaled that gun makers and sellers were in imminent threat of financial danger.
Just a month after the law went into effect, Platkin created the Statewide Affirmative Firearms Enforcement (SAFE) Office. At the time, he threatened, "At a time when the U.S. Supreme Court is undermining states' efforts to protect their residents from the carnage of gun violence, New Jersey's Statewide Affirmative Firearms Enforcement Office will use the new public nuisance legislation to hold the gun industry accountable. With the establishment of this office we are sending a clear message to every participant in the firearms industry: if you violate our laws, you will pay."
Please follow and like us: