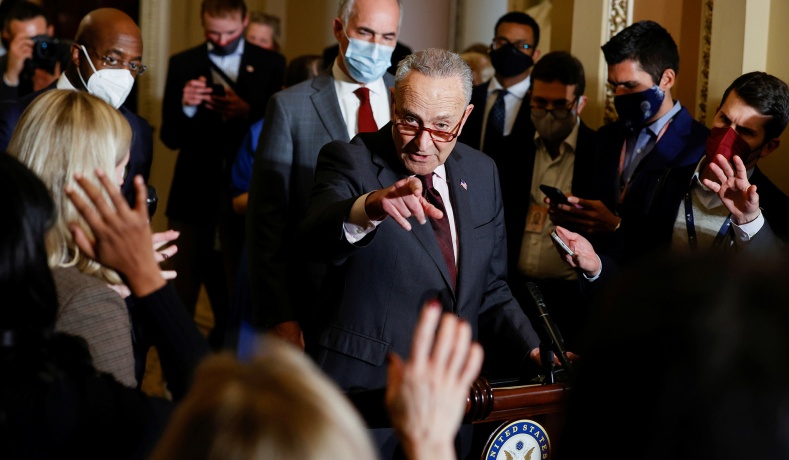 Will DC crime law become political 'nightmare' for Senate Democrats
Republicans are putting Senate Democrats in a difficult spot as the chamber prepares to vote on whether to strike down an overhaul of D.C.'s century-old criminal code.
The Senate GOP is hoping to force a vote on the updated code, which softens the punishment for homicide, robberies, and carjackings, as soon as next week, opening Democrats up to attacks of being soft on crime should they choose to oppose the GOP's repeal. Senate Majority Leader Chuck Schumer (D-NY) is unable to block the measure despite Democrats controlling the upper chamber, making the vote a rare opportunity for the GOP to put senators in battleground states on record on the issue.
Sen. Joe Manchin (D-WV), considered to be one of the most vulnerable senators heading into 2024, became the first Democrat to back the legislation publicly on Monday.
"I don't support [the criminal code overhaul]. I mean, I want to put people away. I don't want to let them out," Manchin told CNN. "I haven't been briefed on it, but what I know about it, I would vote to rescind it."
Manchin's support gives the resolution a strong chance of passing the Senate, where Democrats only hold a 51-49 majority. Sen. John Fetterman's (D-PA) absence brings Democrats' majority down to 50-49, improving the measure's odds even further.
Fetterman is currently out of the Senate while he is being treated at Walter Reed National Military Medical Center for depression. It's not clear how long he will be away.
Meanwhile, Sen. Jon Tester (D-MT), who is running for reelection in 2024 and is also considered a vulnerable incumbent, is undecided on the issue.
"I have got to look at it … I just don't know what it does," Tester said on Tuesday. "There is the issue of 'D.C. does what D.C. wants to do,' but we do have some oversight."
Manchin has not yet announced whether he plans to run for another term, but Tester launched his reelection bid last week. A vote in favor of the GOP-led resolution could prove dangerous for either senator, as the two would be running for reelection in reliably red states.
"From a political standpoint, this is a nightmare for Democrats," John Feehery, a GOP strategist, told the Washington Examiner.
Feehery emphasized that voting against the measure would signal support for a criminal code that reduces sentences for violent crimes — an issue that is particularly important to suburbanite voters, a crucial voting bloc, amid a nationwide spike in crime.
"I think that there's going to be a lot of Democrats who have to vote for this thing," Feehery said. "Then, if the president vetoes it, they're going to have to vote on it again, which is even worse."
Local lawmakers have repeatedly pushed against congressional efforts to repeal city laws, arguing it disrupts their right to local autonomy. D.C. Attorney General Brian Schwalb went further, arguing the effort to overturn the criminal code fails to acknowledge the provisions actually included in the overhaul.
"All senators tasked with the important work that they're doing ought to do their homework. And part of that is reaching out to people who might know more about the bill and how it will actually make D.C. a safer place," Schwalb told the Washington Examiner, noting that no member of Congress has contacted his office to discuss the criminal code. "I'm available anytime, any place, to talk about the bill, to share with them my views on it, particularly for Sen. Manchin, [who said] he hasn't fully studied it. My hope is that he and his staff will keep an open mind and permit themselves to be fully briefed before making a decision."
Schwalb denounced the legislation as an effort to use Washington, D.C., as a way to score political points ahead of a crucial election cycle.
"We have a very divisive national political discourse right now … where the Republicans and the Democrats on the national stage try to score points against one another," he said. "This is not about public safety in the District of Columbia. This is about using the District of Columbia as a pawn in a national political game."
The vote comes after the D.C. City Council overwhelmingly approved a bill last year that would implement a massive overhaul of the city's criminal code, completing a project district lawmakers have been working on for 16 years. The rewritten legislation sought to clarify and lower penalties for criminal offenses, with local lawmakers arguing severe punishments often do not deter crime.
Several congressional Republicans criticized the changes, claiming the law would inflame violent crime. As a result, GOP lawmakers in both the House and Senate introduced legislation that would repeal the local law, which, if successful, would mark the first time in three decades that Congress has approved a resolution overturning district law.
Republicans introduced the measure shortly after taking control of the House last month, seeking to assert control over the already limited self-government currently permitted in Washington, D.C. Although the City Council can pass local legislation, all laws are subject to congressional approval because Washington is not a state.
The resolution passed the House in a 250-173 vote on Feb. 9, with 31 Democrats joining Republicans.
If the bill passes the Senate, it would still require President Joe Biden's signature to repeal the district criminal code. Biden has indicated opposition to Republicans' efforts to overturn the laws, but he has not explicitly threatened to veto the legislation should it reach his desk.
Please follow and like us: