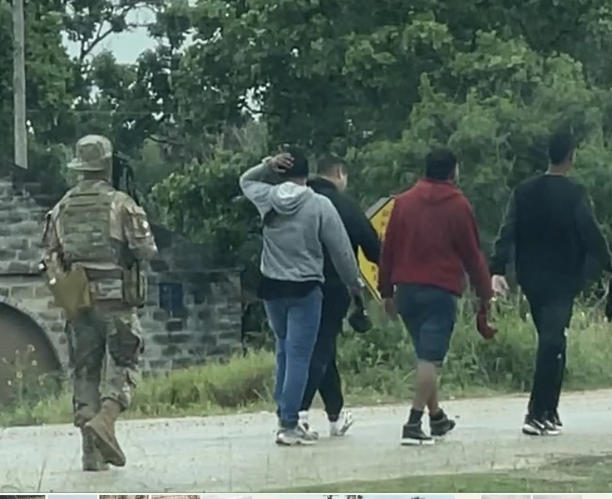 Thousands of migrants cross into Brownsville, Texas from Mexico
Story by Sandra Sanchez 
BROWNSVILLE, Texas (Border Report) — Nearly 4,000 migrants have been apprehended in Brownsville, Texas, so far this week, border agents tell Border Report.
Overnight, about 2,000 asylum-seekers crossed the Rio Grande from Matamoros, Mexico, into this South Texas city, Brownsville police investigator Martin Sandoval told Border Report.
On Tuesday, Border Report watched as hundreds more crossed into the area and were grouped in the same area.
They ended up on a dirt levee behind a baseball complex owned by Texas Southmost College and less than a mile from the Gateway International Bridge.
Sandoval live-streamed the situation on Facebook overnight. He said the apprehensions were "peaceful." The video shows them seated in groups.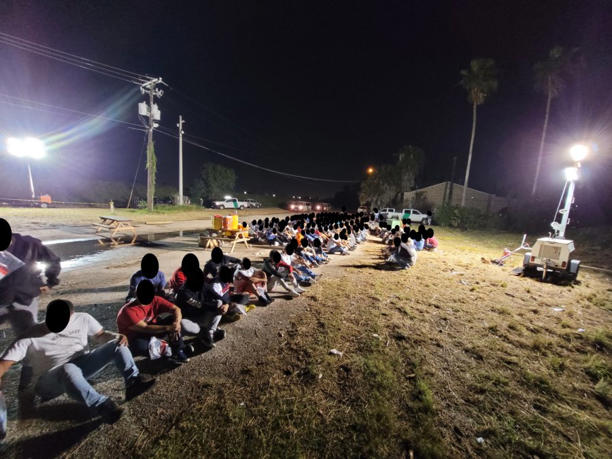 Sandoval says 70% are Venezuelans and there are many family units.
Agents estimated 400 were apprehended on Tuesday, and by the early evening, hundreds could be seen standing in a line on the levee waiting to board buses.
Armed Texas National Guard walked migrants to the larger group as several smaller groups of migrants turned themselves in throughout the day.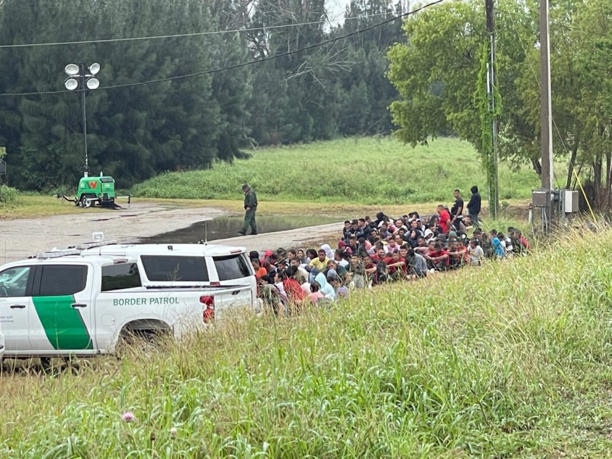 Texas DPS and local police also helped to secure the area. Tents were set up and migrants were kept in orderly groups as officials filled white buses filled with migrants throughout the day.
This came after 1,600 migrants were apprehended in Brownsville over the weekend, according to RGV Sector Border Patrol Chief Patrol Agent Gloria Chavez.
Chavez told media on Monday that Brownsville and Cameron County were seeing an increase in migrant activity.
Traditionally, large groups, of over 100, have crossed in neighboring Hidalgo County near the town of Mission, not this far east.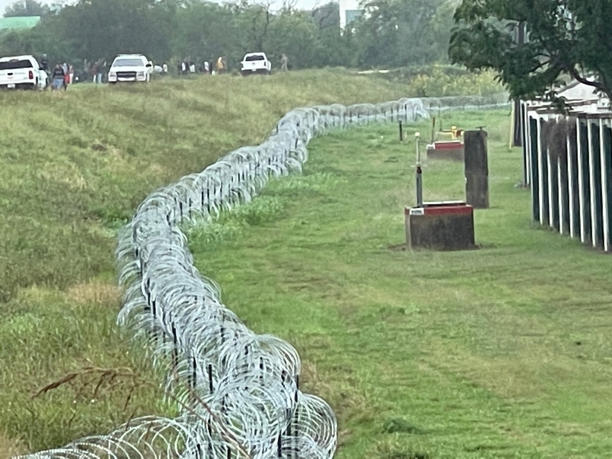 Law enforcement pat down and separate asylum seekers on a dirt levee in Brownsville, Texas, on April 25, 2023. A wire fence is on the north side of the levee separating it from Texas Southmost College. (Sandra Sanchez/Border Report Photos)
But migrant advocates say upwards of 2,000 migrants now are living in a tent encampment in Matamoros, Mexico, and they desperately want to come to the United States.
Last week, about 1,000 migrants caused a shutdown of the Gateway International Bridge after they stormed the bridge and began walking in vehicle lanes. The bridge was reopened early Friday morning, but Sandoval told Border Report he believed more desperate migrant activity soon would follow.
Andrea Rudnik, volunteer coordinator for the nonprofit Team Brownsville, told Border Report her group was to expect 12 bus loads of released migrants today at the welcome center, which they staff across from the Brownsville bus station.
She said the center, which gives out toiletries and supplies to migrants who are released by DHS, is in need of water pallets, and snacks.
They are expecting over 550 migrants on Tuesday, which she said is a huge increase from the 50 to 125 they were receiving daily just a couple weeks ago.
Please follow and like us: