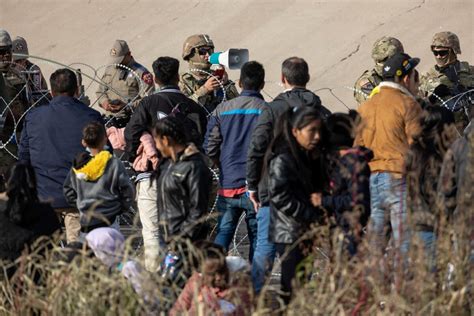 Texas Nat'l Guard holds back migrant surge with razor wire
The Texas National Guard was seen guarding the U.S.-Mexico border against a massive surge of migrants attempting to cross into the U.S. illegally on Friday, video of the moment shows.
"Thanks to the Texas National Guard and Texas Department of Public Safety. They are the only officials in America holding the line against an onrush of illegal immigrants," Texas Gov. Greg Abbott tweeted, along with video of the scene.
Abbott reiterated his praise for the Guard in another post, writing that Texas is "holding the line" against the migrant surge triggered by the expiration of Title 42, a Trump-era border policy that helped stem the flow of illegal immigrants into the United States.
Earlier this week, Abbott shared photos showing the Texas National Guard erecting razor wire along with Texas-Mexico border in preparation for the expected surge.
On Friday, Abbott revealed Texas' Operation Lone Star "has led to over 373,000 illegal immigrant apprehensions and more than 28,000 criminal arrests, with more than 25,000 felony charges reported. In the fight against fentanyl, Texas law enforcement has seized over 402 million lethal doses of fentanyl during this border mission."
Abbott said the operation continues to fill the "dangerous gaps" left in the southern border by the Biden administration.
"With the ending of Title 42 on Thursday, President Biden is laying down the welcome mat to people across the entire world, but Texas is deploying our new Texas Tactical Border Force," Abbott said in a statement. "The Texas National Guard is loading Blackhawk helicopters and C-130s and deploying specially trained soldiers for the Texas Tactical Border Force, who will be deployed to hotspots all along the border to help intercept and repel large groups of migrants trying to enter Texas illegally."
Please follow and like us: