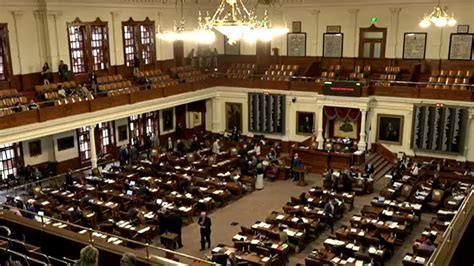 'Largest property tax cut in the world' | Senate passes $18B property tax bill
Story by Kim Yonick, Ashley Goudeau 
The Texas Senate passed what Lt. Gov. Dan Patrick is calling "the largest property tax cut in the history of the world."
Senate Bill 26 (SB26), by Houston Republican State Sen. Paul Bettencourt, offers $18 billion in property tax relief. Similar to Senate Bill 1, the bill increases the homestead exemption to $100,000 but it puts more money toward compressing the school tax rate. It also doubles the franchise tax exemption to $2.47 million, which Bettencourt says would eliminate the tax for 67,000 small to medium-sized businesses.
The Senate and House of Representatives remain at a standstill over property tax relief — specifically, the Senate wants to increase the homestead exemption while the House plan solely reduces the school tax rate. Patrick says senators worked over the weekend to bring together the best ideas from both chambers to create SB26. The bill was filed, voted out of committee and passed unanimously on the Senate floor Tuesday.
"This is really a historic day because the Senate just passed the largest tax cut in the history of the world. $18 billion. We added $14 million to the previous $17.6 (billion) in the budget by both chambers," said Patrick. "And we want in all sincerity the Texas House to return and pass this bill."
Bettencourt said the average Texas homeowners would see $1,270 in savings the first year that the bill is in effect. Texas homeowners over the age of 65 or disables would see a savings of $1,450. Those tax savings increase the following year to more than $1,300 for the average homeowner and more than $1,500 for the elderly and disabled. 
"The success of property tax relief goes back to 2019 at House Bill 3 instead of Bill 2, where we lowered the rollback rate for cities and counties and school districts," said Sen. Bettencourt. "We're now lowering that rollback rate once again. In this plan schools' rollback rate goes from 2.5% to 1.75%. That's a 30% reduction in the future levies that all Texas taxpayers have to pay school districts."
Patrick and the members of the Senate asked the House to come back into session to take up the bill.
The day after Gov. Greg Abbott called the first special session, the House convened, passed its property tax relief bill, House Bill 1, and a bill related to border security, then adjourned sine die. The move left the Senate with a take-it-or-leave-it deal on the bills because the lower chamber is not in session to receive any bills passed by the Senate.
Meanwhile, shortly before the Senate voted out the bill, House Speaker Dade Phelan announced the formation of the House Select Study Committee on Sustainable Property Tax Relief. The committee of 13 House members and 3 members of the public is charged with looking into the issues that "broadly affect property taxes and make recommendations for long-term, sustainable property tax relief."
In a statement on Tuesday, a spokesperson for Gov. Abbott said:
"The governor has been clear that his goal is to put Texans on a pathway to eliminate their school M&O property taxes, and the best way to do that is to devote all property tax relief to cutting property tax rates. The governor has also been clear that the only way a property tax bill gets to his desk is for the Texas House and Texas Senate to agree to a bill and get it to the governor's desk, and he encourages the two chambers to work towards a solution."
Please follow and like us: