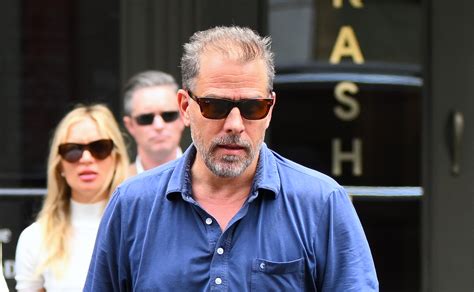 Whistleblowers say IRS recommended felony charges in Hunter Biden probe, allege political interference
BY JULIA SHAPERO, REBECCA BEITSCH AND EMILY BROOKS
Two whistleblowers told a House panel that the IRS recommended additional felony tax charges against Hunter Biden and alleged that the case was slow-walked by prosecutors.
Gary Shapley, an IRS supervisory special agent, told the House Ways and Means Committee in testimony released Thursday that the IRS recommended felony tax evasion charges, as well as felony charges for filing false tax returns, against Biden.
Biden ultimately agreed to plead guilty to two minor tax crimes and to enter into a pretrial diversion agreement on a separate charge of unlawful possession of a firearm while addicted to a controlled substance, according to court documents filed Tuesday.
In Shapley's opening statement to the committee, he alleged that Biden received "preferential treatment" and said the Justice Department, then under the leadership of Trump appointee Bill Barr, "slow-walked the investigation."
"After former Vice President Joseph Biden became the presumptive Democratic nominee for President in early April 2020, career DOJ officials dragged their feet on the IRS taking these investigative steps," he said.
A second unnamed whistleblower, a special agent on the IRS criminal investigation team, said that the conduct of prosecutors since October 2022 "has honestly been appalling," alleging that they slow-walked the case.
The Biden investigation was handled by U.S. Attorney for Delaware David Weiss, a Trump appointee who retained his role despite the common practice of presidents asking U.S. attorneys to resign at the start of a new administration.
"As both the Attorney General and U.S. Attorney David Weiss have said, U.S. Attorney Weiss has full authority over this matter, including responsibility for deciding where, when, and whether to file charges as he deems appropriate.  He needs no further approval to do so," the Justice Department said in a statement Friday.
Chris Clark, an attorney for Biden, likewise suggested the investigation was thorough.
"Any suggestion the investigation was not thorough, or cut corners, or cut my client any slack, is preposterous and deeply irresponsible," Clark said.
While Shapley's statement suggested IRS agents were interested in probing a comment in a Biden WhatsApp message that referenced his father, Clark pushed back on any suggested President Biden had any involvement in his client's business dealings.
"The DOJ investigation covered a period which was a time of turmoil and addiction for my client. Any verifiable words or actions of my client in the midst of a horrible addiction are solely his own and have no connection to anyone in his family," Clark said.
"Biased and politically- motivated, selective leaks have plagued this matter for years. They are not only irresponsible, they are illegal. A close examination of the document released publicly yesterday by a very biased individual raises serious questions over whether it is what he claims it to be. It is dangerously misleading to make any conclusions or inferences based on this document."
Ways and Means Committee Chairman Jason Smith (R-Mo.) said Thursday that the whistleblowers' testimony suggests Biden "received preferential treatment in the course of the investigation," noting that the president's son "has struck a plea deal that will likely keep him out from behind bars."
Please follow and like us: