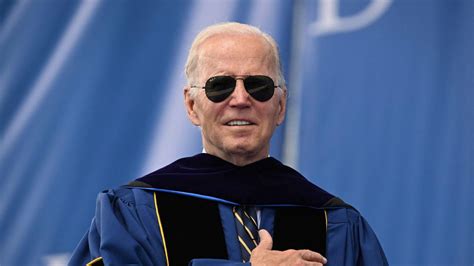 Biden Announces New Student Loan Forgiveness Plan Hours After SCOTUS Ruling
President Joe Biden reacted swiftly to the U.S. Supreme Court's decision to invalidate his plan to forgive many student loans by announcing new measures to provide relief to borrowers.
Biden made a televised statement on June 30, within hours of the court decision, promising to provide debt relief for some borrowers and a temporary measure to ease the transition back to loan repayment after a pause of over three years.
Biden had unveiled the original loan-forgiveness plan in August 2022. At the time, some critics charged that the move was intended to boost the chances of Democratic candidates in the midterm election. Others denounced it as unfair to Americans who had repaid their college loans and as an illegal usurpation of congressional authority.
The Congressional Budget Office said the plan could cost about $400 billion. The Wharton School estimated that it could exceed $1 trillion.
The high court ruled on June 30 that Biden's plan violated the HEROES Act, which he had used as a legal authority for taking the action.
Plan 1.0
About 26 million people applied for loan forgiveness through the Biden plan, which would have provided up to $10,000 in debt relief for many borrowers and up to $20,000 for those who had received a Pell Grant. Pell Grants are intended for low-income students.
About 16 million people were approved for loan forgiveness through the plan, which was never implemented.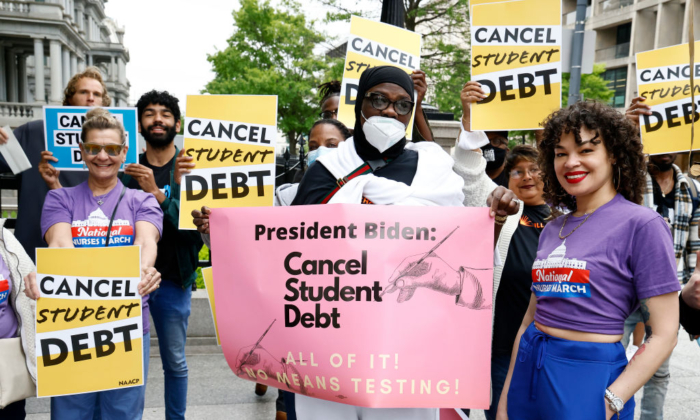 President Donald Trump paused student loan payments in March 2020 due to the pandemic. The pause has been extended several times by Biden, but payments are scheduled to resume in October.
Now critics say that many Americans already facing financial hardship will be hard hit when loan payments resume rather than disappear.
"Some of these borrowers went to for-profit schools that exploited lax lending rules and left them with no marketable skills. Others went to legitimate schools but dropped out when a parent got sick or lost their job," Johnson Tyler, a consumer attorney at Legal Services NYC, said in a June 30 statement.
"They will face decades of collection activity, including the reduction of their Social Security when they retire or become disabled, and will forever be burdened by a debt they cannot repay due to steep interest rates and complicated repayment structures."
Plan 2.0
Biden said he had identified a "new path" consistent with the Supreme Court ruling that would allow U.S. Secretary of Education Miguel Cardona to compromise, waive, or release loans under certain circumstances.
Biden did not give further details but did say the plan was legally sound, based on the Higher Education Act, and that it would take time to implement.
Cardona said the plan would include "as many as possible" and be implemented "as quick as possible" at a White House press conference following Biden's remarks, but offered no specifics.
To ease borrowers back into the habit of making loan payments, Biden announced an "on-ramp repayment program." He encouraged all borrowers to make loan payments as scheduled but said the Department of Education would not refer borrowers to credit agencies if payments were not made.
"During this period, if you can pay your monthly bills you should. But if you cannot, if you miss payments, this on-ramp temporarily removes the threat of default, or having your credit harmed, which can hurt borrowers for years to come," Biden said.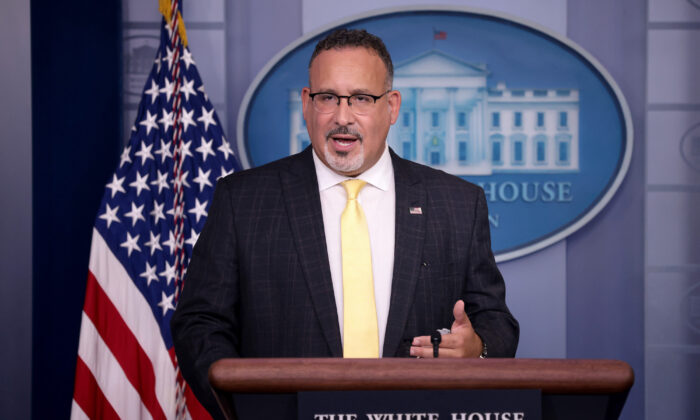 The president also touted his previous actions to make college more affordable. Those include increasing eligibility for Pell Grants, ensuring that more of those eligible for loan forgiveness due to their public service actually receive the benefit, and decreasing the minimum payment for those making income-driven loan payments from 10 percent of disposable income to 5 percent.
Fair Deal Versus Free Ride
Republicans both hailed the Supreme Court's decision and accused Biden of favoring well-to-do Americans with his debt relief plan.
"Biden's student loan bailout unfairly punished Americans who already paid off their loans, saved for college, or made a different career choice," Ronna McDaniel, chair of the Republican National Committee, said in a June 30 statement.
"We applaud the highest court's decision to overturn this unconstitutional bailout for the wealthy," McDaniel added.
Biden strongly disagreed with that assessment.
Asked whether he believed he had overstepped his authority with the original plan, Biden told reporters, "I think the court misinterpreted the Constitution."
He portrayed Republicans as hypocritical for denying a financial boost to young graduates while receiving large debt cancellations themselves.
"Some of the same elected Republicans, members of Congress, who strongly oppose debt release for students got hundreds of thousands of dollars themselves," Biden said, referring to the COVID-era Paycheck Protection Program (PPP). "Several members of Congress got over a million dollars. All those loans are forgiven."
"I was trying to provide students with $10,000 to $20,000 in relief. By comparison, the average amount forgiven in the PPP was $70,000," Biden said.
The average college student leaves school with $30,000 in student loan debt.
Please follow and like us: