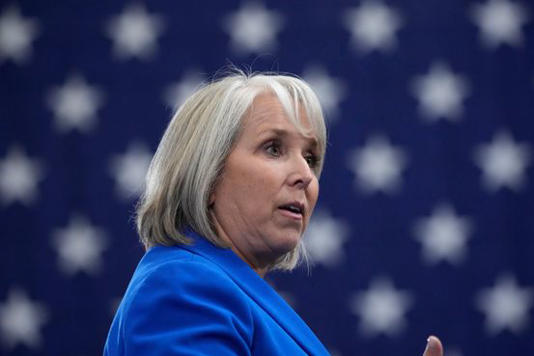 Judge Blocks New Mexico Ban on Carrying Guns
Story by Jacob Gershman, Talal Ansari
Afederal judge in New Mexico on Wednesday blocked an emergency order by the state's Democratic governor that temporarily banned legal gun owners from carrying firearms in most public places around Albuquerque.
Gov. Michelle Lujan Grisham ignited controversy statewide Friday when she invoked her emergency public-health powers with an edict barring people from carrying firearms, either openly or concealed, in public areas across the state's most populous county for at least 30 days with very limited exceptions. 
At a hearing Wednesday, U.S. District Judge David Urias said he had doubts about the constitutionality of the governor's order and suspended its enforcement for at least two weeks. "You have a hard road here," he told a lawyer for the governor. The judge, a Biden appointee, said the ban on carrying weapons was broader and stricter than permitting restrictions in New York that the Supreme Court struck down last year.
The governor said she was responding to a scourge of gun violence in New Mexico, including a recent drive-by shooting that killed a 5-year-old girl and a shooting near a minor league baseball stadium that left an 11-year-old boy dead. In defense of her order, Lujan Grisham said no constitutional right is intended to be absolute.
Gun-rights groups responded with a flurry of lawsuits that assailed the governor's order as an incursion on the constitutional right to bear arms under the Second Amendment, particularly after last year's Supreme Court ruling buttressing the right of law-abiding citizens to publicly carry firearms for self-defense.
New Mexico generally allows legal gun owners to carry weapons openly and allows residents who have completed a gun-safety training course to apply for a permit to carry concealed weapons. 
Democratic state and local law enforcement in New Mexico also repudiated the governor's directive. Bernalillo County Sheriff John Allen said his office wouldn't enforce the ban, saying the order wouldn't curb gun violence but would punish law-abiding citizens.
New Mexico Attorney General Raúl Torrez, a Democrat, refused to defend the governor's order from legal challenge. "Simply put, I do not believe that the Emergency Order will have any meaningful impact on public safety, but, more importantly, I do not believe it passes constitutional muster," he wrote in a letter to the governor Tuesday.
A number of rallies have been held in opposition to the order and protesters in Albuquerque openly defied it, some carrying rifles or handguns. Violators could have faced fines up to $5,000, though no citations had been issued, according to plaintiffs' lawyers. The head of the Republican Party in New Mexico called the governor's actions totalitarian.
Lujan Grisham invoked her authority under the state's Public Health Emergency Response Act, the same law underpinning New Mexico lockdown measures imposed during the Covid-19 pandemic.
"The time for standard measures has passed," the governor said in a statement Friday. "And when New Mexicans are afraid to be in crowds, to take their kids to school, to leave a baseball game—when their very right to exist is threatened by the prospect of violence at every turn—something is very wrong."
Read More From: For A Free America
At Wednesday's hearing, the governor's chief general counsel, Holly Agajanian, said a broad ban was needed because of a surge of gun violence "with no way to discern who is the good guy and who is the bad guy" on public streets. She said the governor's order would give state authorities "a cooling-off period" to study the problem of gun violence.
"Let's give it 30 days, and let's see what happens," the attorney said.
Please follow and like us: