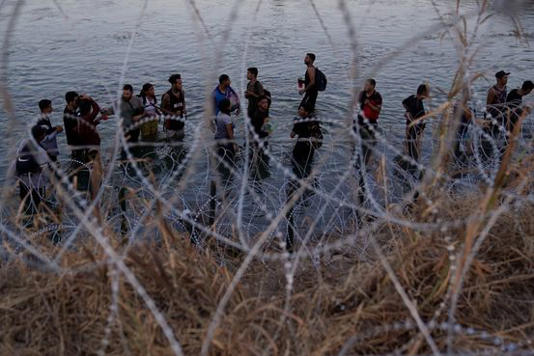 Migrants Entering U.S. Illegally Complain About Government's Border App
Story by Alicia A. Caldwell 
EAGLE PASS, Texas—Many of the thousands of migrants who crossed the Rio Grande into this small border city over the past week have one thing in common: They got sick of waiting for an appointment on the smartphone app the government wants them to use.
Some said the app offered appointments to ask for asylum several months in the future—longer than they were willing to wait after a long journey from countries such as Venezuela. Others said it was unresponsive and unusable.
"We all tried, but we couldn't get an appointment," said Kemp Granges, a 25-year-old Venezuelan national who illegally entered the U.S. at Eagle Pass recently, surrendered to border authorities and was later released to a local shelter.
The migrant surge overwhelming Eagle Pass and other communities is showing the limits of recently enacted Biden administration border policies intended to help avoid such a scenario.
CBP One offers 40,000 appointments a month for people to enter the U.S. legally and request asylum, rather than entering illegally and risking deportation, which can depend on a variety of legal and logistical factors.
Combined with faster processing of people arrested at the border and ways for residents of some countries to apply from abroad to enter legally and work in the U.S., the app is part of a new set of programs instituted in May when Title 42, a pandemic-era policy allowing for the rapid expulsion of asylum seekers, expired.
Tens of thousands of migrants have taken advantage of CBP One and other legal options, but the capacity of those programs has been outpaced by demand to come to the U.S. that rose substantially over the summer.
Daniel Moncada, 19, and his brother Ricardo, 18, stood outside an Eagle Pass migrant shelter Friday, looking for friends who crossed the Rio Grande with them earlier in the week.
The soonest CBP One offered an appointment, they said, was in three months. After a six-month trip to the border from Venezuela, they decided the wait was too long and illegally crossed into Eagle Pass.
Daniel Moncada said he knew he could face deportation, but decided to take the chance.
"The risk was 50/50 to me," he said.
Moncada won his bet and was released with instructions to report back to immigration authorities at a later date to start what is likely to be a yearslong process to ask for asylum.
Homeland Secretary Alejandro Mayorkas said Saturday while visiting Texas that despite recent strains on the system, the Biden administration is committed to its border policies.
"Migration is incredibly dynamic, there are ebbs and flows to it," Mayorkas said. "The level of displacement in the Western Hemisphere is at a historic level and is actually outpacing displacement in other hemispheres of the world for the first time. We have confidence in our model, we have exhibited that it works. It is under stress now."
Mayorkas met in Texas' Rio Grande Valley with Honduran President Xiomara Castro to discuss migration to the U.S. from her country.
The Biden administration has said that anyone who doesn't come through the CBP One app and didn't ask for protection before reaching the U.S. likely won't be eligible for asylum and could face swift expulsion. U.S. Immigration and Customs Enforcement has been announcing nearly daily deportation flights.
"We will work to remove as quickly as possible those who do not qualify for relief under our laws," Mayorkas said.
Just over half of the 181,000 arrests made by Border Patrol agents in August were of families, many of whom are released in the U.S. rather than being processed for deportation, in part because of legal limits on how long they can be jailed. In addition, many are from Venezuela and other countries whose governments won't accept deportation flights. Some others are released when border agents are faced with more people than they can detain and process.
Once released in the U.S., migrants typically wait years for their asylum claims to be adjudicated in backed-up immigration courts.
Eagle Pass isn't the only city struggling with the most recent migrant surge. In San Diego, shelters are full, and thousands of migrants have been dropped off by federal authorities at local bus and trolley stations. 
Read More From: For A Free America
Authorities in El Paso, Texas, are opening a city-run shelter with capacity for about 400 people. That space will be almost immediately full, city officials said Saturday, as about 2,000 migrants a day are crossing the border there. The Border Patrol has more than 6,000 people in custody in El Paso, and federal authorities have warned that more will be released in the city as detention capacity limits are reached, Mayor Oscar Leeser said.
Leeser said the city is coordinating with the state of Texas for buses to take migrants to cities including New York, Chicago and Denver.
Please follow and like us: