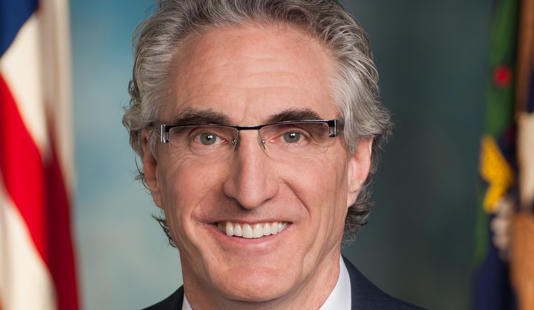 Billionaire Governor Rages: "We're Feeding The Enemy"
Story by Claude Wooten 
Billionaire Doug Burgum, Governor of North Dakota since 2016, is running for the 2024 Republican presidential nomination against frontrunner Donald Trump and #2 in the polls, fellow governor Ron DeSantis of Florida.
On Fox News this morning, the 67-year-old North Dakota native reacted to Senator Joe Manchin's plea to "shut down the border." Burgum told Mornings with Maria host Maria Bartiromo: "This is just crazy. Joe Biden has been pouring gas on the border crisis for the past two and a half years." He added that Biden "would've done nothing about this until he had some liberal mayors screaming that they couldn't handle it anymore."
Burgum also claimed that due to the border crisis: "We're taking mass casualties. We have 300 deaths a day, today in our country, every day, tomorrow, the next day, since Joe Biden. We've lost the equivalent of five Vietnams of casualties since he took office…of overdose deaths."
Burgum also commented on SMIC, the Chinese chip maker and semiconductor manufacturer which has been blacklisted by the Treasury Department and Pentagon (it's been declared a military supplier) and yet pulled in $1.5 billion revenue from U.S. companies last year.
[According to The Wall Street Journal, the Commerce Department has issued licenses to American companies to work with SMIC, which is one of 28 Chinese companies blacklisted.]
Burgum was quick to blame Joe Biden, who according to Burgum won't admit that "we're in a cold war with China." Burgum argued: "It's not a blacklist, it's like Swiss cheese." Burgum added scornfully: "We're feeding the enemy."
Read More From: For A Free America
Burgum, who is polling at one percent in the Real Clear Politics average, shares a personal story about his first visit to China to back up his claim that he "understands the economy and foreign competition." He revealed: "It's was 1989…I was a kid basically, as an entrepreneur, I walked into a street market and they had stolen our software."
Burgum earned an MBA from Stanford University in 1980, returned to Fargo where he ran the software company Great Plains Software, which he sold to Microsoft for $1.1 billion in 2001.
Please follow and like us: