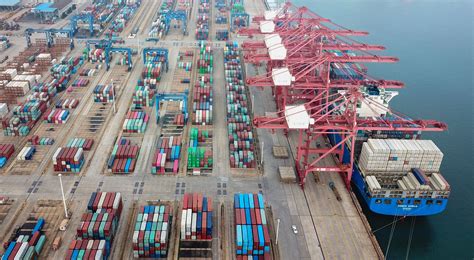 China strikes back with restrictions on mineral critical to Biden EV push
Story by Nancy Vu 
China announced plans on Friday to restrict exports of graphite, an essential ingredient in building batteries for electric vehicles, on national security grounds, according to the Ministry of Commerce and General Administration of Customs.
The move is a threat to President Joe Biden's goals for electrifying the U.S. car fleet.
The new rules, which are expected to be implemented in December, would require export permits for artificial graphite, including high-purity, high-strength, and high-density materials, and natural graphite. The announcement comes just days after the United States imposed additional limits on the types of semiconductors that American companies can sell to Chinese companies.
China stands as the world's most prominent producer and processor of graphite, accounting for an estimated 65% of total production, according to the U.S. Geological Survey. The mineral is used virtually in all EV battery anodes, which are the negatively charged portion of the battery.
"This move is also very much a reminder [to] the world, 'Hey, you are reliant on us for graphite and for anodes, and we're not going anywhere,'" said Tom Moerenhout, a research scholar at Columbia University's Center on Global Energy Policy. "It's really just flexing a muscle — that's basically what's happening."
This could escalate an already tense trade war between Washington and Beijing, which have gone toe to toe over the last year on access to computer chips and the equipment to make the chips. However, how significant the new rule will be depends on how strict China is on the licensing requirements in the coming months.
"In terms of the severity of how bad things could get, we haven't even scratched the surface, given the degree to which we have made ourselves beholden to China for these minerals that we need," said Tristan Abbey, a director of energy and environment at the National Security Council during the Trump administration.
In July, Beijing imposed export restrictions on gallium and germanium, two minerals that are needed to make semiconductors. A month later, following the regulation, China's export of the minerals fell to zero.
And just earlier this week, the Biden administration announced additional limits on the sales of advanced semiconductors by American firms, with rules that appear to halt most shipments from the U.S. to Chinese data centers.
The timing of these latest moves will also prove to be consequential with other decisions, according to Moerenhout. The Treasury Department still has to announce finalized rules clarifying the provisions of the Inflation Reduction Act meant to move supply chains out of China and into the U.S. or close allies. The proposed guidelines state that starting in 2024, vehicles seeking to qualify for the law's EV tax credits cannot have battery components assembled in nonallied countries, such as North Korea, Russia, Iran, and China. The bill also said that beginning in 2025, an eligible vehicle cannot contain any critical minerals "extracted, processed, or recycled by a foreign entity of concern."
However, these provisions have raised concerns for automakers that have historically relied on China for its critical mineral supply.
Read More From: For A Free America
"The big difficulty is that they're always going to harm one industry," Moerenhout said. "There is no 'foreign entity of concern' implementation guidelines that's going to satisfy everyone. It just doesn't exist."
The finalized guidelines are expected to drop before the end of the year.
Please follow and like us: