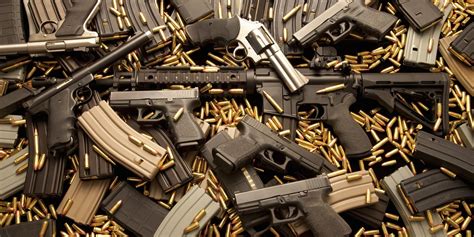 Texas Governor Dismisses Biden's Gun Control Measures as 'Show'
BY GQ PAN
Texas Gov. Greg Abbott on Sunday pushed back on President Joe Biden's newly announced executive actions on gun control, saying those proposals are no more than a "show" that doesn't actually address crimes involving guns.
In an interview on "Fox News Sunday," Abbott rejected the idea that the president could use executive orders to limit the Second Amendment.
"I think that there is no acceptable way that a president by executive order can infringe upon Second Amendment rights or alter Second Amendment rights," the Republican governor said. "If the president wanted to do something more than show—if the president really wanted to do something substantively, what he really could do by executive order is to eliminate the backlog of complaints that have already been filed about gun crimes that have taken place."
Abbott went on to say that Americans need their guns for self defense now more than ever, citing the border crisis being taken advantage of by Mexican drug cartels, the "Defund the Police" movement, and bail policies that allow "very dangerous criminals" to be released back onto the streets.
"Texans and Americans know they need their Second Amendment rights to defend themselves at a time when the United States government and other governments are doing less to defend our fellow Americans," he said. "That is exactly why we should not have any further limitations of our Second Amendment rights."
Abbott's comments come after he endorsed a proposed bill to turn Texas into a "Second Amendment Sanctuary State." The House Bill 2622, filed by Republican state Rep. Justina Holland, would prohibit state and local government agencies from enforcing or providing assistance to federal agencies on any new federal laws or rules regarding firearms, ammunition, and accessories.
"It's time to get legislation making [Texas] a 2nd Amendment Sanctuary State passed and to my desk for signing," Abbott wrote on Twitter.
In an effort to tackle what he described as a "gun violence epidemic," Biden on April 8 introduced a number of measures that limit the availability of certain guns and accessories and encourage states to adopt "red flag laws," which allow family members or law enforcement to ask a court to bar people from possessing guns if they show signs of being a threat to themselves or others.
One of the executive orders seeks to restrict "ghost guns," or homemade, unregistered firearms usually built from a kit that could be ordered online. Another order restricts the sale of stabilizing braces designed to increase the accuracy and reduce the recoil of pistols, making them behave more like rifles.
"No amendment to the Constitution is absolute," Biden claimed while announcing his gun control package. "From the very beginning, you couldn't own any weapon you wanted to own. From the very beginning that the Second Amendment existed, certain people weren't allowed to have weapons."
Please follow and like us: