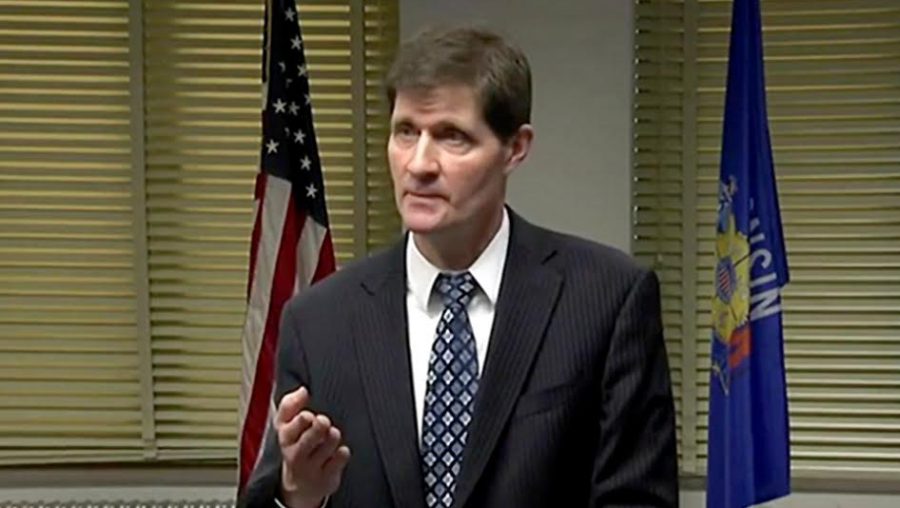 Milwaukee district attorney shines spotlight on liberal prosecutors
BY KAELAN DEESE
A self-described "progressive" district attorney at the center of the Waukesha Christmas parade massacre claims to be the inspiration for a wave of liberal prosecutors whose policies are increasingly coming under scrutiny.
The so-called "bold reformer" district attorney for Milwaukee County, John Chisholm, took responsibility and launched an internal investigation into his office Monday for setting bail "inappropriately low" for Darrell Brooks Jr., who was released on bond two days before allegedly running an SUV through a crowd of pedestrians in Wisconsin, killing at least six and injuring dozens more. Brooks had been released two days before the rampage on a $1,000 bail. He was in custody because he allegedly ran over his child's mother with a car earlier this month.
Chisholm has served in his position since 2007 and has worked his entire career to reform the cash bail system, arguing it systemically criminalizes the impoverished. He once admitted his policy implementations toward the cash bail system could make the city of Milwaukee more dangerous, according to an interview from his first year in office.
Despite this startling admission, Chisholm writes on his website that he is a "bold reformer with a track record of keeping our community safe," and he claims to be the inspiration for multiple other liberal prosecutors.
"Progressive prosecutors in Philadelphia, Boston, St. Louis, and San Francisco have followed in John's footsteps and designed similar programs," his website states.
"Though he hasn't received any funding from Soros, Chisholm clearly embraces the George Soros brand of justice, and intends to bring the same policies that caused crime waves in Philadelphia, Chicago, and St. Louis to Milwaukee," said Parker Thayer, a research assistant at Capital Research Center who analyzes big-name donations to political candidates.
Waukesha, coupled with a spate of shoplifting incidents in California , has once again shone the spotlight on this group of liberal prosecutors, some of whom are partially backed by money from billionaire philanthropist Soros, who advocates for criminal justice reform and other issues via the funneling of money through various political action committees.
Philadelphia Justice and Public Safety, a Soros-funded political action committee, spent nearly $1.7 million to help the recently reelected Democratic District Attorney Larry Krasner win in the 2017 election. Similarly, Soros funded $444,000 of the funds donated to Krasner's campaign by the Pennsylvania Justice and Public Safety PAC, according to data collected by the Capital Research Center, a conservative think tank.
Since taking office, Krasner has stopped bail for a litany of minor crimes and has imposed 24,800 fewer years of incarceration and 102,400 fewer years of supervised probation or parole, data from the Philadelphia District Attorney's Office show .
Despite a lower sentencing rate, Philadelphia is approaching the highest number of homicides ever recorded in a 1-year period since 1990, which is 500, according to local affiliate WHYY. As of Monday, the city was just under that number, with one of the most recent homicides including a 32-year-old pregnant victim who was gunned down on Saturday while unloading presents for a baby shower.
Between 2015 and 2021, Soros donated nearly $28.1 million to PACs across the United States in support of election campaigns favoring candidates with liberal policy agendas. In St. Louis, a city Chisholm claimed to influence, the Soros-backed Missouri Justice and Public Safety PAC contributed $116,000 to Democratic Circuit Attorney Kimberly Gardner.
Since 2017, more than 26 prosecutors have quit or have been fired from Gardner's office, leading to caseloads piling further due to short staffing issues. Former staffers told the St. Louis Post-Dispatch in 2019 that layoffs have perpetuated a dysfunctional environment for the circuit attorney's office. One year later, St. Louis was named as a city with the third most violent crime rate in the U.S., according to data gathered by the Detroit News.
In 2020, Soros also sent $2 million to a committee supporting Illinois Cook County State's Attorney Kim Foxx in her reelection bid against three Democratic primary challengers. While Chisholm's webpage did not say his leadership inspired Foxx specifically, Gardner and Foxx have similar criminal reformist agendas.
San Francisco District Attorney Chesa Boudin is not backed by Soros funds, but his hands-off approach to crime mirrors that of his liberal counterparts across the county and has led some petitioners to call for his removal. San Francisco is currently reeling from a string of organized theft operations in the area. Boudin has said in the past he won't prosecute low-level crimes.
"The utopian criminal justice reforms that Chisholm is pushing by taking an activist approach to prosecution are dangerous and foolish. Chicago, Philadelphia, and San Francisco are living proof," Thayer said. "Chisholm, however, must disagree. He has used the same left-wing bail reforms in Milwaukee, hoping for the outcome to somehow be different. The recent tragedy is Waukesha proves he was wrong, and with deadly consequences."
Please follow and like us: