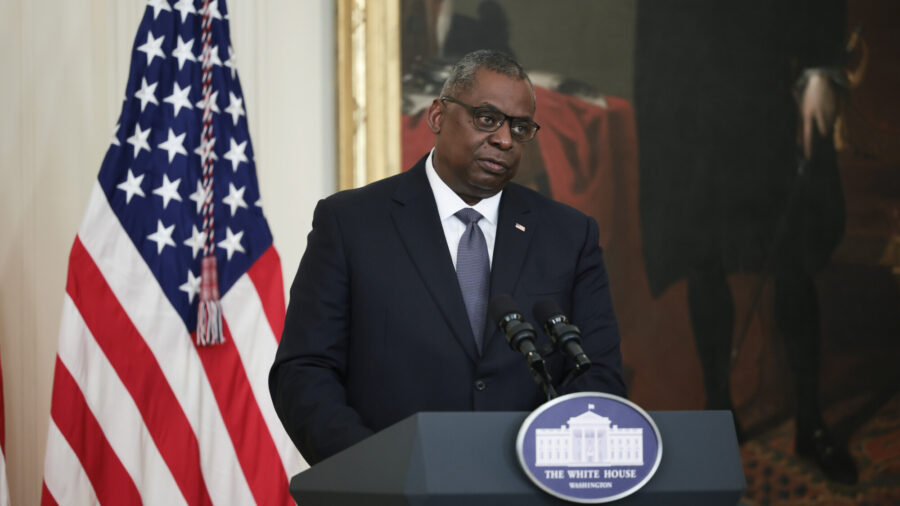 Defense Secretary Rejects Oklahoma's Request for Exemption From COVID-19 Vaccine Mandate
Defense Secretary Lloyd Austin on Monday rejected a request from Oklahoma authorities for an exemption for Natural Guardsmen from the military's COVID-19 vaccine mandate.
Oklahoma Gov. Kevin Stitt, a Republican, earlier this month asked Austin to suspend the vaccine requirement for guardsmen in Oklahoma, "as it asks them to potentially sacrifice their personal beliefs in order to not lose their jobs."
Stitt said some 10 percent of Oklahoma's force could be lost if the mandate remained in effect.
"It is irresponsible for the federal government to place mandatory vaccine obligations on Oklahoma national guardsmen which could potentially limit the number of individuals that I can call upon to assist the state during an emergency," he wrote in the Nov. 2 letter (pdf).
Austin in his response, dated Nov. 29, said military leaders imposed the mandate with the aim of keeping the military ready for action, noting that thousands of service members, civilians, and their families with COVID-19 have required hospital care.
The concerns Stitt outlined "do not negate the need for this important military readiness requirement," Austin added.
If members do not comply with the mandate deadlines, they may be barred from drills and training and may be ousted from the National Guard.
The response came after Army Brig. Gen. Thomas Mancino, who Stitt appointed as Oklahoma's National Guard commander, announced no guardsmen in the state would be forced to get a COVID-19 vaccine and that no guardsmen who refused to get a vaccine would be punished.
"This policy is not anti-vaccine. I and the governor are both vaccinated. I encourage all our Oklahoma Guard members to get vaccinated if they choose to do so," Mancino said at the time. "We want to educate and inform our soldiers and airmen so that they can make an informed decision regarding the DoD vaccine mandate."
Because the Oklahoma National Guard has not been mobilized by President Joe Biden, it must follow the governor's orders per Title 32, according to Mancino.
The Oklahoma National Guard declined to comment on Austin's letter.
Stitt's office answered the phone Monday but asked for an email inquiry instead of providing a comment immediately. An email request was not immediately returned.
The Pentagon had said following Mancino's announcement that it has the authority to require vaccines. Officials disputed the assertion regarding Title 32.
"The secretary of defense has the authority to require these vaccines for all members of the force, including the National Guard … even in a Title 32 status," Pentagon spokesman John Kirby told reporters in Washington. "Because when they're called up for their monthly training, they're still federally funded."
Please follow and like us: