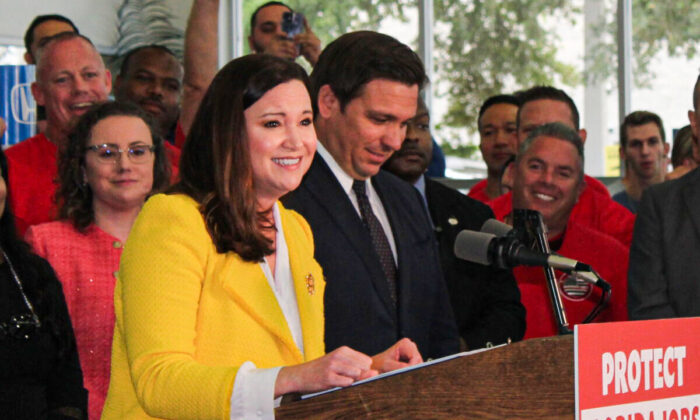 Florida Attorney General Cracking Down on Organized Retail Theft
By Jannis Falkenstern
"You're not going to do it here. You'll spend Christmas—not with Santa Claus—but with Santa Judd at the county jail. That's a guarantee," Polk County Sheriff Grady Judd warned criminals at a Dec. 2 press conference with Florida's Attorney General Ashley Moody.
As states across the country see a rise in organized retail crime, Moody announced a new statewide task force to deal with the problem, and vowed to provide law enforcement with the tools to thwart it.
"As organized crime has increased–as organized theft rings have become more complex and sophisticated, so will we," Moody said.
She announced the Florida Organized Retail Crime Exchange (TFORCE), a new database system that will help law enforcement track retail thefts and identify the criminal organizations behind them.
The task force will consist of investigators, state attorneys, local law enforcement and Florida Retail Federation officials, and retail business representatives.
"This holiday season I want Floridians to feel safe and secure when they go out to our shopping centers," Moody said.
Judd said he had a "zero tolerance" for those who steal.
"If a flash mob comes into a store in Polk County and steals, they're all going to jail," Judd told reporters.
Since taking over as attorney general, Moody said statewide prosecutors have filed "nearly 60 cases involving more than 250 people suspected of organized retail theft, or related crimes."
"These are massive rings, sophisticated organizations with leaders that use others, including juveniles, in a coordinated way to infiltrate numerous stores, within numerous jurisdictions, to create a criminal enterprise in which they steal, and then sell, stolen merchandise."
She commended state and local officials for doing a good job in preventing organized theft in their individual areas, but once criminals "go outside of a singular jurisdiction, it's harder to piece organizations together to connect the crimes. That is why this data base is so important."
"If you have leaders, law enforcement officials, and prosecutors announce to criminals that they are deprioritizing crimes, like we see in California, criminals will focus on those crimes to make a profit."
Through the TFORCE database, retailers would be able to upload data about recent shop thefts. Moody said information was the key so that law enforcement could connect cases in order to identify the leaders of criminal organizations, and people they are recruiting to "conduct their schemes."
The Attorney General's Office and retail federation would operate the database, while TFORCE was available "by invitation" to retailers and law enforcement agencies that complete specialized training.
The database would consist of entries about stolen items, suspect descriptions, method of operation, and any vehicle information, that would make it easier to connect single-incident thefts.
Jump in Organized Retail Crime
The National Retail Federation estimated organized retail crime costs retailers an "average of $700,000 per $1 billion in sales," and three-quarters of retailers saw an increase in thefts in 2020, according to its 2020 survey.
The federation said crime was a growing concern for retailers and a "hot issue" before 2020, but the pandemic had "led criminals to expand their attacks across multiple channels."
In the 2021 National Retail Security Survey, 57 percent of retailers indicated a rise in such crimes.
"A database and exchange of information, which allows us to track what seems like single incidents of theft and … put together the pieces to identify the larger-scale criminal organizations that are going into our stores and stealing large amounts of merchandise," Moody said.
She said retailers are not the only ones who feel the effects of this type of crime.
"Every piece of merchandise stolen goes into a cost analysis, which increases prices for everyday Floridians."
Preventing Organized Retail Crime
During the news conference, Sheriff Judd recalled an incident in 2019 where a van pulled up to a local Walmart with a "trunk full" of new televisions that the criminals were trying to return "one at a time."
When Walmart managers contacted the sheriff's office, Judd said they began an investigation and found "a multimillion-dollar organized retail crime platform."
According to Judd six retail crime suspects were "hitting between eight and 10 businesses a day throughout 14 Florida counties in May 2019."
He estimated that $2 million of merchandise had been stolen.
"They had a system whereby they didn't go back to the same store until people had an opportunity to replenish."
Judd said the crime ring hit more than half of Florida's 67 counties.
"This task force will allow law enforcement, and retailers, to easily work together, and efficiently share information and resources, so that we can root out and arrest these thieves, and send them to prison where they belong."
Please follow and like us: