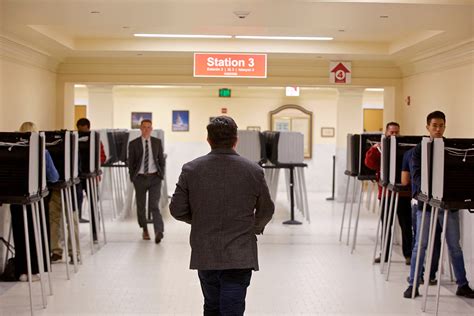 School Board 'Shenanigans' Inspire Greater Interest Among Parents to Vote in Midterm Elections
By Patricia Tolson
While most admit to voting only in presidential elections, a year of what some describe as school board "shenanigans" has inspired greater interest among parents to vote in midterm elections.
According to FairVote, while about 60 percent of America's eligible voters cast ballots during presidential elections, only about 40 percent vote during midterms, with 2020 and 2018 marking the highest presidential and midterm turnout in over a century. However, while midterms traditionally have lower turnout, many Americans now have renewed perspectives on the importance of casting their ballots in midterm elections. While midterms are when voters narrow the field of candidates ahead of general elections, they are also the time when voters cast ballots for those they want to represent them in state and community offices, such as school board members. Some believe the surprise victory of Republican Gov. Glen Youngkin over Democrat Terry McAuliffe in Virginia's election is a sign of things to come in the 2022 midterms.
The Politicians' Perspective
Just a day after Youngkin was elected, House Minority Leader Kevin McCarthy (R-Calif.), pledged to "soon unroll a parents' bill of rights," adding at a news conference that the GOP "will be the party of education."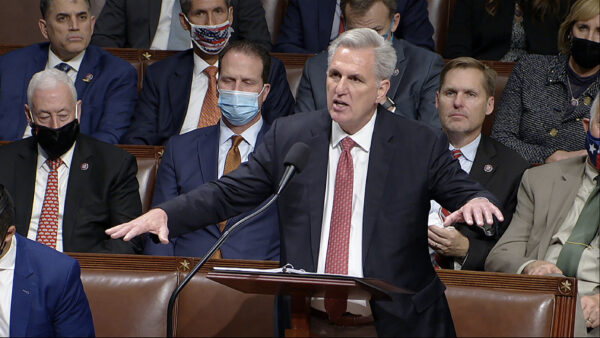 "Glenn Youngkin's victory in Virginia was led by frustrated parents who were fed up with an education system that neglected the needs of their children," McCarthy told The Epoch Times. "It is just one snapshot of the same frustration that has been, and continues to be, felt by millions of families nationwide."
According to McCarthy, parents are facing school board officials who are "more interested in appeasing liberal activists and teachers' unions than they are in bettering the educational experience of students.
"In my home state of California, there has been a recent push to 'de-emphasize calculus' and include more 'social justice' in math. Parents across the country have voiced concerns about inappropriate literature on school bookshelves. Unexpected threats of school closures continue to loom, and this is all happening in the midst of a push to decrease parental involvement in education. This is wrong—that is why House Republicans will ensure protecting parents' involvement in education will be a critical component of our '22 platform."
On Nov. 17, McCarthy, along with Education and Labor Ranking Member Rep. Virginia Foxx (R-N.C.), Rep. Julia Letlow (R-La.), Rep. Burgess Owens (R-Utah, and Republican Study Committee Chairman Jim Banks (R-Ind.), officially rolled out a Parents Bill of Rights to uphold the power parents deserve.
"This is just the beginning," McCarthy promised. "We will continue to push policies that empower parents, improve quality of education, and give our families more choice. The Republican Party will be the party of parents and education."
New York's House Republican Conference Chair Rep. Elise Stefanik (R-N.Y.) agrees. The day after Youngkin's victory, Stefanik wrote on Twitter, "Republicans will run and win on education!"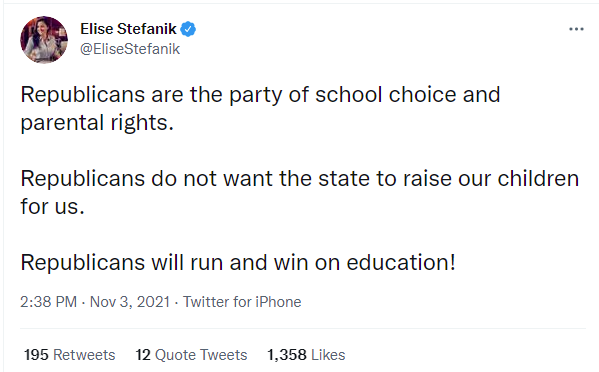 "Far-left Governor Kathy Hochul's policies are failing New Yorkers," Stefanik told The Epoch Times, insisting that the "illegal and authoritarian vaccine mandates" are exacerbating existing labor shortages among hospital workers and first responders. Stefanik also cited Hochul's state-wide mask mandates in New York's schools, saying parents should be the ones to make decisions that affect "their own children's learning and development.
"New Yorkers deserve more freedom and less government control," Stefanik asserted. "We already saw voters reject President Biden and Speaker Pelosi's far-left agenda in Virginia. But Democrats still chose to double down on their radical, socialist agenda. In the face of their economic crisis, border crisis, supply chain crisis, it should not be a surprise why Democrats are facing historically low poll numbers. Joe Biden and House Democrats are bad for America and bad for the American people. But Republicans have a winning message in New York and around the nation. We are fighting for freedom and against Democrats' far-left socialism."
Opposition to Critical Race Theory (CRT) is a particular point of concern for parents across the country. However, while the head of the American Federation of Teachers Randi Weingarten denies that CRT is even taught in elementary schools, The Epoch Times reported how some educators are teaching other educators how to "back-door it" into the classrooms and a teacher in Iowa posted a video teaching other educators how to circumvent the ban on teaching CRT in her state.
At a Nov. 4 press briefing, when asked "to what degree" she believes "race was a driving issue in Virginia and around the country, given Republicans were repeatedly focusing on critical race theory," White House Principal Deputy Press Secretary Karine Jean-Pierre accused Republicans of "lying" about the issue.
"Republicans are lying," Jean-Pierre said. "They're not being honest. They're not being truthful about where we stand. And they're—and they're cynically trying to use our kids as a political football. They're talking about our kids when it's—when it's election season, but they won't vote for them when it matters."
The Parents' Perspective
Judi Swilling of New Tazewell, Tennessee, always votes in midterm elections and hopes others have been paying attention to the "wrong direction" the country has been going in. She is convinced there is a morality crisis in the country that "started when they took the Bible and the Pledge of Allegiance out of schools."
"I'm just a little country girl but I've been very avid in politics my whole life," Swilling, the former chair of the Claiborne County Republican Party, told The Epoch Times. "But I've never expected to see the sort of things going on that are going on these days. I hope it affects the midterms."
Cheryl Onderchain, a Virginia parent and chair of the Loudoun County chapter of Moms For Liberty, had never been politically active and considered midterm elections to be somewhat irrelevant. However, the past year has given her a new perspective.
"I will say COVID and the last 20 months has been extremely eye opening for me," Onderchain told The Epoch Times. "Up until this year, I usually only voted in presidential elections. But I think the most important thing that's come out of the last 20 months of hell that a lot of families have gone through is that one of the things that's really been driven home for me is your local elections matter more than the presidential elections."
Onderchain noted how even the turnout for the off-year gubernatorial election in Virginia "was high, higher than normal.
"Especially in southwest Virginia, where I think I was up 31 percent, which really says something," Onderchain said. "I think this wake-up call is going to cause more people to really start to pay attention to who is running their school board. I mean, I've learned in the last 20 months that as far as the impact on my children's education, the two most important elected officials or bodies are who is your governor and who is on your school board because those are the people shut my kids out of school over a year and a half and I will never forget that.
"I will never vote for another Democrat in my life," Onderchain vowed. "I have never been affiliated with any political party, but the last 20 months has definitely driven me over to the conservative side based on just having my eyes opened to how these teachers' unions are just an extension of the Democratic Party and their machine."
On the other hand, Maria Keffler of Arlington, Virginia, said she "always tried to make it a policy to vote whenever it's possible.
"I thinks it's a civic duty for me to vote," Keffler told The Epoch Times, "so I wouldn't say voting in midterm elections is a new behavior for me because I recognize that's important and I'm glad more people are recognizing that that's important."
Cassandra in Fairfax County, Virginia, admits she votes "about half the time" in midterm elections. However, the things that were "exposed in the education system" in the wake of the COVID-19 pandemic have "absolutely" changed her perspectives. "It's extremely important to me now," Cassandra told The Epoch Times.
Michelle, also in Fairfax, said she always voted in midterms. "But I can say now how much more important it is," she told The Epoch Times. "With all of the rhetoric, it has become crystal clear that these school boards are making these mass decisions, they're engaging in a lot of shenanigans. They're not being clear about what they're doing, like approving books with pornographic images in them."
Michelle finds it particularly humorous when she sees a parent at a school board meeting who tries to read from a questionable book that has been approved as part of the curriculum or slipped into a school library. "The school board members say 'stop, stop! Don't read that! We have children here!' Are you kidding me?"
Lisa Dye Wells of Perryville, West Virginia, admits she doesn't vote in midterms. She doesn't believe her vote will count.
"We already voted for school board and the city board members here in this small city a month ago," Wells told The Epoch Times. "I didn't see the point where I live to go vote because there's not enough good people who want to take on this crap and deal with it."
On the other hand, Joe Harman of Springfield, Missouri, has more faith in the power of one parent's ballot.
"I think the federal government is afraid of parents," Harman told The Epoch Times. "When the parents change the school boards, it creates a sort of groundswell. This groundswell then transfers to other local elected government officials. People don't realize how much they can change things. When the local level changes, they essentially counter anything that happens at the states and federal level."
Elina Kaplan, a registered Democrat from San Mateo County, California, who immigrated to the United States from the Soviet Union, is alarmed by her state's ethnic studies curriculum.
"I firmly believe that if the vast majority of Californians and Americans knew about this, and about the content of this type of curriculum, this would not be happening. We would not be having this conversation," Kaplan told Politico in July.
Bill Gordon of Dunwoody, Georgia, always votes in midterms. But this year, he made the effort to switch his party affiliation from independent to Republican. "NOT because I believe in [the Republican Party], but because in the primaries is when my one vote has the most weight," Gordon told The Epoch Times. "If every conservative did such then we would have a chance at turning around our death spiral."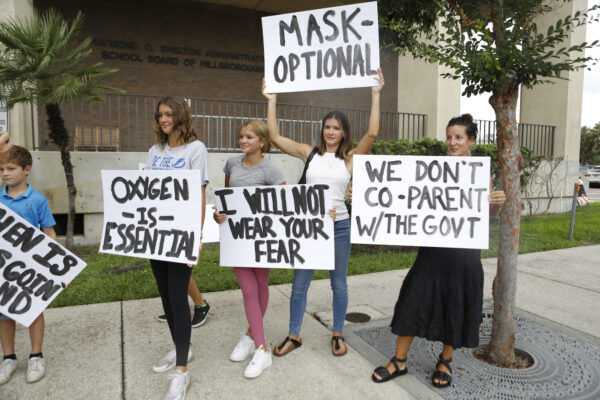 Of the 50 states, 36 will hold gubernatorial elections during the 2022 midterms. Florida is one of them.
"Midterm elections are no longer a safe haven because local representatives have pushed parents to the breaking point by forgetting that they work at the voters' discretion," Krysia Bailey, a Florida mother of three and co-chair for the Hernando County Chapter of Mom's for Liberty, told The Epoch Times. "We will no longer ignore local elections as we realize that they have been poisoning our children. We will wrestle back control of our school systems, whether that means voting these elected officials out, pulling our children & homeschooling them, pushing our state legislatures for expanded school choice, being vocal at school board meetings, or any combination thereof. No one has more of a vested interest in their child's well-being than their parents. Representatives at all levels should be on their guard because, in defense of our children, we will be backing candidates who champion the cause of parental rights & who support us in our battle to protect the innocence of our children."
Timothy Sharp of Palm Coast, Florida, says school boards have been focused for too long on "so many things that have nothing to do with education," such as Critical Race Theory. "We want to send our children to school for reading, writing, science … factual information," Sharp told The Epoch Times. "Not theory."
Sharp, a candidate for the Florida legislature for District 24, said he believes perspectives about midterms have changed "because of what we've seen with school boards across the country."
"I think school board elections specifically have been the most under-the-radar political experience in the country," Sharp expounded. "I know I never paid any attention to them, until we had a local issue. So shame on me. When we started having mask and vaccine issues in Flagler County is when it got on my radar, and I think that's happening across the country."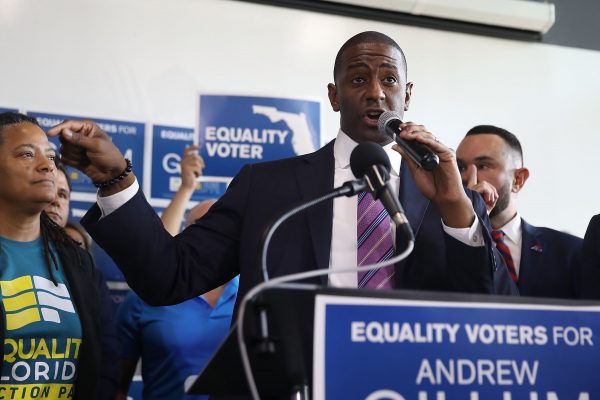 "Anything outside of a presidential ticket is never that glamorous," Sharp opined. "But take Florida for example. If Ron DeSantis had not beaten Andrew Gillum in the last midterm, how would Florida have fared during the [COVID-19] lock downs?"
For the Democratic perspective on the pending 2022 midterm elections, The Epoch Times reached out to Florida Democrat House Rep. Kristen Arrington and Rep. Robert C. "Bobby" Scott (D-Va.), but did not receive a response.
Please follow and like us: