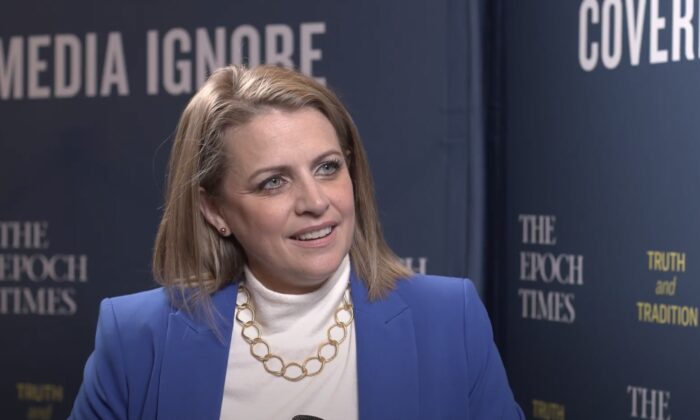 Time to Rein In Power of Federal Government: Congressional Candidate Heidi St. John
By Harry Lee
Heidi St. John, a Republican candidate for the U.S. House from Washington state's 3rd Congressional District, says it's time to defend the Constitution and rein in the power of the federal government.
"The people that I have elected to represent me are not representing me. And in fact, in many cases, they're working actively to undermine the things that I believe so passionately in," St. John told The Epoch Times in an interview at a Turning Point USA event in Phoenix last week.
St. John said she never thought she would run for office until the congresswoman representing her district—Rep. Jaime Herrera Beutler (R-Wash.)—voted to impeach former President Donald Trump after the Jan. 6 Capitol breach.
In a Jan. 12 statement, Beutler said that Trump incited a riot "intended to halt the peaceful transfer of power." She was later censured by Washington's Clark County Republican Party.
"So I thought, it's time to start sending ordinary people who are not part of the political elites or the ruling class to Washington, D.C., to say 'enough is enough,' to stand in defense of the Constitution, and rein in the power of the federal government, which is wildly outside of its jurisdiction," St. John said. "So that was what precipitated my run."
As a mother of seven who homeschooled all her kids, St. John told The Epoch Times that her husband and her focus has largely been homeschooling. She is a board member of the Home School Legal Defense Association, the largest homeschool resource center in the nation. She also authored eight books and has a successful podcast with a million downloads a month.
"I believe very passionately in parent-led education, in other words, putting parents back in the driver's seat of their children's education, because the family is the building block of the culture. And if you attack the family, the culture lies in ruin. And that is what we're seeing around the country right now."
St. John said the left has already gained control of the education system, social media, major media outlets, and Big Pharma. The lockdowns and mandates in the past year and a half also showed the left's influence over the medical institutions.
"The linchpin is the education system. And we are cranking out by the hundreds of thousands, every single year, students who hate this country, who do not understand why freedom is so important. They don't know the Constitution, and they don't know why freedom is worth defending. And that has to stop," St. John said.
"And so I would like to see the federal government absolutely out of education, I'd like to see it returned to the States, which is where it should be in the first place. And even closer into the local municipalities."
St. John also criticized the Biden administration's big-spending policies.
"Thank God for Joe Manchin, who basically just put a nail in the coffin of the 'build back broke' bill that the Biden administration wants to subject the American people to," St. John said. "I work hard, and he wants to take most of my money and then saddle my grandchildren with a debt they'll never be able to pay."
On Dec. 19, Sen. Joe Manchin (D-W.Va.) announced that he would not support President Joe Biden's $1.9 trillion "Build Back Better" spending package. In the 50-50 Senate, Manchin's vote would literally make it impossible for Democrats to pass the bill via reconciliation.
"What would happen if Heidi St. John raised the debt ceiling every single year? I would have declared bankruptcy," St. John continued, adding that there are so many things wrong in the country right now and she wants to see common-sense solutions brought back to the American people.
The first-time candidate expressed confidence in her running.
"I know I can win my race because I have been working for the people of my district for nearly 20 years, advocating for them, going to the floor of the House of Representatives in Olympia, going to Washington, D.C., to advocate for educational freedom. And my record there is well known," St. John added.
In the primary, St. John will face the six-term incumbent Beutler and at least four other Republican candidates, including Trump-endorsed Joe Kent.
St. John said it's a misnomer that Washington, California, and Oregon are wildly leftist states.
"There are good people here," St. John said. "There are lots and lots of conservatives who love freedom and will stand for Liberty who are really being marginalized by tyrannical governments. And that is what the issue is."
"It is time for the mama bears and the papa bears in this country to say 'enough is enough' and start taking back the country," St. John added. "If it can happen in Washington State—and I think it can—it will send shockwaves to the entire country."
Please follow and like us: