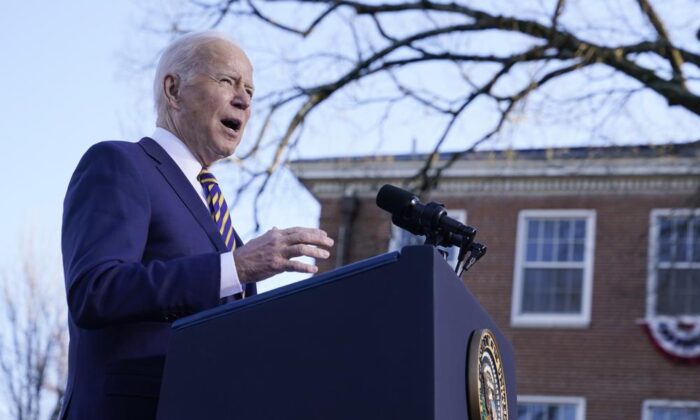 Biden Calls for End to Filibuster if Needed to Pass Changes to Voting Rules
By Nick Ciolino
President Joe Biden gave a speech in Georgia Tuesday to push for legislation to change the rules for voting in American elections, and to advocate for the end of the filibuster if it's needed to pass the voting bills.
"The threat to our democracy is so grave that we must find a way to pass these voting rights bills," Biden said. "Debate them. Vote. Let the majority prevail, and if that bare minimum is blocked, we have no option but to change the Senate rules including getting rid of the filibuster for this."
As the rules stand now, a 60-vote super majority would be required to move either of the measures forward.
One bill, named for the Georgia congressman John Lewis, who died in 2020, passed the House along party lines in August and has since stalled in the Senate. That measure would, among other things, require federal clearance for any changes made to local election rules.
The second bill, the Freedom to Vote Act, is also in the Senate. It would expand automatic and same-day registration as well as vote-by-mail and early voting.
Republicans have decried the bills as allowing for federal overreach. They also say many of the provisions in the legislation, like removing voter identification requirements and required funding for campaign ads, are not popular with American voters.
"Democrats don't want free and fair elections, they want elections that only Democrats can win," said Sen. Rick Scott (R-Fla.) on a call with reporters and Republican National Committee (RNC) Chair Ronna McDaniel ahead of Biden's speech. "So, as we watch last year they've had a difficult time, the Democrats, of passing their radical agenda, so they want to change the rules."
Scott, McDaniel, and others also accuse Biden and the Democrats of a naked power grab, saying the end goal is not to increase voter rights but to end the filibuster.
"This is why Joe Biden is in Georgia today," said McDaniel on the call. "This is his plan: to change the Senate rules, upend our country, upend 200 years of precedent in the Senate to change election laws and have the greatest power grab in history."
Others in Biden's own party have spoken out against ending the filibuster.
"We need some good rule changes to make the place work better, but getting rid of the filibuster doesn't make it work better," Sen. Joe Manchin (D-W.Va.) told reporters Tuesday.
Manchin has been outspoken against provisions in Biden's "Build Back Better" spending plan as well—another measure Democrats have sought to pass without any Republican support.
Partisan debate over voting rules has been playing out on the state level as well.
Since the 2020 election, 19 states have passed laws adding new voter requirements like voter I.D., according to the progressive Brennan Center for Justice.
On Tuesday, Biden referred to these laws as "Jim Crow 2.0" and said "it's the goal of the former President [Trump] and his allies to disenfranchise anyone who votes against them."
Meanwhile, New York City passed a law in December that purports to give non-U.S. citizens the right to vote in its elections. McDaniel announced an RNC lawsuit Monday filed against New York Mayor Eric Adams, the city council, and its board of elections challenging the city's new law.
Please follow and like us: