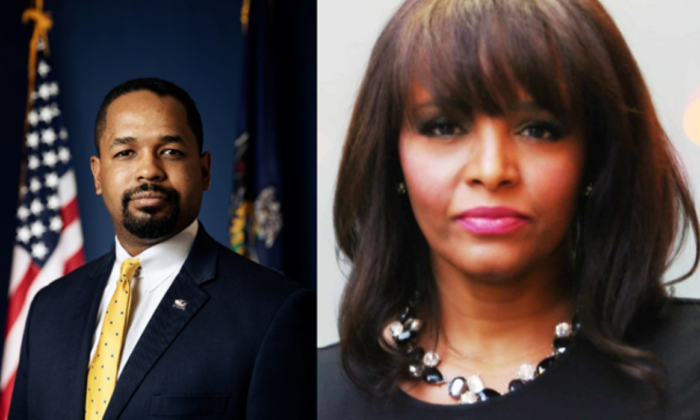 Two US Senate Candidates in Pennsylvania Weigh In on Voting Legislation
By Beth Brelje
President Joe Biden's push this week for voter rights legislation that he says will address racism and voter suppression elicited very different reviews from two candidates running for U.S. Senate in the Pennsylvania primary. Here is what they said.
Sharif Street, Democrat
Pennsylvania state Sen. Sharif Street voiced support for the John Lewis Voting Rights Act, which restores parts of the 1965 Civil Rights Act. Street, an attorney, graduated from Morehouse College where Biden gave his speech.
He says the Voting Rights Act of 1965 has been systemically weakened by the Supreme Court for more than a decade.
"The new Jim Crow is the old Jim Crow. It is about stopping people of color, especially black and brown folks, from casting a vote or having their voices counted," Street wrote in a statement. "It is the very thing Dr. (Martin Luther) King called out, the doctrines of 'interposition and nullification' in his 'I Have A Dream' speech. It is processes advanced by George Wallace, the segregationist Governor of Alabama, to nullify the votes of black and brown people by bringing the state between the people, their duly cast ballots and the election's result. This is what occurred on Jan. 6, when insurrectionists, the progeny of the civil rights era segregationists, rioted in our nation's capital to violently overturn the duly elected victory of President Biden. The 2020 General Election saw record minority participation across our nation."
What about requiring voters to provide identification? The topic has been debated in Pennsylvania's General Assembly.
"Voter ID sounds pretty innocuous, right? We just want people to show some ID to prove that they are who they say they are," Street told The Epoch Times. "But when you look at in practice, the (state) bill, as written in House Bill 1300 was so restrictive on the type of ID that could have been used, that it wouldn't have even allowed my Senate ID to count as a state ID."
House Bill 1300 is a state election reform bill that includes a voter ID requirement.
"If you craft a bill in a way that you restrict the types of ID that can be used, you could have a what's called a 'disproportionate impact' on people of color, and so those laws are designed in many cases to seem racially neutral, but in fact we know, have a disproportionate impact on people of color, and that is another that is another example of why we need some standardization and protection from the voting rights."
Asked why he believes people of color struggle so much with getting appropriate ID, Street said a disproportionate share of people of color have low income.
"There are lots of societal barriers to— not getting necessarily getting an ID, but getting the types of ID that are prescribed in House Bill 1300," Street said. "Do I think you could craft a fairer version of a voter ID bill? Probably could. But 1300 just doesn't do that. Secondly, I think it's a solution in search of a problem. We don't have a problem of people showing up in person and impersonating someone else to vote. That just is not really a systemic problem. There's no evidence that is a systemic problem anywhere."
"To see Democrats use this as a tool to fundamentally change this nation, it is beyond upsetting," Kathy Barnette told The Epoch Times. "According to the narrative, only black people do not know how to get an ID. They don't say Indians, Asians, or Hispanics, they say black people. Out of all the people in America, only black people don't know how to get an ID, or are too lazy. I find that to be beyond a racist trope. It's humiliating that out of all the people, only black people have to see another black person jump on that bandwagon and use that for their own personal gain."
Barnette says her race is the least interesting thing about her and race never came up when she was in the military, working in finance, or teaching as an adjunct professor of corporate finance.
"I've never spoken so much about race until I got into politics," Barnette said.
Barnette grew up on an Alabama pig farm, in a home with an outhouse but no heat, insulation, or running water. She was the first in her family to graduate college.
She notes that more than half the black population in Philadelphia is not vaccinated.
"And yet the powers that be, all Democrat in Philadelphia, has issued a mandate that if you want to go to a restaurant, you have to show a vaccination card," Barnette said. "So black people can get a vaccine card, but they can't get an ID to make sure they can vote. To get a vaccine card, you've got to show your ID. If you want to start talking about Jim Crow 2.0, then think about the 52 percent of black people in downtown Philadelphia who don't have a vaccine card and now they're not being allowed to enter into the front doors of a restaurant.
"I know a lot of black people across different social, economic, and education stratums. I don't know one black person who does not have an ID," Barnette said. "I mean, you want to get on the airplane? Buy liquor? Buy cigarettes? Go to a nightclub? You've got to have an ID."
"They're using voter ID and black people as a weapon to get what they ultimately want. That is, federalizing our elections. They want to take our state control. They want to centralize it in D.C., and we know that things go to D.C. to either die or get real complicated."
She pointed to health care, now in the hands of politicians, bureaucrats, and lobbyists.
"We're worse off. Our health care system is in crisis right now as a direct result of it being federalized."
"As usual, Democrats are using the color of my skin, and that is what I find so disturbing," Barnette said. "They are using the color of my skin because it's powerful. It allows them just shut up a large majority of the American population who may feel guilty for whatever the reason, and just force their ideology."
Other Candidates
At least 19 candidates are running for Pennsylvania's open U.S. Senate seat. At one point there were at least 30, but some have dropped out, and others have little or no internet presence or budget. Here is a look at the 19, organized by party affiliation:
Republicans
Carla Sands: a chiropractor who was appointed to President Donald Trump's Economic Advisory Council and later served as an ambassador to Denmark in the Trump administration.
Jeff Bartos: ran for lieutenant governor in 2018. Bartos owns a contracting company and several real estate acquisition and development companies.
Kathy Barnette: author of "Nothing to Lose, Everything to Gain: Being Black and Conservative in America." She is a veteran, former adjunct professor of corporate finance, and a political commentator.
Everett Stern: founder and intelligence director of Tactical Rabbit, a private intelligence agency that provides clients with legal, business, and national security intelligence. Previously ran for Senate.
Mehmet Oz: a celebrity doctor who was a frequent guest on the Oprah Winfrey show.
Robert "Bobby" Jeffries: a self-described "proud millennial." Works in warehousing and logistics.
Sean Gale: an attorney. His brother Joe Gale is running for governor.
Martin Rosenfeld: worked as a county deputy sheriff, state constable, and co-owner of a gun shop; handled accounting and tax preparation for 40 years.
James Edward Hayes: semi-retired from a career in engineering and construction.
David Xu: a self-described "redneck," Xu served in the Army for 30 years and is a small business owner.
David McCormick: a hedge fund executive who worked in Treasury Department under President George W. Bush and West Point graduate.
Democrats
John Fetterman: Pennsylvania's lieutenant governor.
Conor Lamb: U.S. Representative in his second term.
Val Arkoosh: a doctor and elected county commissioner.
Malcolm Kenyatta: a state representative from District 181.
Kevin Baumlin: a doctor and chair of emergency medicine at a Pennsylvania hospital.
Sharif Street: a Pennsylvania state representative from Philadelphia.
Alexandria Khalil: a former small business owner, educator, community organizer; and member of the Pennsylvania Department of Health's Health Equity and COVID-19 Rural Healthcare Taskforce.
Larry Johnson: teacher, attorney, and author of several books, including "Expositions on the Divine Nature," "Progressive-conservatism and a new America," and "Bronx Boy."
Please follow and like us: