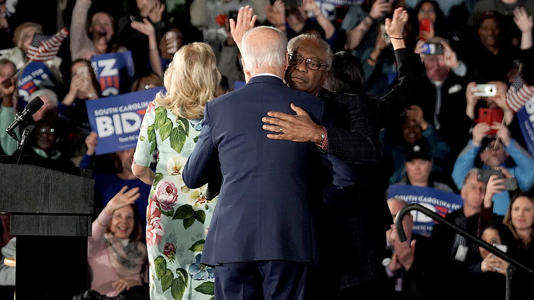 Biden's race- and gender-based SCOTUS plan overwhelmingly (and rightly) rejected
Opinion by Joe Concha, Opinion Contributor
The American people aren't on board with President Biden's decision to narrow his selection of the next U.S. Supreme Court nominee based on gender and race.© Greg NashBiden's race- and gender-based SCOTUS plan overwhelmingly (and rightly) rejected
Per ABC News: "Just over three-quarters of Americans (76 percent) want Biden to consider 'all possible nominees.' Just 23% want him to automatically follow through on his history-making commitment that the White House seems keen on seeing through."
Given that Justice Stephen Breyer's retirement is the best news Biden has received in months, that just 23 percent of Americans agree with the way in which Biden's intends to fill the vacancy must be devastating.
The poll also found that no demographic – not even racial minorities or Democrats – want Biden to consider only black women for the vacancy.
Justice is supposed to be blind, of course. Choosing candidates from such a finite list is an insult to, for instance, qualified Asian- and Indian-Americans.
But Biden being Biden, he will almost certainly plow ahead in order to keep his promise to Rep. James Clyburn (D-S.C.), who confirmed to the Washington Post that he strongly urged Biden to promise on a debate stage ahead of Super Tuesday in 2020 that he would nominate a Black woman to the Supreme Court if elected president and provided the opportunity.
"You just can't say, you've got to show it. I happen to have been born and raised in the past, and I believe it's their deeds that matter, not their words," Clyburn told the Washington Post. "And so President Biden made it a commitment at the Charleston debate back in February… and said that if he got the opportunity, he would appoint or nominate an African-American woman to serve on the court.
Playing identity politics is nothing new for this president. Here's how he previewed his Cabinet just days before taking office a year ago:
"This will be the first Cabinet ever that is evenly composed with as many women as men in the Cabinet. This will be the first Cabinet ever with the majority of people of color occupying this Cabinet," Biden said redundantly in touting his self-described "Cabinet of Firsts."
The press ate it up, of course, while neglecting to scrutinize the nominees based on experience, past performance or policy positions.
So, the president is in a no-win situation here. Back out of his promise, and he loses even more support among Black voters than he already has.
In the 2020 election, Biden took home 87 percent of the Black vote. Less than a year later, the president is at just 58 percent approval among Black voters, or about 30 points lower, according to a Politico/Morning Consult poll released last month before Biden's "voting rights" push failed in January.
If Biden selects a nominee based on race and gender, more than three-quarters of the country will see that as unfair to others who may be just as qualified. Again, there is no good option here. And again, it's a major unforced error of the president's own making in an obvious effort to pander.
Despite all the media hype last week, the Breyer retirement isn't anything resembling a real game changer for the president. If Clarence Thomas had announced his retirement, for example, and was replaced by a liberal judge – that's something far different. But Biden will replace a liberal justice with a liberal justice, maintaining the court's current ideological balance.
When all is said and done, Biden's nomination is not the big story many in the media are making it out to be, or at least it shouldn't be – not at a time of a border crisis, 40-year-high inflation, climbing gas prices and 25-year-high murder rates.
Candidate Biden made a promise to cater to Black voters in an effort to secure votes on Super Tuesday. It paid off for him at the time, as it was pivotal to him winning the Democratic nomination and the presidency.
But it's a promise that's already coming back to haunt him.
Please follow and like us: