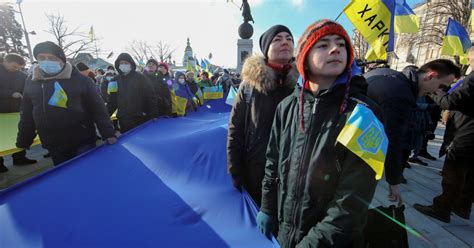 When it comes to Ukraine, what do Russian citizens actually want?
By Adam Taylor
It doesn't take a mind reader to guess what Vladimir Putin wants from Ukraine. Whether the Russian president is planning an invasion or not, Putin himself spelled out his thoughts on the "historical unity of Russians and Ukrainians" in a 7,000-word essay published by the Kremlin last year.
But what do the 144 million Russians living in the country that Putin leads want? And just as importantly, what do the 44 million Ukrainian citizens across the border want from Russia?
The answer to these questions could mean the difference between war and peace. However, they are not easy to work out. Our best measure of public sentiment, opinion polling, is a difficult business in any country. In autocratic countries like Russia — or those plagued by corruption, like both Russia and Ukraine — working out what the population actually wants rather than what their leaders say they want can be especially tricky.
Even so, there may be some answers in recent polling from reputable groups, such as the independent Russian polling agency Levada Center (for more on the pressure placed on Russian polling companies, read this 2016 story from The Post's former Moscow bureau chief Michael Birnbaum).
And they don't necessarily look positive for Putin's position.
What Russians want from Ukraine: Russia and Ukraine share a long, complicated history that goes far back beyond the Soviet era. Many Russian citizens have personal ties to Ukraine, despite the worsening geopolitical situation since the 2014 Russian seizure of Crimea.
One poll from Levada released last year found that 50 percent of Russians had a positive view of Ukraine, with views even more positive among the younger generations. But a sizable number of Russians think war with Ukraine will happen. A more recent poll from the same agency published later in the year found that roughly 2 out of 5 Russians thought it was likely that the current tension in eastern Ukraine could escalate into a war between the two nations — and half of Russians blamed the United States and NATO for the escalating tensions.
According to a Levada poll released in January, 8 percent of Russians thought the country would definitely get into armed conflict with a neighbor this year — the highest number in 16 years of polling. However, more than twice that number said Russia would definitely not enter such a conflict, and the vast majority were uncertain.
Even if there is a war, it may not be popular. Some analysts, such as Andrei Kolesnikov of the Carnegie Moscow Center, say that despite the power of state media in Russia, many citizens have lost the enthusiasm for conflict that came around 2014. "War started to frighten people," Kolesnikov wrote in December.
Another poll published last month by Levada found 56 percent of Russians said that a global war was one of their biggest fears and something that they were either "rather" or "constantly" afraid of. Only an illness among respondents' loved ones or children ranked higher- among fears. Russian pundits have described the idea of war with Ukraine as a disaster, even if it would be one prompted not by Russia but the West.
In his popular Sunday television program "Sunday Evening with Vladimir Solovyov" on Rossia 24, Russian anchor Solovyov dedicated most of the discussion to belittling Ukraine's military strength. However, he also stressed that Russia is "highly unlikely" to launch a war with Ukraine.
"The most terrible scenario that you can imagine in your life, and the one that the Anglo-Saxons dream of, is a war between brotherly people," the pro-Kremlin talk show host said on his show late last month, even as he mocked Ukraine's military capabilities.
What Ukrainians want from Russia: Many Ukrainians also have personal ties to Russia. But polling suggests that some of the warmer feelings expressed by Russians toward Ukrainians are no longer as widely reciprocated.
A poll conducted by the Kyiv International Institute of Sociology (KIIS) last year found only 39 percent of Ukrainians viewed Russia positively, while 47 percent had negative views. Another poll by the same body found that 67 percent of the country was in favor of joining the European Union and 59 percent were in favor of joining the NATO military alliance — both moves that Putin and other Russian leaders have suggested are red lines.
These results fit into a broader sense that since 2014, Ukrainians have been repelled from Russia's orbit by the very actions designed to keep them in that orbit. Pew Global Research found that positive views of the European Union in Ukraine increased from 63 percent in 2014 to 79 percent in 2019. That same poll found only 1 in 10 Ukrainians had confidence that Putin would do the right thing regarding world affairs, compared with 66 percent who said the same thing about then-German chancellor Angela Merkel.
Despite public statements of President Volodymyr Zelensky, many Ukrainians do believe that the threat of a Russian invasion is real. KIIS polling from January found 48 percent of the population thought so, compared with 39 percent who thought there would be no invasion. Another poll from last year found half of Ukrainians said they would resist a Russian invasion — a third said they would put up armed resistance.
As my colleague Steve Hendrix reported from Kyiv, many are calling for a harder outlook. "I think we need to live more like Israel, where they expect an explosion anytime," Elizabeth Bielska, a well-known author and art critic, told him.
Such a scenario would be disastrous for Ukrainians. But it also would be disastrous for the many Russians who want friendly relations with Ukraine and are worried about the risks of conflict — or both.
Read More From ForAFreeAmerica
"What Ukraine will be — it is up to its citizens to decide," Putin wrote in his article on the closeness of his country and Ukrainians last year. He's right. But the evidence suggests that many Ukrainians have already made up their minds about what sort of country they want to be. It appears Putin isn't listening to them — or to many of the Russians he leads.
Please follow and like us: